Astros reassign Tucker after strong spring
Outfielder hit .410; A's Puk, Yankees' Florial also sent to Minors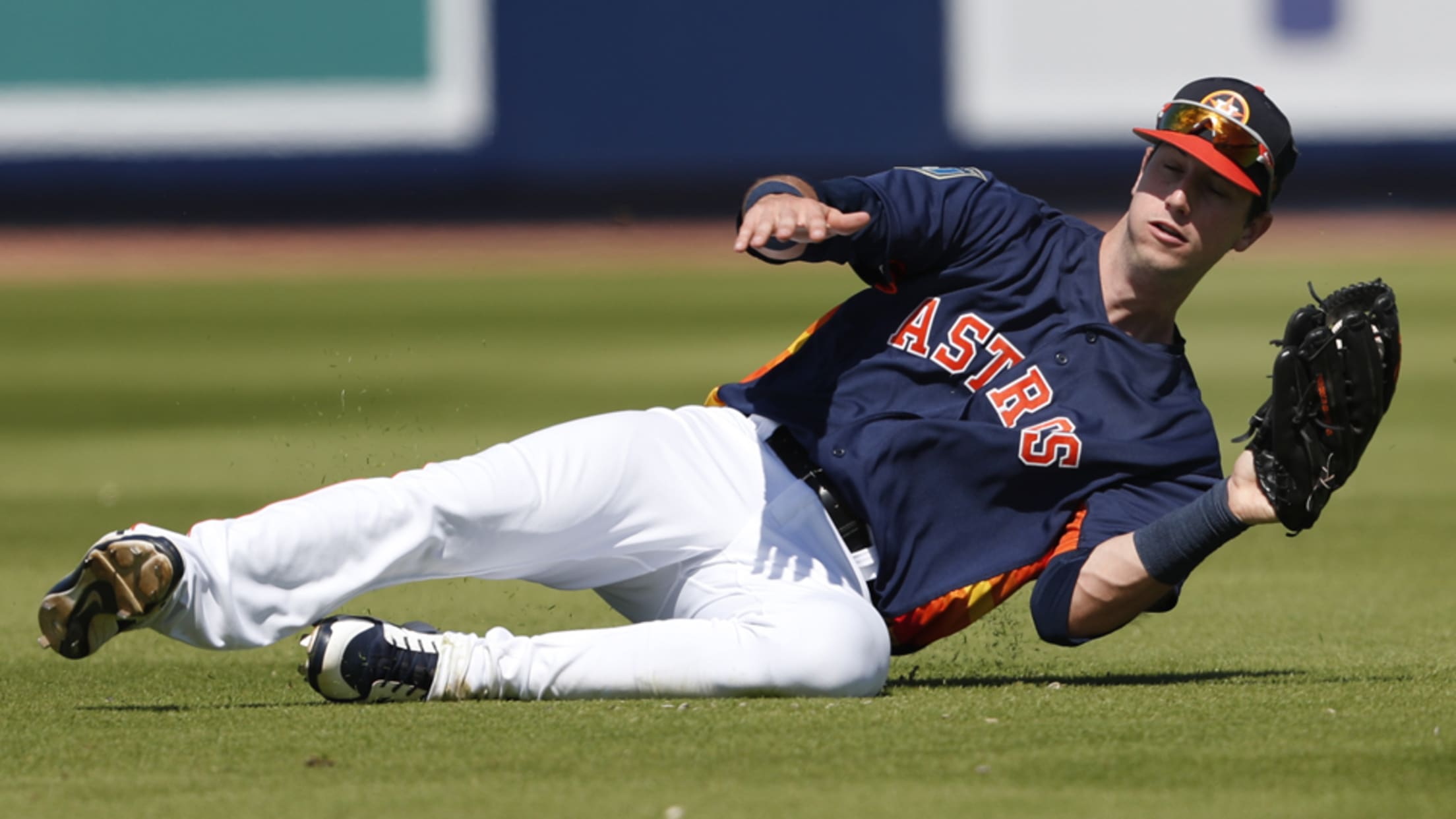 Kyle Tucker committed one error in 17 games while patrolling the outfield in Grapefruit League action. (John Bazemore/AP)
Kyle Tucker said goodbye to Major League teammates on Sunday, but it won't be for long.The Astros sent their top hitting prospect to Minor League camp, but he will make the trip to Houston for two exhibition games against the Brewers next week.
Kyle Tucker said goodbye to Major League teammates on Sunday, but it won't be for long.
The Astros sent their top hitting prospect to Minor League camp, but he will make the trip to Houston for two exhibition games against the Brewers next week.
"He's a good player and has a bright future," manager A.J. Hinch told MLB.com. "We gave him a couple of things that he needs to work on. He's going to be in Houston for the exhibition series. So you'll see him again in our camp."
Last summer, Tucker found his above-average power stroke with a career-high 25 homers for Class A Advanced Buies Creek and Double-A Corpus Christi. In the Arizona Fall League, MLB.com's No. 16 overall prospect focused on improving his pitch selection and the results paid off this spring. Tucker hit .410 (16-for-39) with four long balls and 17 RBIs in 17 games.

While Houston announced early on that the 21-year-old would not break camp in the Majors, Tucker made the most of his time. The Florida native was given the nickname "Ted" by teammates after an analyst said his swing was reminiscent of Ted Williams. Tucker is likely to start the season with Triple-A Fresno, though he could return to Corpus Christi.
"I think, defensively, you're going to see him play a little more in left field and right field and not primarily stay in right field like he's done," Hinch told the site.
"The pace of play here is a little bit faster, and I think that's something that opened his eyes, whether it's small details like getting the ball to the cutoff man a little faster when the ball comes off the wall, to how we shift and how we play in the outfield. I think it's just a general step forward in a couple areas before he's ready."
The Astros also sent No. 24 prospect Garrett Stubbs, infielder Jack Mayfield, outfielder Jon Kemmer and right-hander Francis Martes to the Minors. Martes is expected to return to big league camp on Saturday to pitch against the Red Sox.
"We did want to thin the room out a little bit and get down to, really, all the guys that are in the competition," Hinch told MLB.com. "The conversation is getting a little tougher because there are guys that have an argument that they should get more of an opportunity or be in the conversation, specifically a guy like Martes. But we've got some tougher conversations to have that will happen over the next week."
The A's also made moves on Sunday, most notably sending top prospect A.J. Puk to Minor League camp. They also reassigned No. 8 prospect Sean Murphy, left-hander Eric Jokisch, right-hander Kyle Finnegan, infielder Steve Lombardozzi and outfielders Anthony García, Nick Martini and Slade Heathcott to the Minors. Right-hander Chris Bassitt was sent to Triple-A Nashville.
Puk started strongly at his second big league camp, allowing an unearned run on four hits and three walks with six strikeouts in his first eight innings. But it was his fourth outing that quelled some of the hype surrounding MLB.com's No. 32 overall prospect. Puk yielded four runs on three hits and three walks with one punchout in 2 2/3 innings on Thursday in his final start.
"We have several guys pitching pretty well right now, so he's better off getting some innings down there now and refining his craft, which he's done very well up to this point," manager Bob Melvin told MLB.com. "We'll see when his timing is, but he had a very impressive camp."
In his first full Minor League season, Puk ended the year with Double-A Midland, but the 22-year-old southpaw could start 2018 with Nashville.

The Brewers sent top prospect Keston Hiura to Minor League camp, but not before he made a huge impression at his first big league camp. Selected ninth overall in last year's Draft, the 21-year-old infielder went 2-for-2 against the Dodgers on Sunday to raise his Cactus League average to .433. He had a homer, seven RBIs and three runs scored in 18 games.
Hiura batted .371/.422/.611 with four homers and 33 RBIs in 42 games in the Rookie-level Arizona League and with Class A Wisconsin in his pro debut last summer.
The Yankees reassigned two of their top prospects, with outfielder Estevan Florial heading to Minor League camp and infielder Miguel Andújar reporting to Triple-A Scranton/Wilkes Barre.
Florial, the club's No. 2 prospect, collected four of his six Grapefruit League hits in his first six games. The 20-year-old showed his well-above average speed with three triples while batting .231 with three RBIs and four walks in 18 games.
Reaching Class A Advanced Tampa as a teenager last year, Florial earned a trip to the All-Star Futures Game. MLB.com's No. 44 overall prospect was named to the Arizona Fall League All-Prospect team after batting .286 with seven extra-base hits and 10 walks in 19 games.
"He's one of those guys throughout our organization, guys light up when they talk about him," Yankees manager Aaron Boone told MLB.com. "Special makeup, great kid. The tools just leap off the screen."
After making his Major League debut last June, Andujar hit the ground running in the Grapefruit League. The Yankees' No. 4 prospect -- No. 65 overall -- hit .421 (8-for-19) in his first seven games. Battling for the starting third base job, he ended up with a .262 average, four long balls and 10 RBIs in 42 at-bats in 14 games.
Andujar hit a career-high .315 last year while totaling a personal-best 16 homers with 82 RBIs for Double-A Trenton and Scranton/Wilkes-Barre. He also had three stints in the Majors.
"He's played great," Boone recently told MLB.com. "The video I watched of him a lot this winter and the strides I've seen him make this spring, he's been really solid over there."
The Cardinals sent second-ranked prospect Jack Flaherty, Carson Kelly (No. 3), Oscar Mercado (No. 13), Ryan Sherriff (No. 29), Breyvic Valera (No. 30) and right-hander John Gant to Triple-A Memphis.
Flaherty, MLB.com's No. 38 overall prospect, went 0-1 with a 4.85 ERA, 20 strikeouts and five walks over 13 innings in four starts at big league camp. The 22-year-old right-hander made his St. Louis debut in September after leading the system with a 2.18 ERA, 14 wins and 147 strikeouts in 25 starts for Double-A Springfield and Memphis.
"He's the next man up," Cardinals president of baseball operations John Mozeliak told MLB.com.
Competing for a backup catcher spot, Kelly threw out two of four would-be basestealers in Grapefruit League action. But the No. 46 overall prospect went 3-for-30 (.100) with two RBIs and two walks in 12 games. He spent most of last season with Memphis, playing 44 games across the past two years in St. Louis.
Kelsie Heneghan is a contributor to MiLB.com. Follow her on Twitter @Kelsie_Heneghan.