Howell's Hot Streak Continues As Biloxi Beats Pensacola 4-2
Brown And Five Relievers Combine To Limit Wahoos' Offense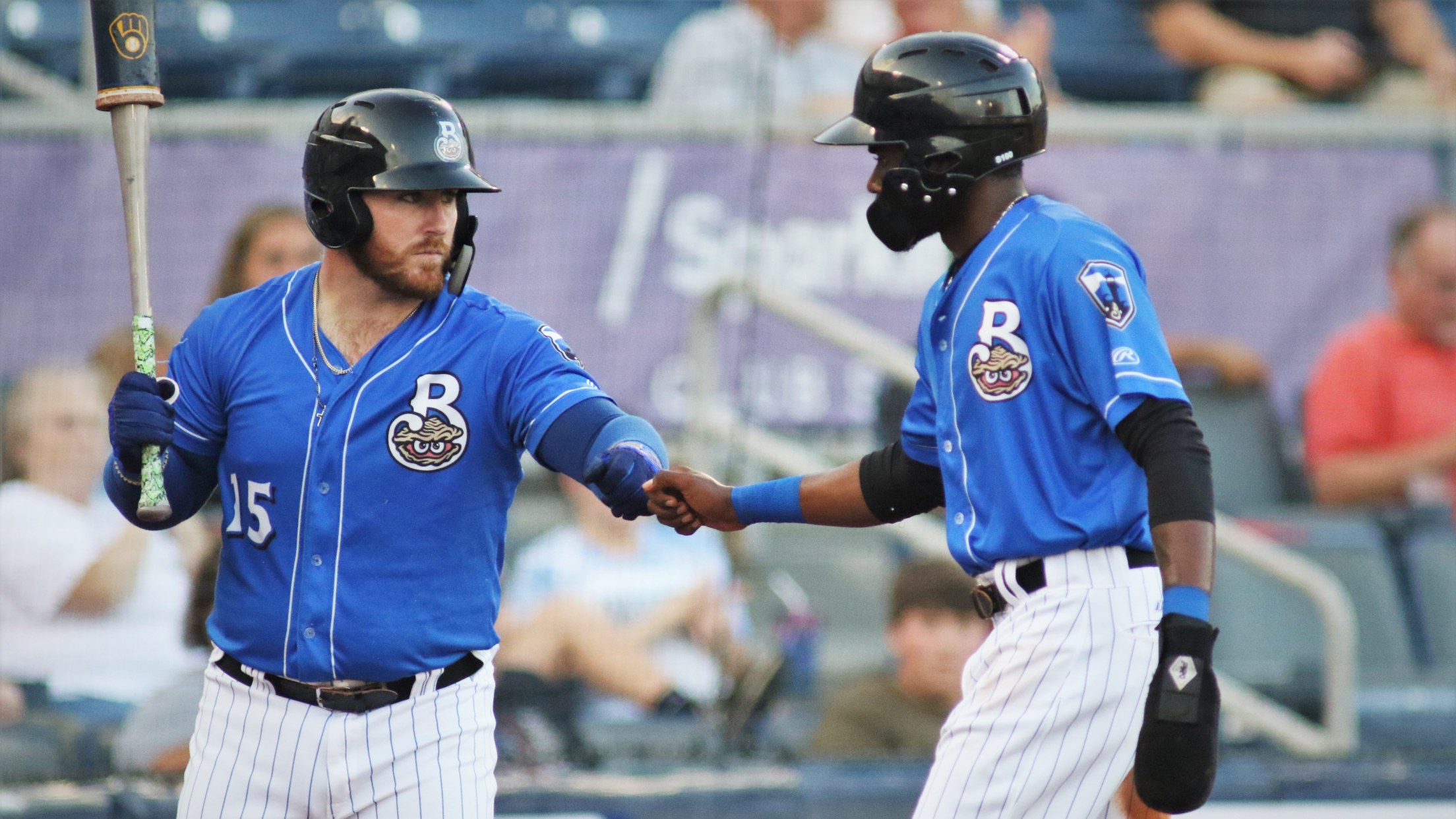 (Photo - Mike Krebs)
Korry Howell homered for a second straight night to help the Biloxi Shuckers (42-66) down the Pensacola Blue Wahoos (54-53) 4-2 on Friday night at Blue Wahoos Stadium. RHP Zack Brown was tabbed as the starter for the Shuckers and worked around a jam in the first inning as part
Korry Howell homered for a second straight night to help the Biloxi Shuckers (42-66) down the Pensacola Blue Wahoos (54-53) 4-2 on Friday night at Blue Wahoos Stadium.
RHP Zack Brown was tabbed as the starter for the Shuckers and worked around a jam in the first inning as part of 2.2 scoreless innings, allowing just one hit and two walks while striking out five. Brown departed in the bottom of the third inning with two runners on base but RHP Robbie Hitt (W, 3-1) induced a groundout to strand both runners.
For the Wahoos, LHP Will Stewart (L, 5-8) retired the first 10 batters he faced. Howell worked a 3-1 count in the top of the fourth inning before blasting a solo home run to left, his fourth at Double-A and 16th overall this season, putting the Shuckers up 1-0.
The Shuckers added on two more runs in the top of the fifth inning. Garrett Mitchell and Cam Devanney both singled, Mitchell stole third and Hayden Cantrelle hit into a fielder's choice where Mitchell was thrown out at home, putting runners on first and second with one out. Jesus Lujano singled to right to drive in Devanney and Brent Diaz hit a sacrifice fly to deep left, scoring Cantrelle to push the Shuckers ahead 3-0.
Howell registered his second hit of the night, a single, in the top of the sixth inning and moved to third on a failed pickoff at first base. Thomas Dillard knocked a single to right, scoring Howell to extend the Shuckers' advantage to 4-0.
LHP Leo Crawford (H, 4) pitched a 1-2-3 fifth inning but ran into trouble in the sixth. The Blue Wahoos put men on the corners with one out and broke up the shutout on an RBI single from Chris Chinea. An infield single by Griffin Conine loaded the bases and RHP Peter Strzelecki (H, 8) came on for the Shuckers. Demetrius Sims drove in another run with an RBI single, but Strzelecki forced an inning-ending double play to limit the damage.
RHP Zach Vennaro (H, 8) surrendered just a two-out single in the eighth and RHP Taylor Floyd (S, 2) pitched a 1-2-3 ninth with two strikeouts to lock up his second save at Double-A. The Shuckers have recorded a save in all four of their wins against the Blue Wahoos.
With the series victory already in hand, the Shuckers continue their six-game tangle with the Wahoos on Saturday night. RHP Justin Bullock (2-4, 7.77) gets the start for Biloxi while the Wahoos will counter with RHP Jeff Lindgren (5-8, 4.09) for a 6:05 pm first pitch. The game can be heard locally on Cruisin' WGCM AM 1240/FM 100.9 and can be seen on MiLB.TV.
Individual tickets are on sale for all 2021 Shuckers home games and promotions for September can be found here. Full Shuck Nation Memberships and Half Shell Shuck Nation Memberships, flex plans and group outings are available by calling 228-233-3465 and selecting Option 3.
ABOUT THE BILOXI SHUCKERS:
The Biloxi Shuckers are the Double-A Affiliate of the Milwaukee Brewers. The Shuckers play at MGM Park in Biloxi, Mississippi and are members of the Double-A South. For more information, please visit biloxishuckers.comand follow us on Twitter @biloxishuckers and at facebook.com/biloxishuckers.