Park steals Game 3 victory for Thunder
Yankees infield prospect swipes home for 2-1 series lead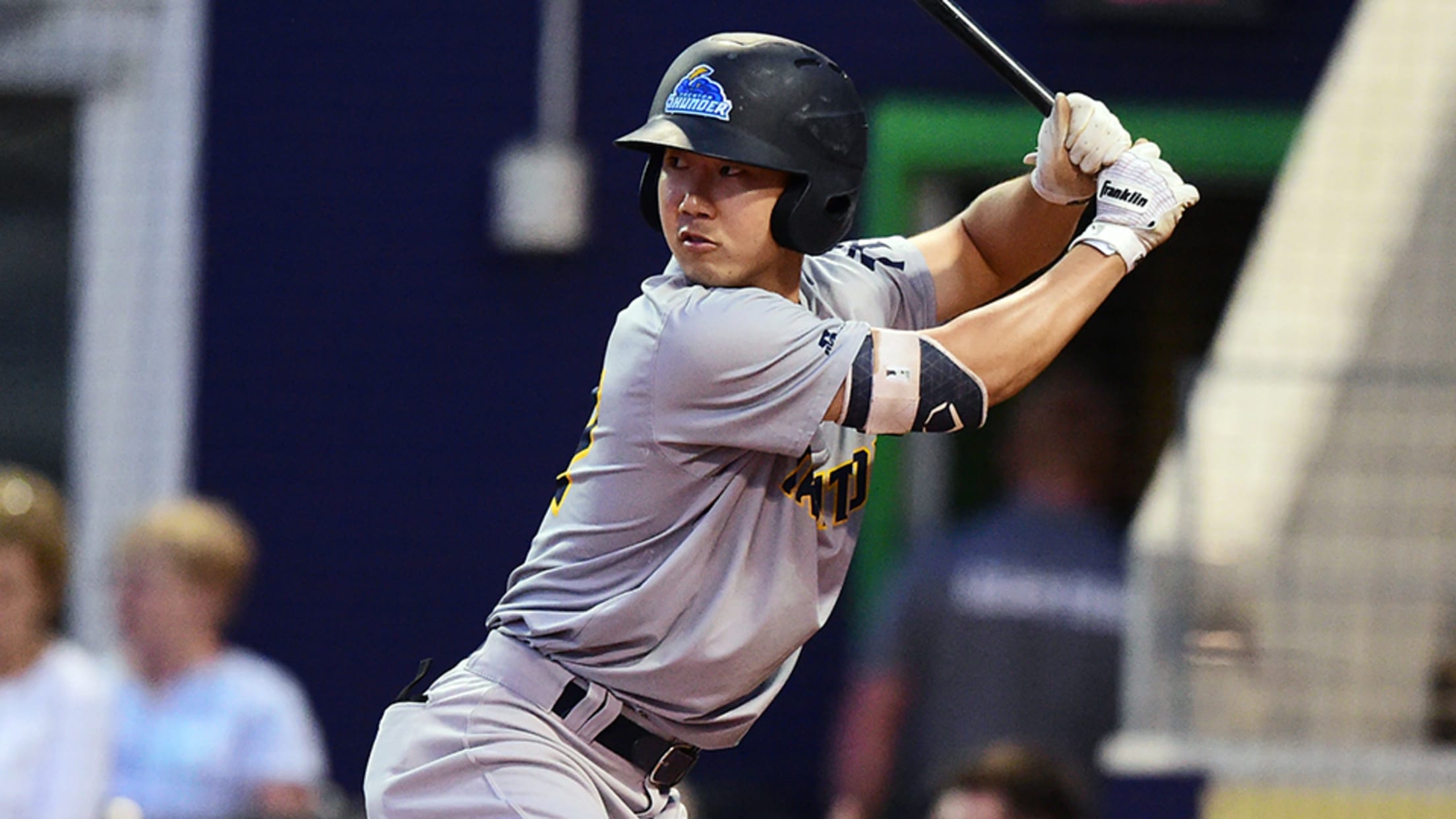 Hoy Jun Park batted .272 with 20 stolen bases in 113 games during the regular season. (Kevin Pataky/MiLB.com)
Hoy Jun Park headed to the ballpark on Thursday with one thing on his mind: redemption.And with two outs in the seventh inning, in the most dramatic of ways, the 23-year-old delivered.The Yankees infield prospect stole home to give Trenton a 2-1 win over Bowie in Game 3 of the
Hoy Jun Park headed to the ballpark on Thursday with one thing on his mind: redemption.
And with two outs in the seventh inning, in the most dramatic of ways, the 23-year-old delivered.
The Yankees infield prospect stole home to give Trenton a 2-1 win over Bowie in Game 3 of the Eastern League Finals at Prince George's Stadium. The Thunder lead the best-of-5 series, 2-1.
"Last night I felt so bad. I was so sorry for my teammates," he said. "So I said, 'OK, tomorrow is a new day. So let's do something tomorrow.' ... So, yeah, I did something tonight."
The middle infielder struggled in the first two games of the series, committing three errors -- including a pair on Wednesday that led to a couple of unearned runs -- while going 1-for-5 at the plate. However, his Game 3 theft put Trenton on the brink of its fourth EL title.
"One of the great things about this game is that you always have tomorrow, and I think he flushed those last two games down the drain," Thunder manager Pat Osborn said. "He had a superstar moment and took it upon himself. He put the team on his shoulders and said, 'I'm going to score this run somehow.'
"That's the type of play you need sometimes to win a game like that."
Gameday box score
The native of South Korea won a seven-pitch battle with No. 20 Orioles prospectAlex Wells by punching a single to left field leading off the seventh.
"I was just trying to get on base there," Park said. "I knew there were a lot of good hitters behind me, so my focus was just to get on base, and I did my best to fight up there until I finally got a hit."
Chris Gittens and Isiah Gilliam followed with knocks, loading the bases with nobody out. Wells struck out Kyle Holder and Angel Aguilar and got ahead of Brian Navarreto, 1-2, when Park sprinted for the plate and scored without a throw.
But that wasn't exactly the plan.
"We talked earlier, I think during Aguilar's at-bat, and I said, 'Go ahead and, if you want, fake steal a few times and see if we can get him to balk,'" Osborn said. "And that was the initial thought, and I think Hoy gradually [felt] him out and once it got to two outs and two strikes on 'Navie,' he just took it upon himself and it was a perfect storm. The crowd was really loud, so even if people were telling [Wells] to step off, he didn't hear them.
"It's a 10-out-of-10 gutsy play. If the guy delivered a pitch and it gets there it could have ended in disaster. No one had any idea he was going to do that, but it worked out and all the credit goes to Hoy, because it was just an amazing play and it took a lot of courage to do that."
Complete playoff coverage
For Park, the situation almost started to feel like a dare.
"Once we got one out, I thought about it, because [Wells] is really tough to hit," he said. "But I showed them a fake steal and they didn't do anything. I was almost halfway. But [Wells] wasn't doing anything -- he never looked at me. So, I was like, 'OK, should I go?' And after two strikes, I decided."
And the run held up, thanks to stellar pitching.
Fifth-ranked Yankees prospectClarke Schmidt started for Trenton and allowed a run on two hits and a walk while matching a career-high with nine punchouts over 4 2/3 frames. No. 20 prospect Michael King (1-0) worked around a hit and a pair of walks over the final four innings, striking out five.
"[Schmidt] was just outstanding. This kid is really good. If there is a right-handed pitcher around that is as good as him, I want to see it," Osborn said. "And Michael King was outstanding. That was the Michael King I saw last year in his brief stint in the Florida State League. He was using all of his pitches, commanding the strike zone, in and out. They didn't get any good swings off of him."
Gittens opened the scoring with a solo homer in the second, but Cedric Mullins tied it with a two-out RBI single in the fifth.
Wells (0-1) yielded two runs on six hits with eight punchouts over seven frames.
Game 4 is Friday in Bowie.
Rob Terranova is a contributor to MiLB.com. Follow him on Twitter, @RobTnova24.