Harvey on hunt with six scoreless frames
Orioles No. 12 prospect allows two hits in longest start since '14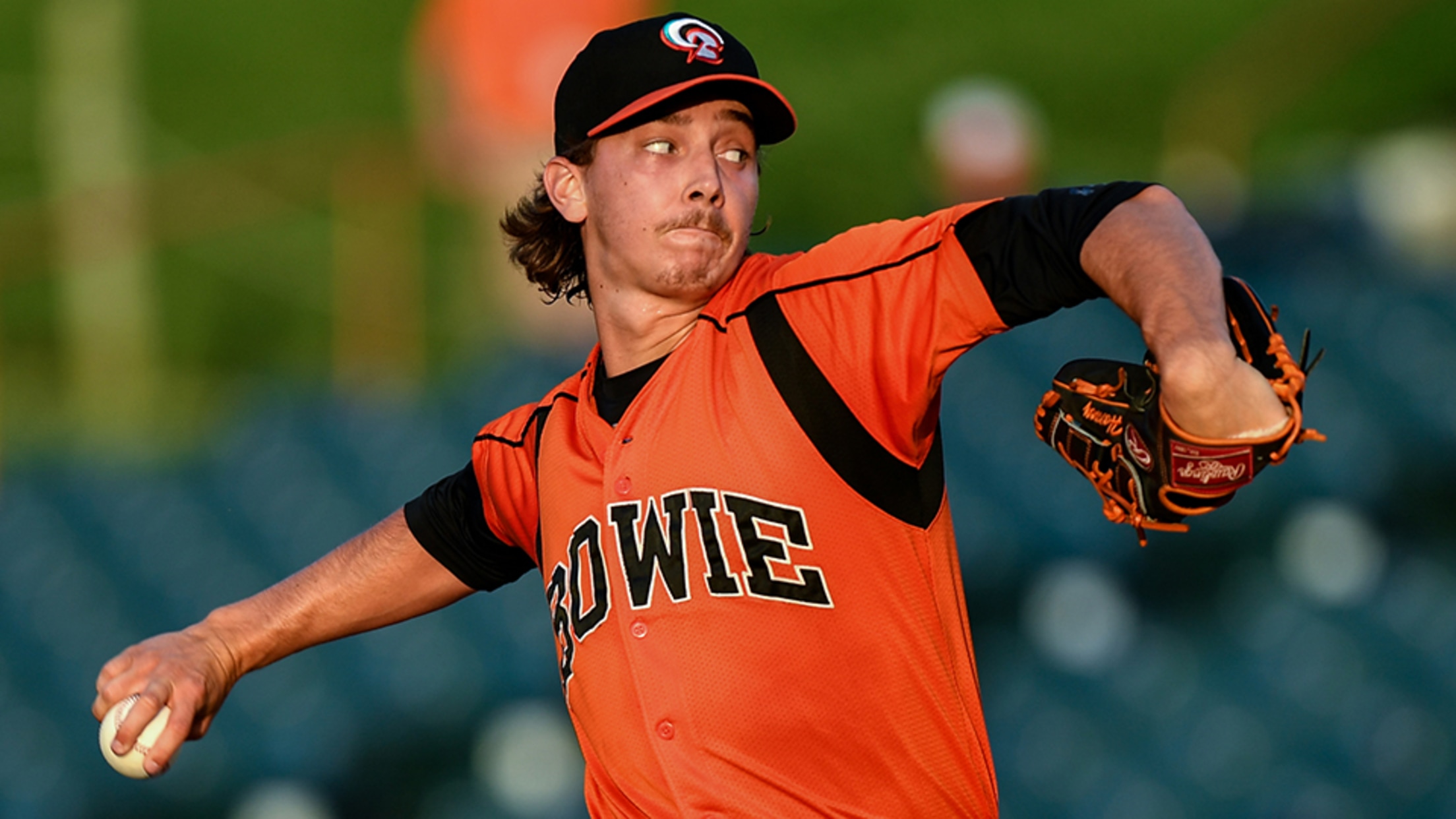 Hunter Harvey gave up 20 earned runs in 32 1/3 innings over nine starts for Double-A Bowie in 2018. (Terrance Williams/MiLB.com)
With all Hunter Harvey has been through injury-wise, taking the mound every five days is no small feat. So reaching a benchmark the Orioles' 12th-ranked prospect hadn't arrived at in nearly five years can be considered an accomplishment. Harvey allowed two hits and a walk while striking out five over six
With all Hunter Harvey has been through injury-wise, taking the mound every five days is no small feat. So reaching a benchmark the Orioles' 12th-ranked prospect hadn't arrived at in nearly five years can be considered an accomplishment.
Harvey allowed two hits and a walk while striking out five over six scoreless frames in Double-A Bowie's 10-5 victory over Altoona at Peoples Natural Gas Field on Monday. The outing was his first win of the season and marked his longest start since July 5, 2014 for Class A Delmarva against Lakewood.
In the span of five years, Harvey (1-2) went from a seemingly sure-fire prospect -- a Futures Game selection at age 19 and the distinction as Baltimore's top prospect -- to a right-hander whose time spent on the mound was far and few between. Elbow issues eventually led to Tommy John surgery. Dodging a foul ball in the dugout resulted in a shoulder injury that cost him much of 2018.
The 24-year-old entered this season fully healthy. Through six starts, he sported a 6.20 ERA and surrendered three homers in 2 2/3 innings in his most recent outing May 1 against Richmond. Two starts ago, he delivered five scoreless frames against Akron, but Monday marked his best appearance since going under the knife.
He looked like the Harvey the Orioles spent the No. 22 overall pick on in 2013 in hopes he could serve as a viable piece of a big league rotation.
"It's been difficult for him. It's a tough, mental road for any pitcher to go through -- as many hurdles as he's had," Bowie pitching coach Kennie Steenstra said. "People forget that he's relatively still young. He's definitely inexperienced as far as professional baseball goes. It's a matter of keeping him healthy, getting him out there every five or six days depending on where we are in the rotation, and letting him pitch and gain that experience. A lot of the things guys his age have already gone through, he hasn't seen, just because he hasn't pitched enough. He's made great strides. He's getting better every day."
Gameday box score
Pirates No. 12 prospect Jared Oliva led off the home half of the first inning with a single to left field. For five frames, that was the extent of the damage against Harvey, who retired 15 in a row until Jason Delay opened the sixth with a single. A one-out walk to Oliva, and another flyout set up first and third with two outs for the native of Catawba, North Carolina. Bligh Madris smacked the first offering of his at-bat right at first baseman Carlos Pèrez, who stepped on the bag for the out.
Up until the Richmond performance, Steenstra thought he'd been burned by one bad pitch or an off-inning per start.
"Things had been rolling pretty well," the coach said. "I think today was a carry-over to a couple of outings ago where he was in command pretty much throughout and mixing his pitches really well. He had a feel for all three of his pitches and was using them effectively."
Harvey recorded seven ground-ball outs and four in the air, throwing 81 pitches (52 strikes). He completed six frames for the sixth time in his career. The 24-year-old's career high is seven innings, accomplished for Delmarva on May 12, 2014 against Lakewood.
Steenstra mentioned Harvey's 60-grade curveball was on point, as he used the pitch to gain an advantage in counts and also while behind hitters.
"That's one of the things we've been talking about," he said. "It's just making sure he's not giving in with his fastball in fastball counts because that's kind of when he's been getting burned. It was good to see. He led with that gameplan. He established all three pitches and kept guys guessing all night."
In addition to pitch sequencing, Steenstra and Harvey have been working on keeping his delivery in a straight line.
"He has a tendency to roll a little bit, starts working under the ball. That's something that's been an emphasis throughout Spring Training and this year," the coach said. "Just the sequencing with pitches. How to put guys away. Things we can continue to work on. He's already seen a lot of improvement, but like I said, just going those experiences that you go through every five days, realizing that every game is different and every situation is different. You got to find your way to navigate those lineups a third time through."
Ademar Rifaela paced the Baysox offense with a 3-for-5 showing that included two homers, three RBIs and three runs scored. Perez homered and plated four. Seventh-ranked Orioles prospect Ryan McKenna collected two hits, a run and a walk and No. 23 Rylan Bannon added two hits, two runs and an RBI.
Chris Bumbaca is a contributor to MiLB.com. Follow him on Twitter @BOOMbaca.