Frogs' Anderson ties career high in K's
Braves No. 4 prospect whiffs 11, allows three hits in six frames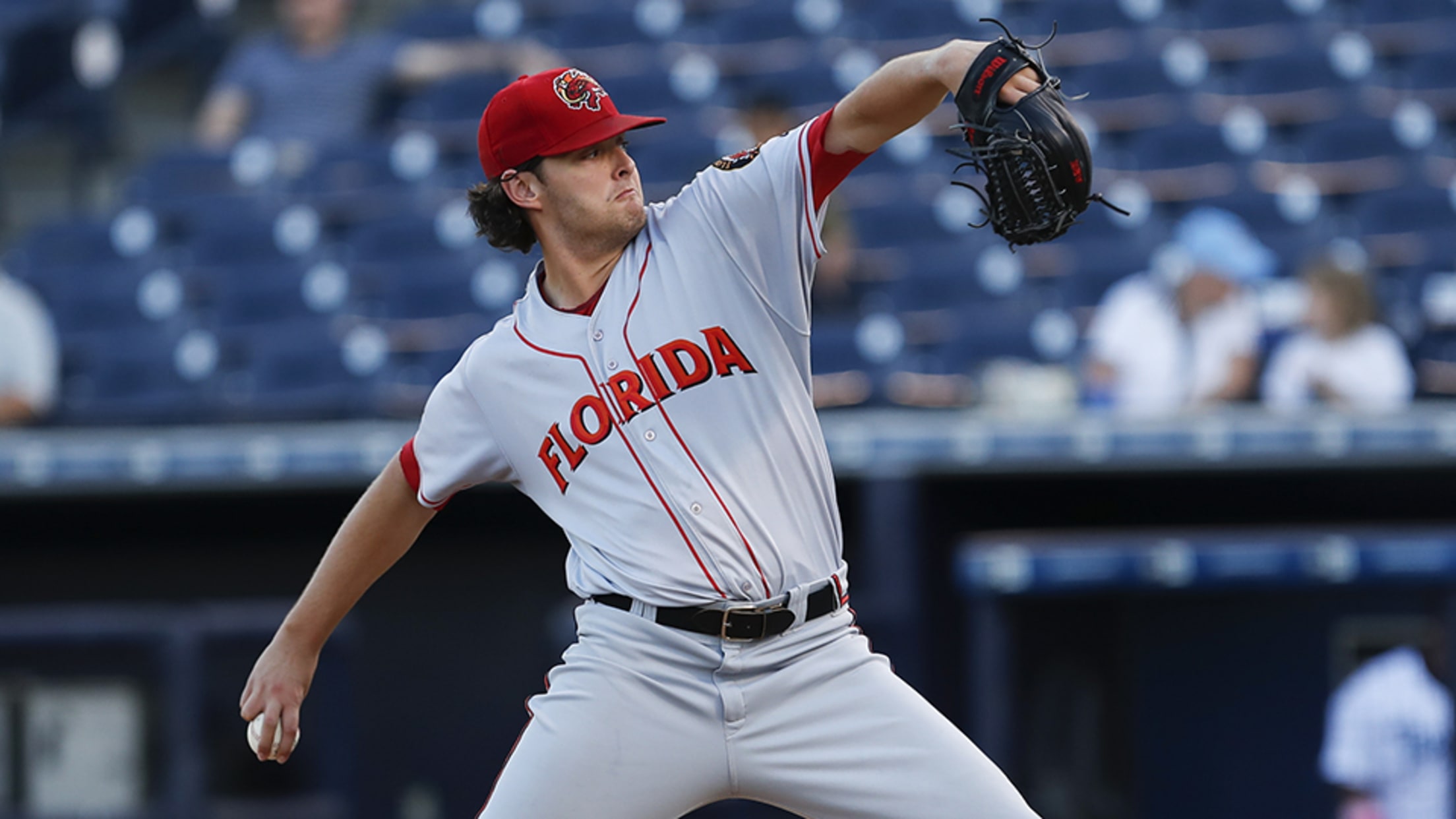 Ian Anderson also struck out 11 on May 25, 2017 in the South Atlantic League. (Mark LoMoglio/MiLB.com)
At just 20 years old, Ian Anderson has already had some memorable moments as a pro. Few were better than Monday's outing, however.Atlanta's fourth-ranked prospect tied a career high with 11 strikeouts in six scoreless innings as Class A Advanced Florida defeated Jupiter, 3-2, at Roger Dean Chevrolet Stadium. Anderson
At just 20 years old, Ian Anderson has already had some memorable moments as a pro. Few were better than Monday's outing, however.
Atlanta's fourth-ranked prospect tied a career high with 11 strikeouts in six scoreless innings as Class A Advanced Florida defeated Jupiter, 3-2, at Roger Dean Chevrolet Stadium. Anderson (2-5) allowed three singles while throwing 67 of 100 pitches for strikes.
Gameday box score
The No. 44 overall prospect's strikeout total matched his effort on May 25, 2017 for Class A Rome against Augusta.
Anderson retired his final five batters, four of them on strikes. The third overall pick in the 2016 First-Year Player Draft came into the game averaging four walks per nine innings, but issued just one free pass and has only walked five in the past 18 innings.
Fire Frogs pitching coach Mike Maroth said getting ahead has been the key for Anderson.
"Just being more aggressive early in the count," the former big league left-hander said. "He's definitely been better of late. Really it's been setting the tone early in the count and even early in games. That's where he's been getting his confidence."
The upstate New York native needed to be precise against Hammerheads right-hander Jordan Yamamoto, the Marlins No. 19 prospect who was coming off consecutive seven-inning shutout performances. The right-hander struck out a career-high 13 two outings ago and almost matched that Monday. He fanned 12 while allowing three runs -- two earned -- on two hits and one walk over six innings.
Maroth said Anderson succeeded with just two pitches as his changeup has not been a weapon of late.
"[The changeup] is one pitch that's been inconsistent," Maroth said. "He had a nice run there with it about a month ago, where he was using his changeup and it was really good. But lately he's had really good late life on his fastball and he locates it well. Once he started throwing curveball in the zone, [batters] had to respect the off-speed pitch, and they started chasing the curveball out of the zone."
The Braves are being cautious with his young arm, but Anderson was allowed to reach 100 pitches in the start.
"It's definitely where we will allow him to go up to that [count]," Maroth said. "We've got to watch him and let just the game dictate how he feels, especially in Florida with how hot it can be."
Maroth acknowledges Anderson still needs to polish his secondary pitches. But the 20-year-old's 6-foot-3 stature and the angle he gets on his pitches continue to be advantages.
"That's just something that since he's come to the Braves, he's had," Maroth said of Anderson's downhill plane. "He drives the ball downhill, gets good extension on his fastball and that's plus for him.
"Size does have something to do with that, but there's plenty of tall pitches who can't get the ball downhill. It's definitely something that really adds extra late life on his fastball."
The Fire Frogs broke through against the Hawaii native in the fourth with a two-RBI single by Kurt Hoekstra. Florida tacked on a run in the fifth when a throwing error by left fielder Cameron Baranek allowed Jordan Rodgers to score.
The Hammerheads plated their runs in the ninth an RBI double by Baranek double and a groundout by Justin Twine.
Vince Lara-Cinisomo is a contributor to MiLB.com. Follow him on Twitter @vincelara.