IL notes: Stewart heeding spring lessons
Orioles No. 11 prospect learned from veterans at training camp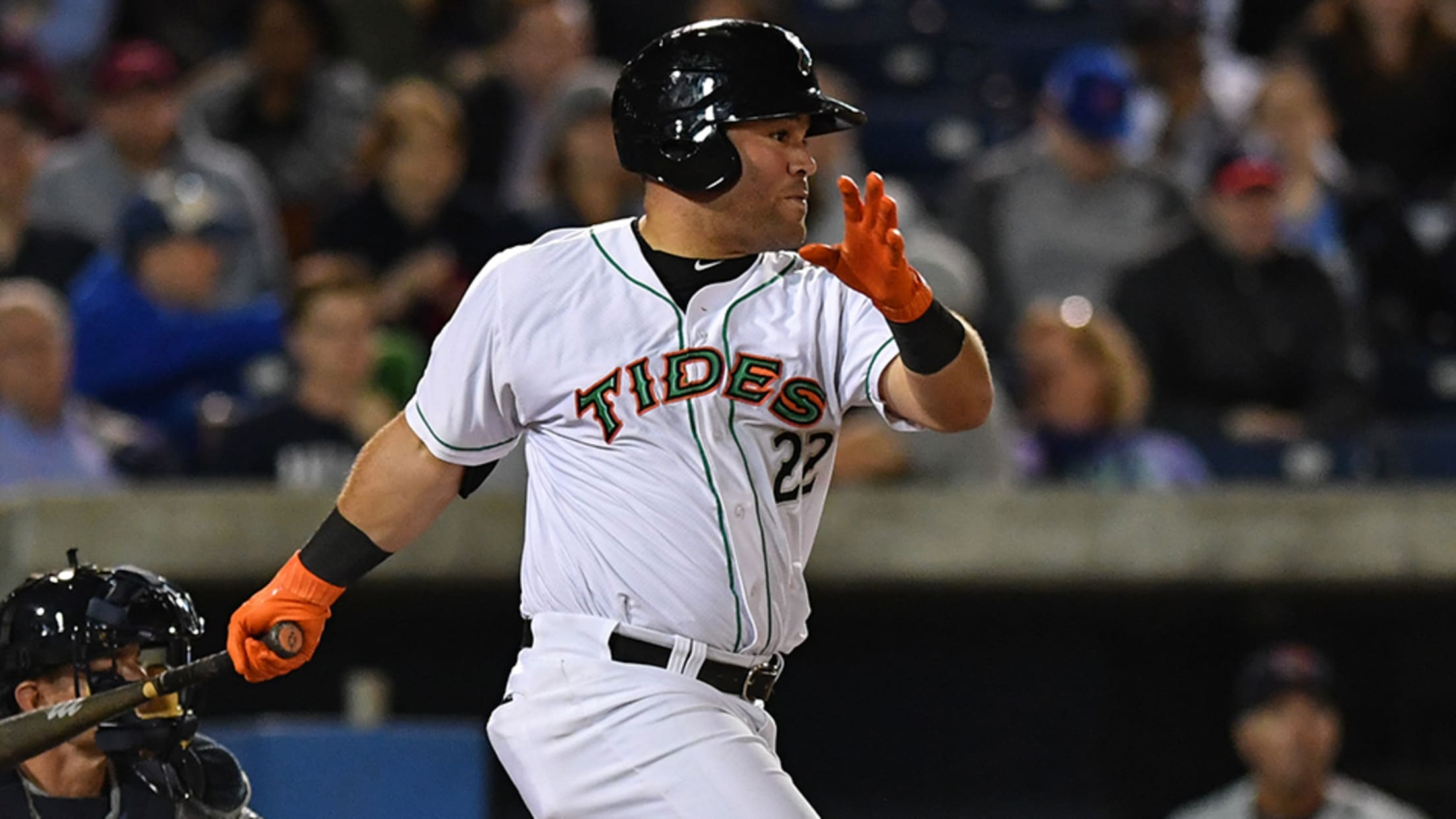 D.J. Stewart was selected 25th overall by the Orioles in the 2015 First-Year Player Draft. (Terrance Williams/MiLB.com)
For many young players, the focus at Spring Training is on sharpening skills they hope will lead them to success in the Major Leagues. For Norfolk's D.J. Stewart, spending this spring working out with the Orioles was about watching -- and learning.
For many young players, the focus at Spring Training is on sharpening skills they hope will lead them to success in the Major Leagues. For Norfolk's D.J. Stewart, spending this spring working out with the Orioles was about watching -- and learning.
"In Spring Training, being around Adam Jones every day, I could see how he goes about his business," Stewart said.
And what was the lesson learned by the 24-year-old outfielder, who's ranked 11th among Orioles prospects, about Major League players?
"They are consistent," Stewart said. "And it's not just that they're consistent in their play: they are consistently preparing every day. They get everything done that they need to do to be ready, including things like getting treatment, doing cage work and getting reps in the outfield.
"They don't take days off. When you take a day off or a game off, that could cost you a potential win. And not getting a win may cost you a chance at the playoffs. So you don't want to take a play off."
Learning that lesson brought some comfort to the Florida State standout who was taken by Baltimore with the 25th overall pick in the 2015 Draft.
"I feel I've always been a hard worker, pushing myself to the limit to see what I can get out of myself," Stewart said. "You only have one life to live, so I try to live it to the fullest. … It is affirming to know it will work. But you still have to put in that work."
Norfolk manager Ron Johnson said he's liked what he's seen from the 6-foot, 230-pounder, who's seen action at all three outfield positions this season.
"He's a physical player, but he's got all the tools that you look for," Johnson said. "He can run, he's got power, he can throw. He's a very exciting kid, at least to me."
At this point in his first Triple-A season, Stewart's numbers are solid -- he's hitting .271 with six homers and 26 RBIs in 41 games. While he's struck out 33 times, he also has 21 walks to give him a .363 on-base percentage. But Stewart said his focus is not on drawing walks; instead, he's focused on taking advantage of hittable fastballs.
"If you foul [a hittable fastball] off and they realize you are 'on' that pitch, you're going to see a lot more secondary stuff," he said. "That stuff can be really, really nasty.
"One thing I've learned at this level is that pitchers aren't afraid to throw up in the strike zone with the fastball. You have to be ready to hit that pitch if they give it to you."
But Stewart also leads the Tides with five stolen bases. And he has a pair of outfield assists.
"When he stays within himself, he can impact the game," Johnson said. "He may be a thick-looking devil, but he can scoot. And he can throw. … He was a 20-20 man in Double-A, and he's flashed everything he can do at times. His work now is all about consistency."

In brief
Stephenson's strikeouts:
Louisville RHP
Robert Stephenson
has 56 strikeouts over 47 2/3 innings, the third-best total in the IL. He ranks third among starters with an average of 10.57 K's per nine innings and his .197 opponents' batting average also is third-best. The only blot on his pitching line is his league-leading 27 walks, but that number is skewed by the eight free passes he issued in an April 25 start against Charlotte. Stephenson has walked seven in his last 24 innings.
Beeks is "cutting" them up:
Pawtucket LHP
Jalen Beeks
has added a cutter to his repertoire, and the results have been devastating for IL hitters. He leads the IL with 73 strikeouts over 49 1/3 innings, with a season-high 11 in an April 28 start at Buffalo. What's more, he has at least six punchouts in all nine starts this season and has fanned eight or more six times. Beeks is 2-3 with a 2.74 ERA that ranks fifth in the IL; he's also third with 9.67 baserunners per nine innings and fourth with a .203 opponents' batting average.
He said it:
"[
Ronny Rodríguez
] has been everything this organization has wanted. He's been everything that's advertised. He brings energy every day, he's a hell of a teammate, he does all the little things you want -- he plays multiple positions, he has power, he has speed, he's helped out other guys on the team. A big reason why we are where we are is because of Ronny." --Toledo manager Doug Mientkiewicz to the
Toledo Blade
. Rodriguez is ninth in the league with a .304 average, adding six homers, 30 RBIs [tied for second] and eight stolen bases while playing center field, second base, third base and shortstop for the Mud Hens, who have the IL's best record.
He said it, part II:
"I don't know what's going on. But I'm just trying to hit the ball hard and whatever happens, happens." --Lehigh Valley 1B
Joey Meneses
to
The [Allentown] Morning Call
. "What's going on" is that Meneses is hitting an IL-best .336 in his first 41 games with nine homers and 24 RBIs. He also leads the league with a .615 slugging percentage, is third with 88 total bases and is tied for third with 21 extra-base hits.
John Wagner is a contributor to MiLB.com.