Vargas leads Aces with five-hit game
D-backs prospect extends streak to 19 on career night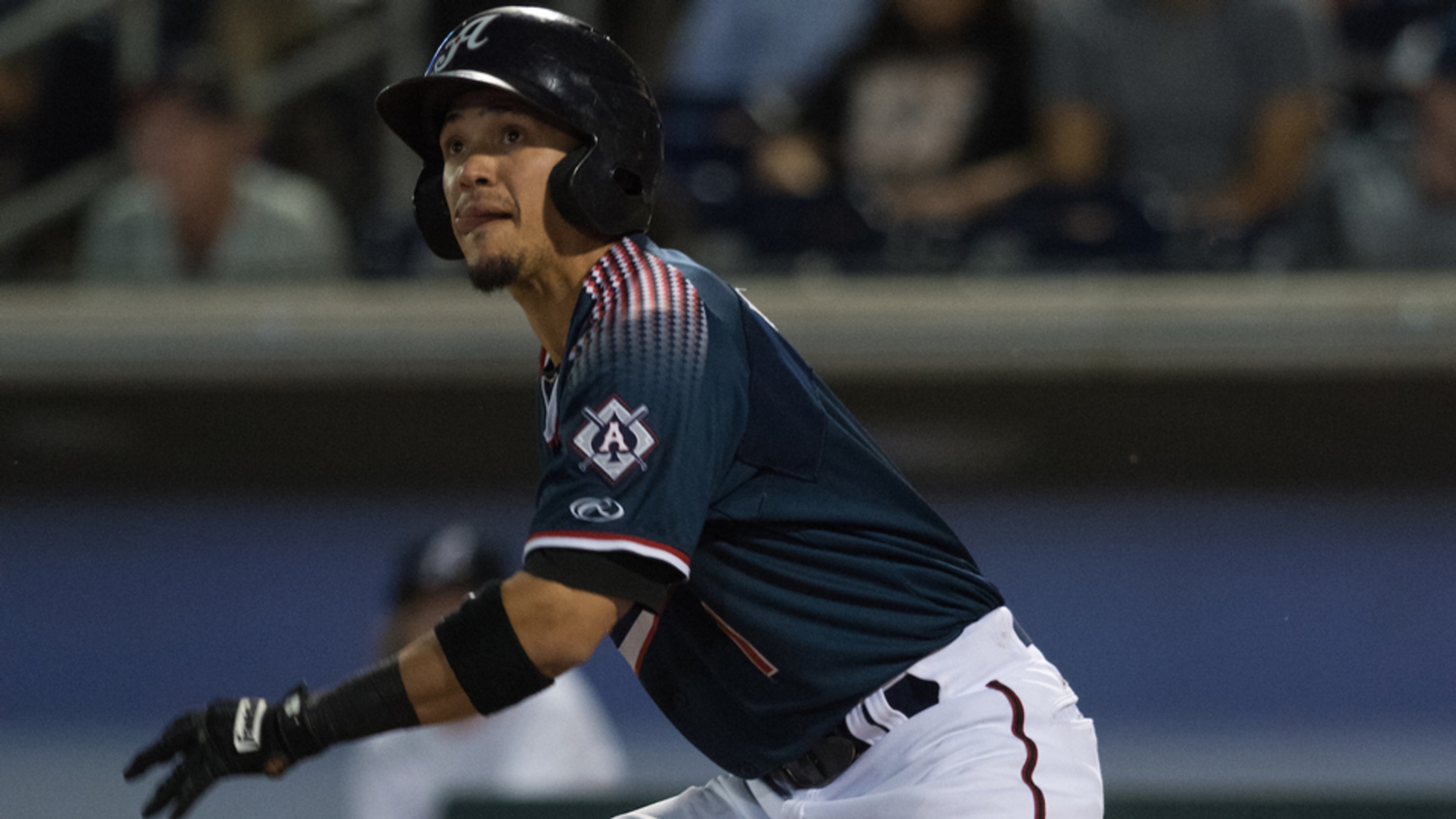 Ildemaro Vargas ranks third in the Pacific Coast League with 113 hits and eight triples. (David Calvert/Reno Aces)
Ildemaro Vargas had strung together four-hit games time and again in his professional career but had never been able to break through for a fifth. Until Thursday.The D-backs prospect singled four times and doubled out of the leadoff spot, extending his hitting streak to 19 games with his first career
Ildemaro Vargas had strung together four-hit games time and again in his professional career but had never been able to break through for a fifth. Until Thursday.
The D-backs prospect singled four times and doubled out of the leadoff spot, extending his hitting streak to 19 games with his first career five-hit game as Triple-A Reno beat Tacoma, 5-3, at Greater Nevada Field.
"He had a little bit of a rough start, obviously, that first month of the season where he was quite possibly just pressing a little bit too much, trying to force the issue," Reno hitting coach Jason Camilli said of Vargas, who had a .255/.270/.368 slash line at the end of April. "That's not who he is. He's a scrappy hitter. He's got great hands, finds a way to make contact on pretty much any pitch possible. He just got back to being himself, what put him on the map.
"He's knocking on the door to .300. He's having fun. He's being relaxed. It's just Vargy being Vargy right now."
Vargas lined a single to left field in the bottom of the first inning and did the same with one out in the third. The shortstop lined a double to left in the fifth and followed with two more singles, one on a liner to left an inning later and the last on a bouncer up the middle in the eighth. The Venezuela native scored Reno's third run of the night when he came home on Christian Walker's double in the fifth.
Gameday box score
Vargas had piled up four hits in a game 12 times in his career, including twice this season, before his big night.
"He's being him," Camilli said. "He's got unbelievable hands and he can hit every single pitch. The thing about him is he's on time to hit everything. When guys make mistakes and leave it out over the plate, with those good hands that he has, he can pretty much shoot it wherever he wants to."
The five-hit showing continued a torrid July for Vargas, who bumped his slash line for the month to .412/.474/.529 through 12 games. He hasn't been held without a hit since June 23 when he popped out as a pinch-hitter. The 27-year-old has hits in 37 of his last 39 starts and hasn't gone hitless in back-to-back games since May 27-28. His overall line sits at .297/.334/.418.
"He starts a game off with a knock, gets on base and stuff, and it just loosens everything up," the hitting coach said. "Boom, guys just follow suit and string together at-bats. Definitely, he's a spark plug for us when he gets on base, and he's been doing a really good job at the start of the game getting on base via a knock or whatever it may be."
Cody Decker chipped in two hits, including his ninth homer, for Reno. Veteran Neftalí Feliz (4-3) won his third straight start after limiting the Rainiers to a run on four hits and three walks with one strikeout over six innings. Jimmie Sherfy fanned three of the four batters he faced for his 12th save.
Tyler Maun is a contributor to MiLB.com. Follow him on Twitter @TylerMaun.