Civale silences Snappers for seven frames
Indians No. 21 prospect scatters two hits, fans seven for Captains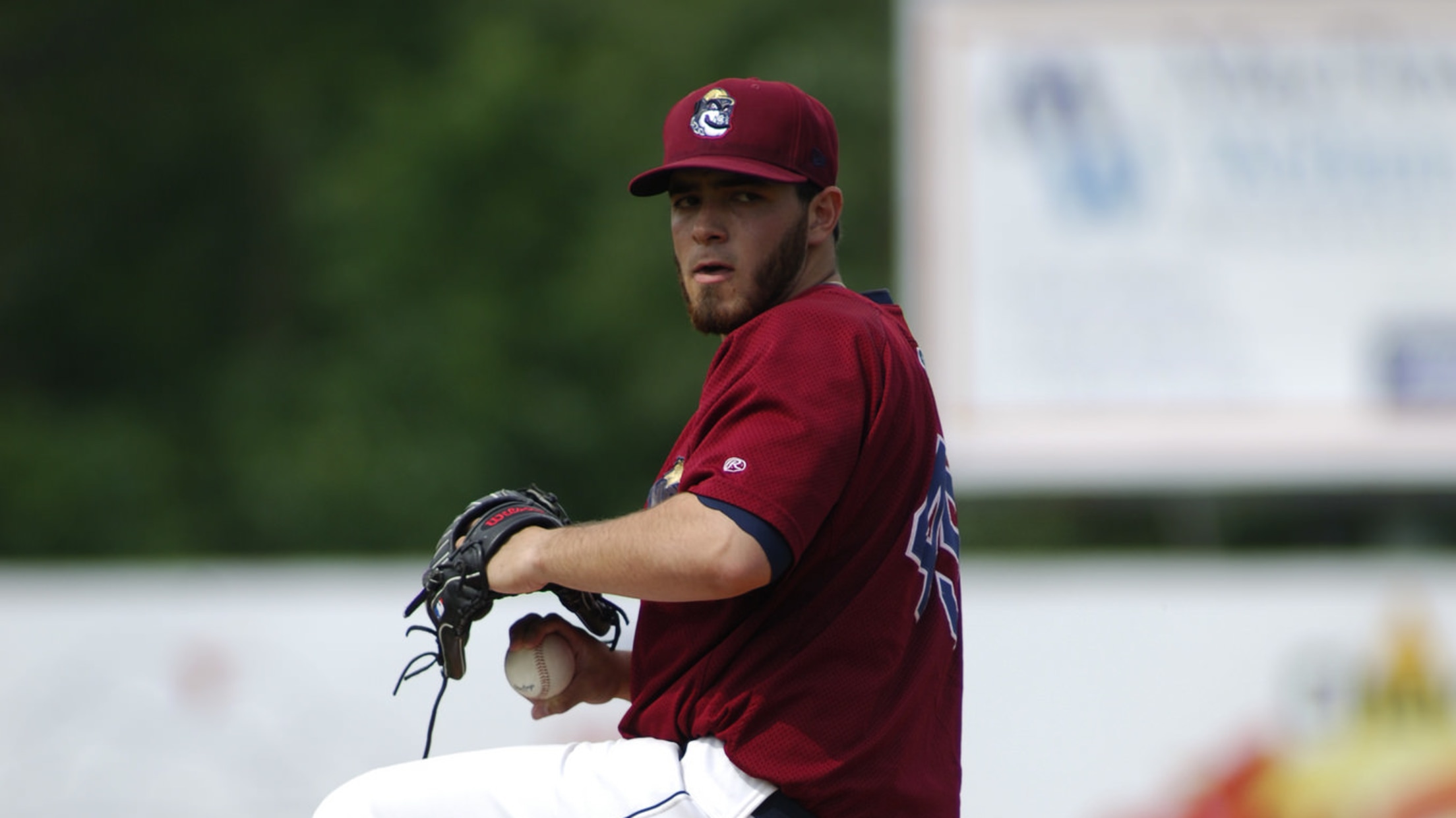 A third-round pick in 2016, Aaron Civale has 41 strikeouts in 41 1/3 innings this season for Class A Lake County. (Lianna Holub/MiLB.com)
Indians prospect Aaron Civale doesn't have to look far to prepare for his next start. Most of the time, he doesn't even have to leave the room.Civale and his roommate of two years, catcher Logan Ice, teamed up Tuesday for another strong outing as the 2016 third-round pick went seven
Indians prospect Aaron Civale doesn't have to look far to prepare for his next start. Most of the time, he doesn't even have to leave the room.
Civale and his roommate of two years, catcher Logan Ice, teamed up Tuesday for another strong outing as the 2016 third-round pick went seven innings in a combined three-hit shutout over Beloit. The Lake County right-hander (2-2) held the Snappers to a pair of hits without a walk, striking out seven.
Michael Letkewicz pitched around a walk in the eighth before Dalbert Siri earned his second save with two strikeouts in the ninth, narrowly escaping a bases-loaded jam.
"I felt pretty good all around," said Civale after his seventh Midwest League start. "Pitches were in the zone, and I was on the same page as the catcher."
Ice was Civale's roommate on the road last season when the pair played at Class A Short Season Mahoning Valley. They're roommates again this year, and Civale said it's helped them build a comfort level on and off the field.
"We have the ability to talk to each other, and being on the same page with him makes everything else easier," Civale said.
Box score
Civale threw 65 of his 89 pitches for strikes Tuesday and is yet to allow more than one walk in game this season.
"We have constant communication, and I'm pretty much completely comfortable," Civale said of Ice, who went 1-for-3 with a walk. "He knows what I'm trying to do and I know what he's trying to do, so it makes it that much easier. I only shook him off a couple times today. It's definitely helpful."
The game's only run came in the fourth inning when Beloit reliever Mitchell Jordan walked in Alexis Pantoja. Jordan (1-1) was charged with a run on seven hits and two walks while striking out two over four innings.
Siri made things interesting in the ninth when he walked Nate Mondou and allowed a double to Kyle Nowlin before issuing a two-out free pass to Luis Barrera. He escaped the jam when JaVon Shelby went down swinging to end the game.
Civale went to Northeastern and debuted last summer with the Scrappers, finishing 0-2 with a 1.67 ERA in 37 2/3 innings over 13 starts. He's allowed three earned runs or fewer in six of his seven starts this year, with at least five strikeouts in four of those outings. He whiffed a career-high 10 batters on April 12 against Great Lakes.
"I pitch to contact and let my defense do the work," he said. "They played good behind me. We didn't score too many runs, but I just tried to keep us in the game so we had a chance to win. We were short on bullpen arms, so I wanted to get as many innings as I could to give them a break."
Civale said he tried to pitch efficiently Tuesday. In his seven starts this year, the 6-foot-2 East Windsor, Connecticut, native has issued just three walks total.
"I kept the ball in the zone, and that limits the amount of free bases," he said. "I want to make them make the outs.
"That's always a goal of mine, limit the walks," he continued. "I know that gets the defense on their heels, they get out of rhythm, and it'll get a pitcher out of rhythm, too. So I try to limit the amount of free bases. If I can control them from getting base by walking, that's something I take pride in."
It was both the third time Beloit has been shutout this season and marked Lake County's third shutout of the year.
Civale said the transition to a higher level has been smooth since most of the Midwest League is full of players he faced last year in the New York-Penn League.
"Our team is all the same guys a Mahoning Valley last year -- I think there were similar promotions around the league," he said. "It's been good. Just a matter of going to compete and doing the same at each level. Same goals. I don't really look too far ahead. I've just gotta compete either way."