Indians Prospect Primer: Mejia's next act
Cleveland's No. 2 prospect takes starring role following historic season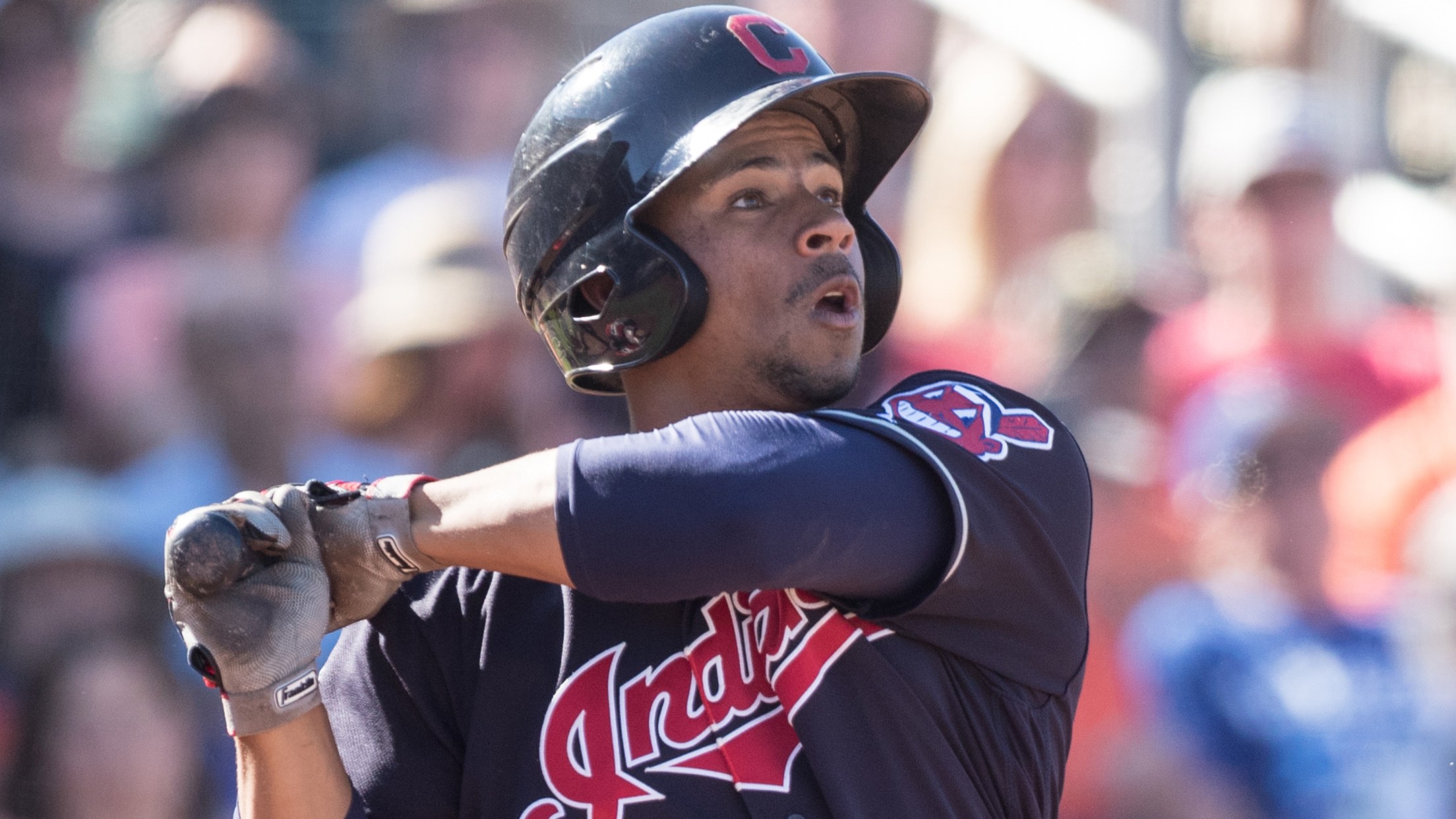 Francisco Mejia went 8-for-19 with two homers and eight RBIs in 11 Cactus League games this spring. (David Monseur/MiLB.com)
Some players are on the verge of stardom, others are entering a crucial phase of their development and still others are getting their first tastes of full-season ball. With the 2016 season approaching, MiLB.com takes a look at the most intriguing prospects from each MLB organization.Shining star: Francisco Mejía ,
Some players are on the verge of stardom, others are entering a crucial phase of their development and still others are getting their first tastes of full-season ball. With the 2016 season approaching, MiLB.com takes a look at the most intriguing prospects from each MLB organization.
Shining star: Francisco Mejía , C
Our Indians Prospect Primer pegged Mejia as a breakout candidate a season ago. The 21-year-old delivered beyond any reasonable expectation. Mejia put together the fourth-longest hitting streak in Minor League history with a 50-game run between May 27 and Aug. 13. He kept hitting into September while amassing a combined .342 average, 11 homers and 80 RBIs between Class A Lake County and Class A Advanced Lynchburg.
Last week, Cleveland optioned Mejia to Double-A Akron, where he will have a chance to build on an equally impressive showing this spring. In 11 Cactus League games, he went 8-for-19 with a pair of homers. The native of the Dominican Republic has little to prove offensively after last season. With a stellar arm behind the plate and improving game-calling skills, his defensive game may not be far off either. Indians catchers hit a combined .182 during the 2016 regular season, so the path should be clear for Mejia to be the club's catcher of the future.
"I thought the time here [in big league camp] was really good for him," Cleveland manager Terry Francona told MLB.com. "He got to be with [first base coach and catching instructor Sandy Alomar Jr.] for a month. He got to catch some of the Major League pitchers. I think he knows that his skills, although he has some developing to do, that it can translate into helping a Major League team."
Major League-ready: Ryan Merritt, LHP
Though he is still a prospect, Merritt has already helped send the Indians to a World Series. The lefty shut down the Blue Jays' high-powered offense in Game 5 of the American League Championship Series, yielding two hits over 4 1/3 scoreless frames before turning things over to the bullpen. Even if he hadn't already proven himself on the big stage, Merritt is a virtual lock to find his way back to Cleveland at some point this season.
Drafted in the 16th round in 2011, Merritt's stuff won't wow scouts. His fastball sits in the upper 80s, while his secondary offerings all grade as average. But the 25-year-old commands his arsenal with a precision that allows him to make up for his lack of physical gifts.
"He's just got a mentality that, he's like a bulldog," teammate Cody Anderson told MiLB.com back in January. "He's never going to give in. There's a lot of people who can tell him, 'Try to throw harder, try to do this, try to do that,' but at the end of the day, he sticks to what he can do best and that's locating the ball and competing."
Merritt will begin the season back in Triple-A, but his advanced nature and prior experience make him an ideal candidate for a role as a depth starter or long reliever.
Full-season debutant: Shane Bieber, RHP
Bieber shined in his professional debut after coming to Cleveland in the fourth round of the Draft. The righty put up a 0.38 ERA and a 21-2 strikeout-to-walk ratio in 24 innings for Class A Short Season Mahoning Valley. That dominance bore a resemblance to what top pitching prospect Triston McKenzie gave the Indians in his first season (0.75 ERA, 17-to-3 ratio over 12 innings in the Rookie-level Arizona League). McKenzie turned in a breakout season in 2016, his first full one. Could Bieber be in line to take a similar step?
Bieber's ceiling is not nearly as high as McKenzie, who rates as MLB.com's No. 57 overall prospect. The 21-year-old does possess a pitch in his repertoire that scouts consider above-average. Like Merritt, he makes up for his lack of pure stuff with command and intelligence. With his level of polish and advanced college nature, he could certainly climb through the system quickly, even if he doesn't sustain his level of production from last season.
Loudest tool: Gabriel Mejia, OF
If Mejia advances to Lake County this year after three seasons at the lower levels of the Minors, Midwest League catchers will need to stay alert whenever he is on the basepaths. The 21-year-old center fielder swiped 28 bases in 65 games last season with Mahoning Valley, second in the New York-Penn League behind the Rays' Jake Fraley. Two years before that, he stole a staggering 72 bases in 70 games with the Indians' Rookie-level Dominican Summer League affiliate. In three Minor League seasons, he has accrued 140 thefts in 180 attempts.
Mejia's game does not end with speed. The 2013 international signee sports a .333 lifetime average in 194 Minor League games and finished with a .322 average last season, 10 points off the pace for the circuit's batting title. Though he has just 32 extra-base hits in his career and has never homered in the Minors, Mejia's speed ensures he can impact a game.
At the crossroads: Erik Gonzalez, SS
Francisco Lindor's emergence as Cleveland's franchise shortstop has hindered Gonzalez's rise through the Minors. The Indians' No. 8 prospect put together an outstanding offensive season at Triple-A Columbus last year, compiling a .296/.329/.450 batting line. However, his success translated to all of 21 appearances in the big leagues, during which he went 5-for-16 without an extra-base hit.
Gonzalez enters 2017 in the mix with a few other players for Cleveland's utility role. With second baseman Jason Kipnis slated to miss a portion of April with a shoulder injury, winning that spot will come with an extended share of playing time. Whether or not the 25-year-old can take advantage of the opportunity might mean the difference between sticking with the big league club long-term or heading back to the International League for a third straight year.


Others to keep an eye on: Though he struggled offensively at times in 2016, top prospect Bradley Zimmer possesses enviable tools across the board. In big league camp, he has batted .354 with three homers in 19 Cactus League games. ... Slugging first baseman Bobby Bradley crushed a career-high 29 homers and drove in 102 runs last year with Lynchburg, but will likely have improve his contact skills after striking out 170 times in 131 games. ... Lefty Brady Aiken returned healthy from Tommy John surgery last season and went 2-5 with a 5.83 ERA over 46 1/3 innings across two levels in his first Minor League action. With another year behind his left-elbow injury, he can work on recapturing the stuff that made him a No. 1 overall pick of the Astros just three years ago.