Intimidators capture division lead over Suns
Dulin mashes 4th HR in 2 days; Kannapolis up 1.0 with 3 to play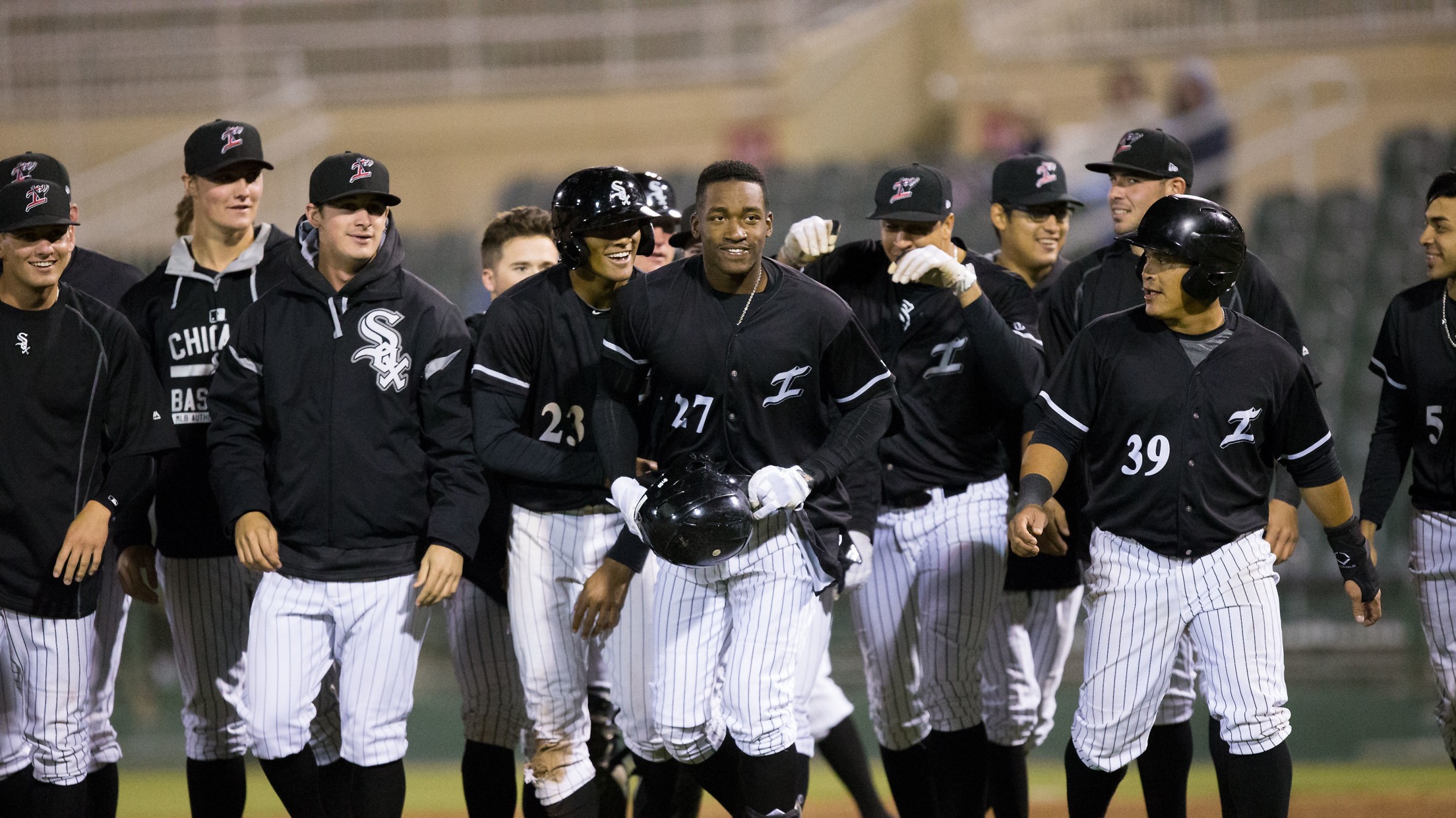 (photo by Brian Westerholt/Four Seam Images)
KANNAPOLIS, N.C. (June 15, 2017) - Brandon Dulin mashed his fourth home run in two days, and the Kannapolis Intimidators officially captured first place in the South Atlantic League Northern Division First Half standings with a 9-1 win over the Suns in seven innings in the second game of Thursday's
KANNAPOLIS, N.C. (June 15, 2017) - Brandon Dulin mashed his fourth home run in two days, and the Kannapolis Intimidators officially captured first place in the South Atlantic League Northern Division First Half standings with a 9-1 win over the Suns in seven innings in the second game of Thursday's doubleheader at Intimidators Stadium supported by Carolinas HealthCare System. Kannapolis (37-28) now leads second place Hagerstown by 1.0 game with three games left in the First Half.
HEAR THE HIGHLIGHTS: Dulin's 4th HR in two days | Intimidators capture first place
Starting pitcher Alec Hansen (7-3) struck out 10 batters - his third double-digit strikeout game of the season - over 6.0 innings to earn the win. The SAL All-Star pitcher limited Hagerstown to a run on two hits while walking one. Former Suns reliever Mick VanVossen, who joined Kannapolis via trade last week, struck out two in a scoreless seventh inning to close out the game against his former teammates.
Dulin continued to outshine the Suns, going 2-for-3 with two RBI and two runs scored. His fourth home run of the series capped a 5-run third inning that officially put the game out of reach. Dulin homered three times during Wednesday's doubleheader against Hagerstown, including twice in the second game of the twin bill. On Thursday, he bounced back from a hitless first game to remind the Suns of the damage he can do in Game 2.
Three Intimidators collected three hits in the second game of Thursday's doubleheader. All Stars Joel Booker and Mitch Roman joined Zach Remillard in all going 3-for-4.
Hagerstown took a quick 1-0 lead in the first inning on an Aldrem Corredor home run, but Kannapolis returned fire with three runs in the home half of the inning. Remillard doubled in two runs to break a 1-1 tie and begin what turned into a 15-hit night for Kannapolis in the 7-inning contest.
Suns starter Yonathan Ramirez (0-2) took the loss, allowing eight runs on 11 hits in 4.0 innings.
Kannapolis can secure the organization's first playoff berth since 2009 if it can win the First Half, which ends on Sunday.
On Friday, the Intimidators open a 3-game series at 7:05 p.m. against the West Virginia Power in the final series of the First Half. The first 500 fans will receive a ticket to the Gem Theatre in Kannapolis, and it's also Get Healthy Kannapolis Night where fans can take a physical challenge to earn $5 in Ballpark Bucks for healthy snack. The home stand also features the second annual Disney Vacation Giveaway Night on Saturday, June 17, where one lucky fan will win a $2,500 vacation to the Magic Kingdom. Tickets are available by calling the F&M Bank Box Office at 704-932-3267 or by visiting IntimidatorsBaseball.com.