Isotopes Announce End-Of-Season Player Awards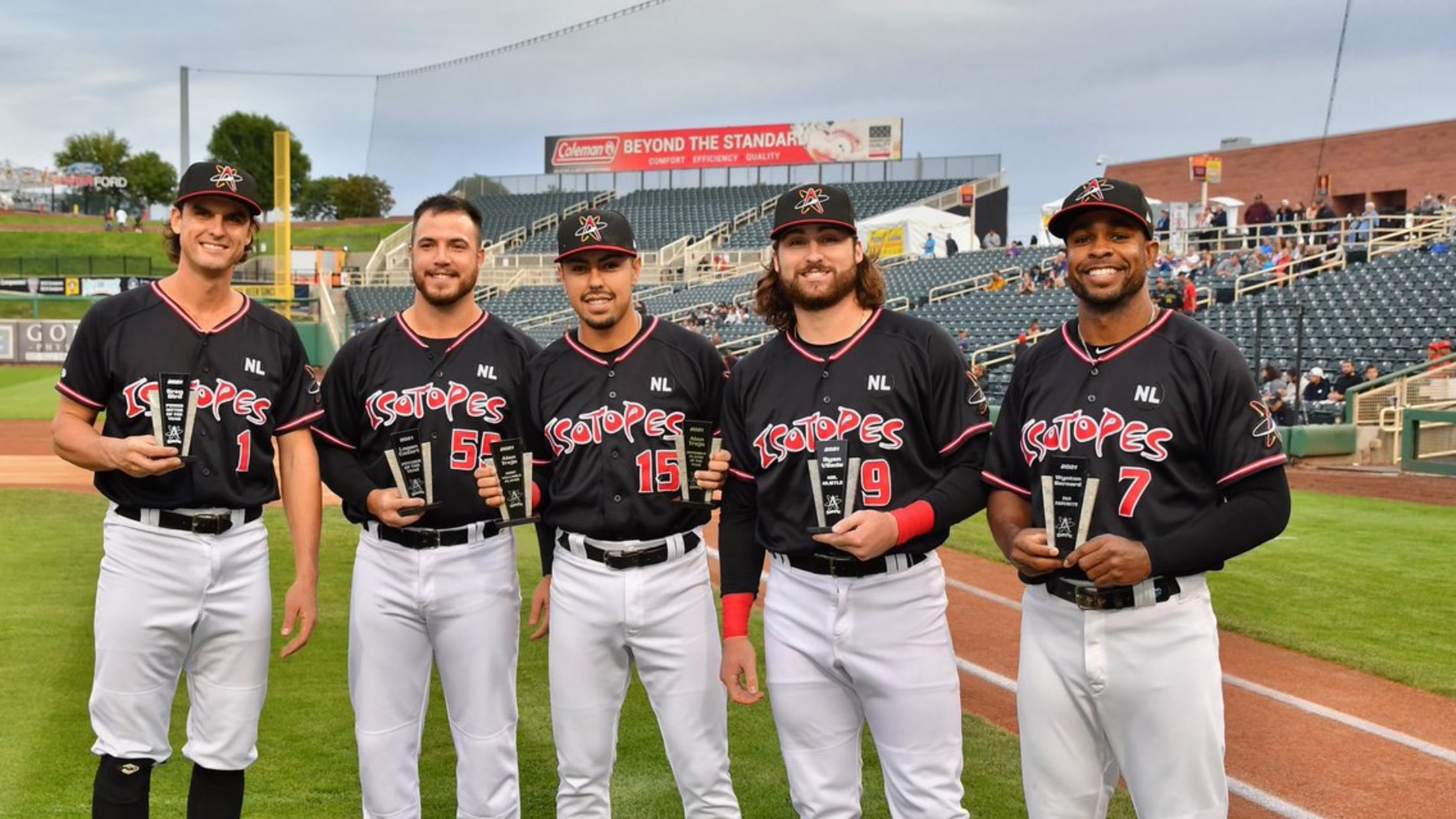 The Albuquerque Isotopes announced their annual end-of-season player awards in a ceremony that took place on the field prior to tonight's game. Alan Trejo was voted as the Isotopes Most Valuable Player for a torrid offensive campaign that has seen him bat .289 with 34 doubles, six triples and 16
The Albuquerque Isotopes announced their annual end-of-season player awards in a ceremony that took place on the field prior to tonight's game.
Alan Trejo was voted as the Isotopes Most Valuable Player for a torrid offensive campaign that has seen him bat .289 with 34 doubles, six triples and 16 home runs with 69 RBI in 82 games. Trejo is seven doubles shy of tying the team's single-season record. He made his Major League debut for the Rockies on April 10 of this year.
Right-hander Logan Cozart was named Pitcher of the Year for a campaign that has seen him serve as a workhorse, appearing in a team-high 50 games (all in relief) while compiling a 3.80 ERA. Cozart has averaged more than a strikeout an inning, fanning 50 in 47.1 frames. This award was voted on by his teammates.
Greg Bird was elected by a vote of his teammates as Power Hitter of the Year in a resurgent season after missing the majority of the last three years due to injury. Bird leads the Isotopes with 27 home runs and 83 RBI in 106 contests.
Shortstop Alan Trejo has dazzled with his play at shortstop this season and was chosen Defensive Player of the Year by his teammates. Trejo has a .979 fielding percentage in 68 games at shortstop, committing just six errors while playing the position.
Ryan Vilade was selected by his teammates as Mr. Hustle. In 108 games with Albuquerque, Vilade is hitting .283 with 27 doubles, five triples, seven home runs and 43 RBI while stealing 12 bases. He leads the Isotopes with 34 multi-hit games and his 124 hits rank fifth among all Triple-A players through the conclusion of play yesterday.
Outfielder Wynton Bernard was selected by the fans as the Fan Favorite. Bernard routinely displayed an enthusiastic personality on the field. In 92 games, Bernard is batting .257 with 12 doubles, six triples, seven home runs, 29 RBI, and leads the team with 23 stolen bases.
Isotopes Director of Community Relations Michelle Montoya received the Jennifer Riordan Community Award. Throughout the entire season, Michelle volunteered her time in the community by bringing Isotopes mascot Orbit to various establishments around town and working with charities for good causes. In her sixth year with the organization, Michelle also serves as a "Kindness Ambassador" with the Jennifer Riordan Foundation.