Isotopes Squander Seven-Run lead in home-opening 10-9 loss
Topes pitching fanned 14, the most on the year
Albuquerque, NM – With the Isotopes leading, 9-6, in the ninth inning, right-hander Ben Bowden walked four and relented all three runs permitting Tacoma to tie, which allowed Tacoma to win the game, 10-9, with a single run in the tenth inning in the 2022 home opener Tuesday night. Bowden
Albuquerque, NM – With the Isotopes leading, 9-6, in the ninth inning, right-hander Ben Bowden walked four and relented all three runs permitting Tacoma to tie, which allowed Tacoma to win the game, 10-9, with a single run in the tenth inning in the 2022 home opener Tuesday night.
Bowden walked four of the six batters he faced. Nate Griep came in to relieve Bowden but allowed a base-loaded walk to tie the game. A sac fly in the top of the 10th by the Rainiers proved to be the only run they needed as the Isotopes were unable to cash in a run with runners on second and third with one out.
Schebler, D.J. Peterson and Tim Lopes all homered. Peterson, the former UNM star, made a triumphant return to Isotopes Park, going 2-for-5 with two runs and two RBI, with a two-run clout. Lopes also went 2-for-4 with a run and RBI behind his solo homer.
All six runs in the fourth inning came via the homer run, Peterson's two run round-tripper and Schebler's slam.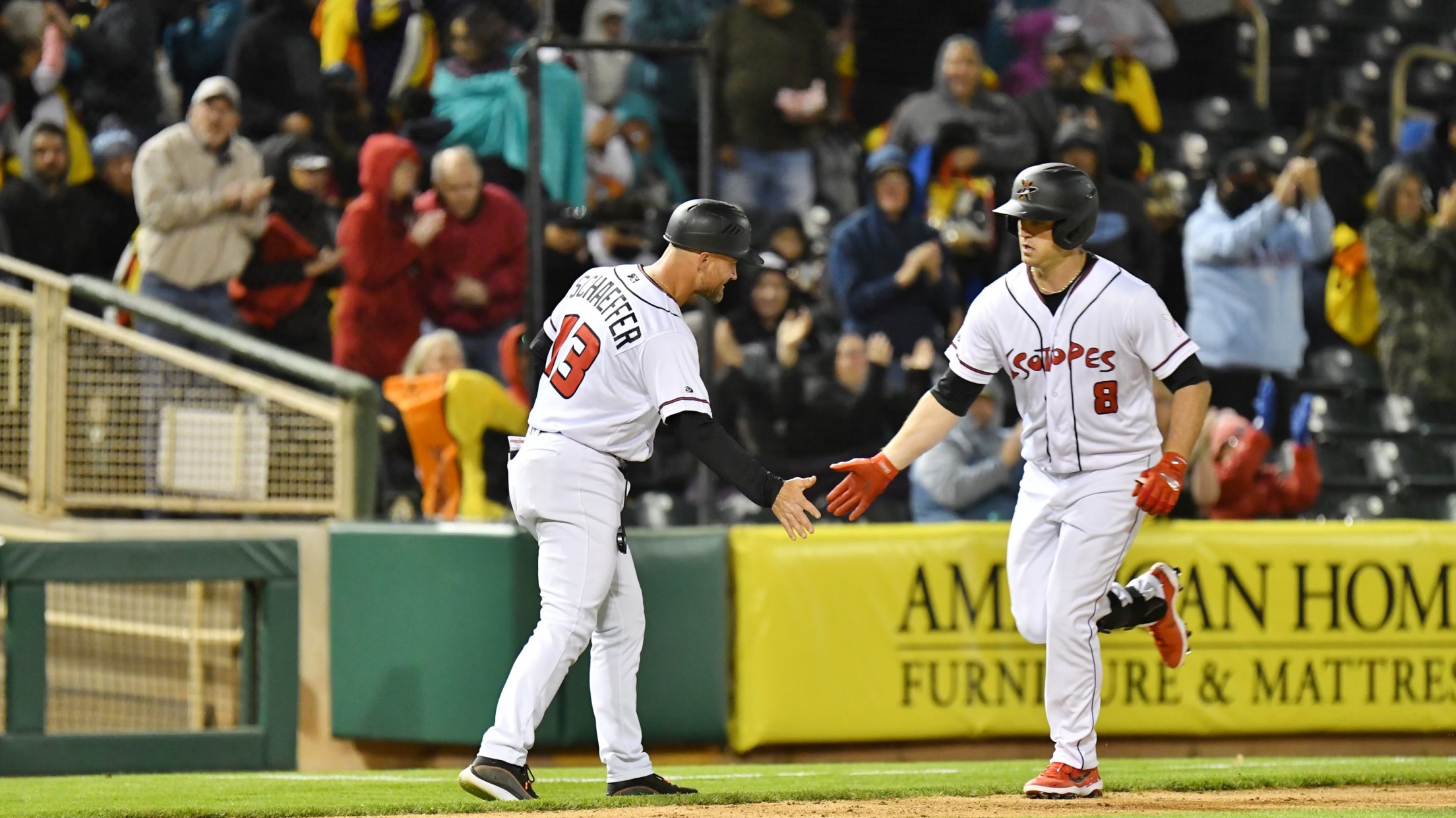 Albuquerque's starter Frank Duncan went 4.1 innings and surrendered five runs on nine hits and three walks. He fanned five.
Topes Scope: - The blown seven-run lead in a loss is the biggest in Isotopes history since August, 6, 2012, against Tucson.
- The two runs scored in the third inning were the first runs plated in that frame all year.
- Scott Schebler's fourth inning grand slam was the first slam since Joshua Fuentes' blast on Sept. 23, 2021, vs. Reno. It was also the first grand slam in a home opener since Tim Smalling in 2016 against Tacoma.
- Albuquerque's 12 total hits by the Topes are the most in a game this season.
-Ben Bowden's Triple-A scoreless streak came to an end at 13 innings.
- The six runs in the fourth inning was the most runs scored in an inning this season and the most since Sept. 29, 2021, against Sacramento.
- The three home runs are the most in a game this season and the most since Oct. 1, 2021.
- Topes pitching fanned 14, the most on the year, including six-straight at one point.
-Tonight's contest was the first extra-inning game since October 1, 2021, at Sacramento, a 7-3 victory.
-The 2022 home opener is the second-coldest opener at Isotopes Park in team history.
On Deck: In game two, left-hander Dillon Overton takes the ball for his second start of the season. He will be opposed by right-hander Asher Wojciechowski.