It's hard to top Riesener's perfection
Record-breaking 20-0 season in Alexandria remains untouched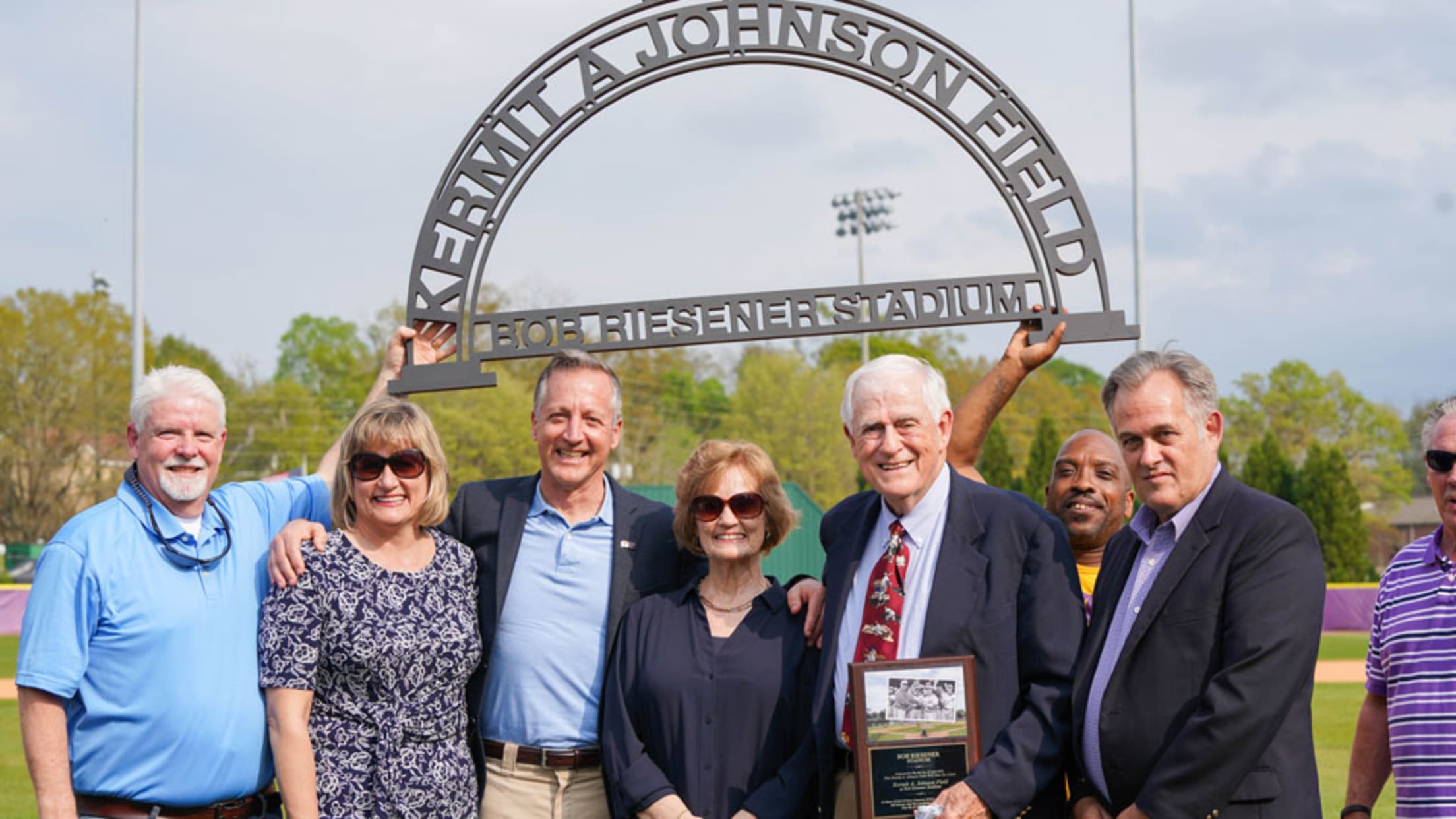 In 2019, the University of Montevallo dedicated a stadium in Bob Riesener's honor. (University of Montevallo)
Minor League Baseball is known for its rich history dating back more than 100 years. While much has been written about the best teams and top players who have graced the Minors, there remain many stories either untold or largely forgotten. Each week, MiLB.com will attempt to fill that gap
Minor League Baseball is known for its rich history dating back more than 100 years. While much has been written about the best teams and top players who have graced the Minors, there remain many stories either untold or largely forgotten. Each week, MiLB.com will attempt to fill that gap and explore these historical oddities in our new feature, "Cracked Bats."
It was good to be a Yankee in 1957. The Bombers ruled the baseball world and were in the midst of the most dominating run in the history of team sports, filling their prospects' heads with dreams of one day starring in the Bronx alongside the likes of Mickey Mantle and Whitey Ford.
Bob Riesener had just such a vision for his future. And based on what he did that summer for New York's affiliate in the Class C Evangeline League, the idea that he'd be pitching to Yogi Berra or Elston Howard one day wasn't all that far-fetched. Riesener, then a 19-year-old control artist, set a Minor League record that season while with the Alexandria Aces, going 20-0 with a 2.16 ERA.
Riesener led the league in ERA, his average more than a run lower per nine innings than the next closest pitcher. The right-hander topped the league with four shutouts and completed 19 of the 24 games he started, registering only four no-decisions.
There have been other great seasons in the Minors, but no hurler has ever matched what Riesener did. Tony Napoles had an 18-0 regular-season record for Peekskill of the North Atlantic League in 1946, but needed the playoffs to add four more victories and finish at 22-0. Billy Macleod went 18-0 for Pittsfield of the Eastern League in 1965, and Francisco Montano posted a 19-1 mark in the 1994 Mexican League season.
The Major League record for most wins in a season without a loss is 12 by Washington's Tom Zachary in 1929. Pittsburgh's Elroy Face still holds the mark for highest winning percentage (minimum 15 decisions) based on his 18-1 record (.947) in 1959. Riesener, however, is still the only pro who can claim perfection to such a degree.
The Evangeline League concluded its season near the end of August and Riesener was bumped up to the Double-A Southern Association. His magic, however, remained in Alexandria as he lost both games he pitched for New Orleans.
But the memories of that summer remain with Riesener, who saw his career cut short by an injury that forced him to retire following the 1960 season. There would be no glory days in the Bronx, no winning pennants with the Yankees. Instead, Riesener would find fame in another area of the game, going on to coach college baseball at the University of Montevallo in Alabama.
Riesener won more than 1,000 games over three-plus decades as a college coach, earning his place in that institution's Hall of Fame. While it's not a place in Cooperstown, Riesener certainly isn't disappointed with how his career played out. He looks back fondly on the days when he was almost a Yankee and dominated in a small Louisiana town in a way no did before or since.
"It will be 50 years next year," Riesener said of his magical run with Alexandria. "You know, after I got started with it and I was rocking along, I realized it was something that had never been done before. So, one of the things that set in was superstition.
"Prior to every home game I did things a certain way and prior to every road game I started doing things a certain way. When my record got to about 16 or 17 wins I just kept following the same routine. I ate at the same place so many hours before every game. I guess you'd call it surreal because you don't expect to do that."
Riesener, 69, credits Alexandria manager Ken Silvestri with much of his success that summer. Silvestri -- or "The Hawk" -- was a former catcher who spent parts of eight seasons in the big leagues from 1939 through 1951, including three years with the Yankees.
Silvestri was the manager of the Yankees' Class-D Florida State League affiliate in 1956 and that's where he began working with Riesener, who was fresh out of high school. The two moved on together in '57 and the relationship was obviously beneficial to Riesener.
"I knew I was going to the big leagues, I just knew it once I discovered how to pitch," Riesener said. "I was with Silvestri in St. Petersburg and he taught me a lot of stuff. I just thought I could just come out, throw out my glove and beat everyone, which is what I did in high school.
"But I learned how to mix speeds and place the ball relatively well. You do that and you can win. I watch [Greg] Maddux today and that's the kind of pitcher I would have been had I not gotten hurt."
Riesener said he pitched close to 240 innings for Alexandria, by far the most he had ever thrown. He began the following year in New Orleans and was off to a quick start again, leading the staff with a 4-2 record before blowing out his arm. Riesener never recovered from the injury, going 14-15 over his final three seasons before calling it a career after the 1960 season.
"I ended up throwing 240 innings that year, which was a lot for a 19-year-old, and the next season my arm went south of the border," Riesener said. "It never came back after that. It was a big disappointment. Getting hurt the next year was a reality check.
"It probably brought me down from the clouds and made me realize I wasn't as good as I thought I was," he said. "The injury was up in the shoulder and triceps area. Today they take care of it easily with surgery but back then they told you to rest. And when you rehabbed, they put you in the bullpen and it was the dumbest thing in the world having you get up and down and throw with a bad arm."
Riesener, a New Jersey native, returned home and went to Rutgers University following his playing career, finished up his degree and began coaching. He said he realized once he got hurt that he wanted to coach, and spent the final two years of his playing career sitting on the bench, watching, learning and asking questions in preparation for what he wanted to be his second career.
Apparently, he asked all the right questions and observed all the right things because he coached in more than 2,000 games and became a fixture at Montevallo. He brought that school along from an NAIA program to a Division II NCAA program, sending nearly 30 players to the pros. Former Texas Ranger Rusty Greer was the lone Riesener pupil to reach the big leagues. But more importantly, better than 90 percent of his players graduated.
"You know, I have a record somewhere of every game I pitched," Riesener said. "It was a wonderful dream and I hoped I would never wake up. It was great, but pro ball ended up being a springboard for me into coaching.
"The appetite for baseball was never dulled. When you walk away at 22, you feel you're being cheated," he said. "But I still love the game. And that year was something else. But I've already filed it in my hip pocket and I'll leave it there. It's special because no one has ever done it before, or since, but I don't go around advertising it. I'm more proud of the coaching."
Kevin Czerwinski is a reporter for MLB.com.