Brubaker pitches Curve to commanding lead
Pirates prospect goes career-high eight innings in EL Finals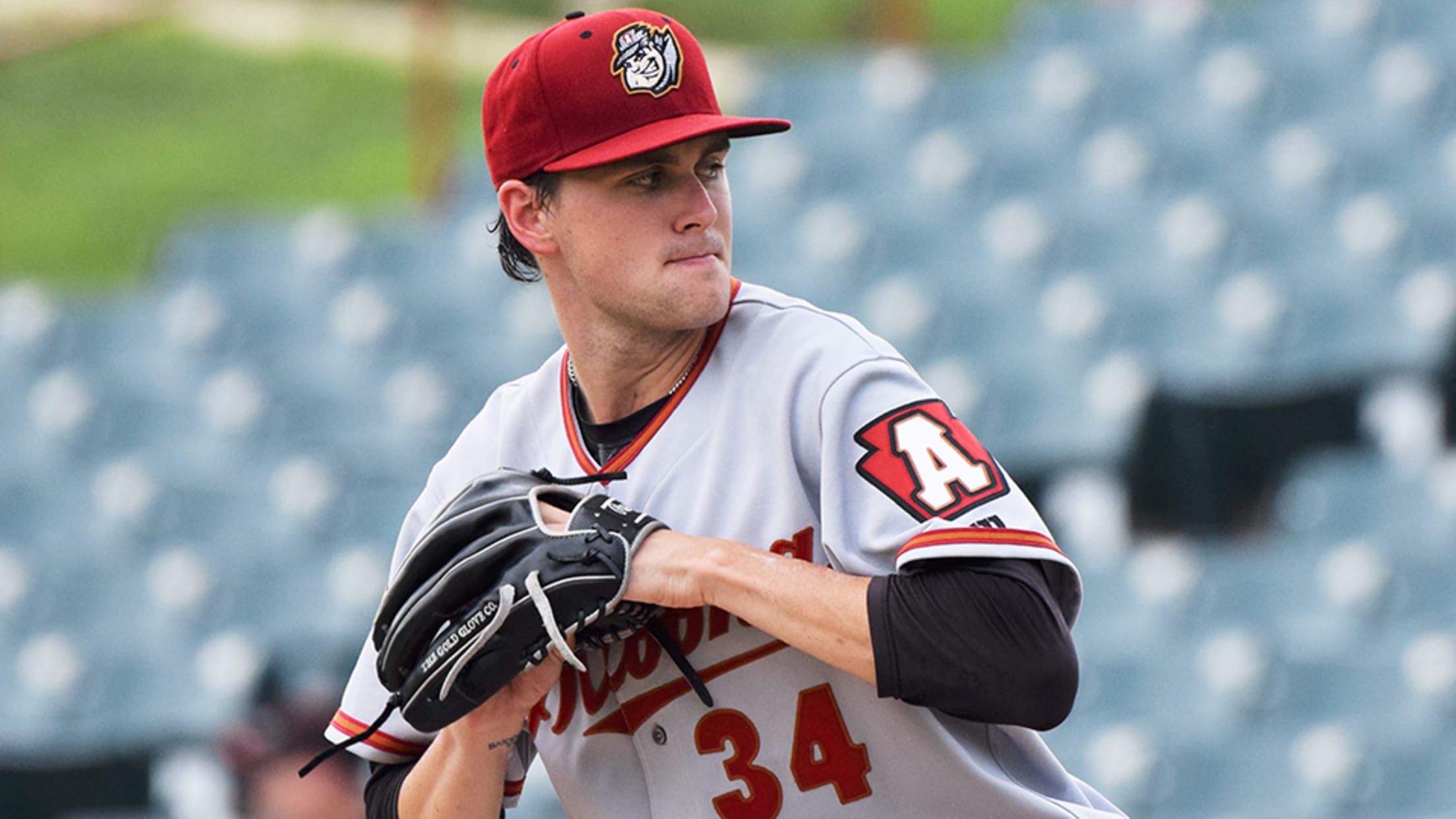 J.T. Brubaker went 7-6 with a 4.44 ERA and 109 strikeouts over 129 2/3 innings during the regular season. (Patrick Cavey/MiLB.com)
 TRENTON, New Jersey -- Although J.T. Brubaker treated Wednesday's game like any other start, he noticed something unique as the innings went on."Just something felt different out there. It felt like there was nothing that [Trenton] could really do," he said. "I just had a gut feeling that I was
TRENTON, New Jersey -- Although J.T. Brubaker treated Wednesday's game like any other start, he noticed something unique as the innings went on.
"Just something felt different out there. It felt like there was nothing that [Trenton] could really do," he said. "I just had a gut feeling that I was just going to go out there and throw strikes."
That's pretty much what he did.
The Pirates prospect allowed two runs -- one earned -- on eight hits over a career-high eight innings as Altoona eat Trenton, 4-2, at ARM & HAMMER Park to take a commanding 2-0 lead in the best-of-5 Eastern League Championship Series.
Brubaker's velocity only got better as the game wore on. Knowing it was his final start of the year, the 23-year-old said he reached back a few times to really go for it.
Gameday box score
"Each warmup felt better and better. It didn't feel like I was losing stamina or energy," he said. "I just felt like my arm was getting looser and looser as the game went on and more occasions rose where I [needed a big pitch], I just kept doing it and locating it and felt pretty good."
Brubaker found himself in a couple jams, but each time he kept the mentality that he was just one pitch away from getting out of trouble. That was especially true in his final frame. After Yankees No. 18 prospectThairo Estrada knocked a one-out single to score Jeff Hendrix and get the Thunder within 4-2, the right-hander got Billy Fleming to hit a comebacker.
"Don't throw the ball into center field," the right-hander thought as soon as he fielded the ball.
He didn't, making a clean throw to second baseman Mitchell Tolman. And as soon as he saw the Tolman make the relay to first, he knew he could exhale. And for the final time this season, the University of Akron product skipped over the chalk as he returned to the dugout.
"[I'm] very superstitious. I don't like stepping on it, I don't like to step on the dirt, don't get close to it. It's just one of those things I do," he explained. "That's the one thing I know I do every time."
The good luck carried over to his offense. Altoona got on the board in the fifth on an RBI single by Elvis Escobar and a bases-loaded walk by Kevin Kramer. Escobar plated another run in the sixth, giving him six RBIs in the Curve's five playoff games.
Complete playoff coverage
"Offense was great, they saw the ball well. Even when they do get outs, they are loud outs, hard contact," Brubaker said. "Their situational hitting is unbelievable right now."
Pirates No. 19 prospect Yeudy Garcia struck out two and worked around a walk in the ninth for his first postseason save.
Thunder starter Justus Sheffield, the Yankees' fifth-ranked prospect, took the loss after giving up two runs on four hits and a walk with six strikeouts in 4 1/3 innings.
With a chance to complete a sweep at home, Altoona is expected to send second-ranked Pirates prospect Mitch Keller to the mound on Thursday.
Kelsie Heneghan is a contributor to MiLB.com. Follow her on Twitter @Kelsie_Heneghan.