A May Update From The Jackson Generals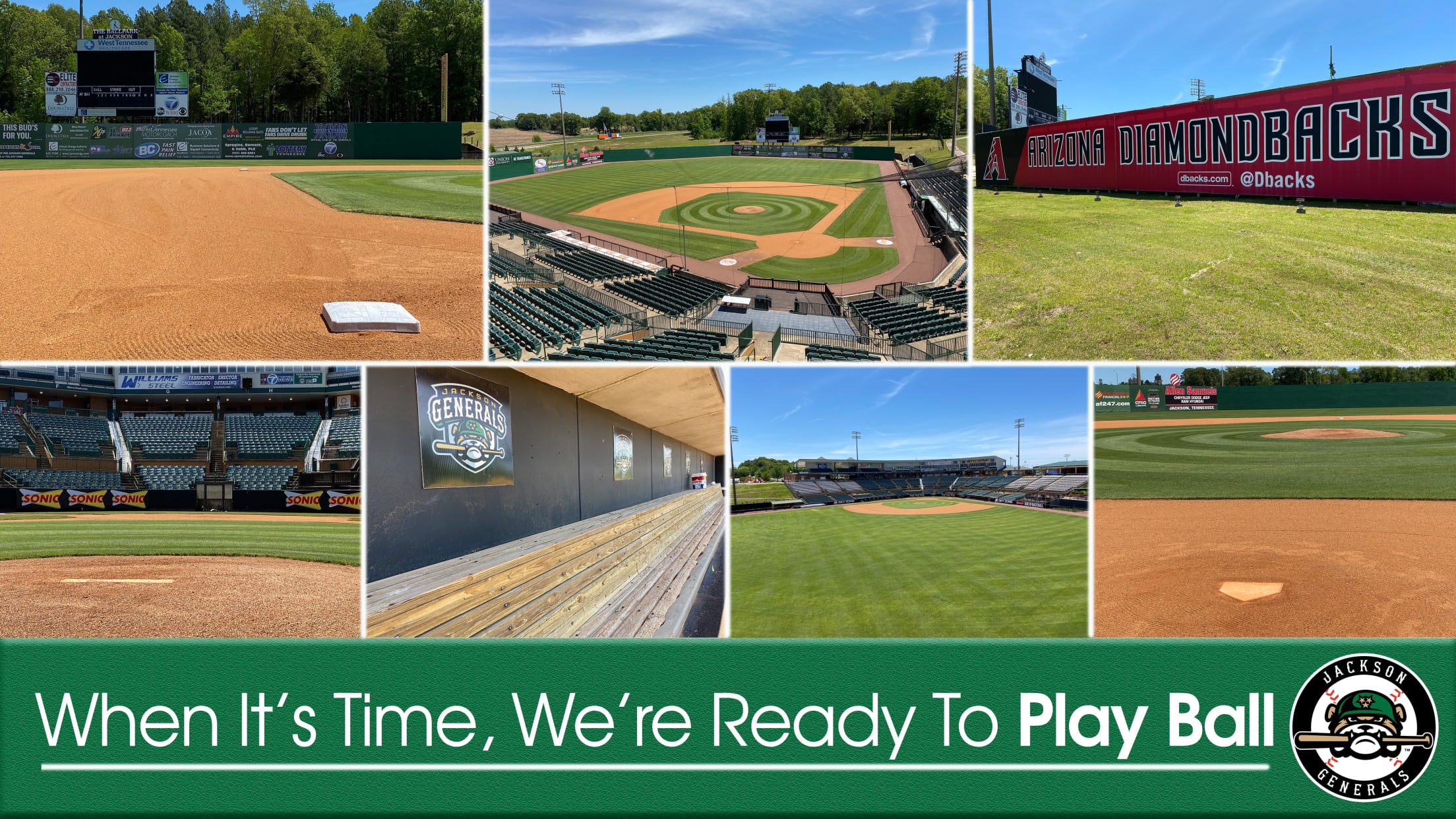 All of us at the Jackson Generals want to sincerely thank our outstanding fans and partners for your patience as we navigate these unprecedented months, and wait for a picture of what baseball may look like in 2020. We miss the warming days of April spent at a ballgame, the
All of us at the Jackson Generals want to sincerely thank our outstanding fans and partners for your patience as we navigate these unprecedented months, and wait for a picture of what baseball may look like in 2020. We miss the warming days of April spent at a ballgame, the sights, sounds and smells of The Ballpark on game day. But most importantly, we miss you, and the coming together of our community to celebrate America's pastime.
When we do make it through this, our goal is to reestablish that sense of community by providing you and your families the all-inclusive and affordable entertainment that make summer's in Jackson special. Our staff welcomes all questions that our fans may have regarding tickets or scheduling information, and we will continue to work diligently to relay all up-to-date information on the scope of the Minor League Baseball season in 2020.
In an effort to answer some of the questions you may have, we have compiled a list of Generals news updates below as we enter May. Our office phone lines (731-988-5299) are open Monday through Friday from 9am-5pm, and we would love to hear from our fans to address any questions or concerns you may have.
Baseball will be back, and when it's time, we'll be ready to play ball. Until then, stay healthy, stay safe, and Go Generals!
UPDATE ON SNOOP DOGG CONCERT
Our office has received many calls regarding the status of the Snoop Dogg and Twista concert. The show at this point in time is still scheduled for Monday, July 20th at The Ballpark with gates opening at 5:30 pm. Generals admission tickets start as low as $49 and can be purchased by clicking the image on the Generals homepage. Stay tuned to all Generals social media platforms for scheduling updates as we get closer to the show.
NEW TEAM MERCHANDISE AVAILABLE ONLINE AND IN-PERSON
Get them before they are gone! Generals 2019 Champion Hats and brand new 2020 team merchandise is now available through the online team store. We will quickly ship to you! Starting Monday May 4th, our Team Store will also be open once again to the public from Monday-Friday, 9 am - 4 pm, for in-person sales. We ask that those who plan on visiting the Generals Team Store to please adhere to proper social distancing principles while at The Ballpark. We look forward to seeing you!
LISTEN TO THE GENERALS NEW PODCAST SERIES
We may not have live baseball to broadcast right now, but we're still talking baseball! Play-by-play men Andrew Chapman and Tyler Springs have teamed up to bring you The Dog House: A Jackson Generals Podcast.
The guys sit down (virtually) with Generals coaches and players to get the inside scoop on their quarantine situation and look back on the 2019 Southern League Championship Series. Guests on the podcast include pitching coach Doug Drabek, along with Dbacks prospects Seth Beer, Matt Peacock, and Kevin McCanna, plus more to come!
The Dog House is available for streaming on SoundCloud and through Apple Podcasts.
THE JACKSON GENERALS WANT TO OFFER A HELPING HAND
The Generals Care program is our way of giving back to the Jackson community and beyond. This May, the Generals Care program is teaming up with with the Regional Inter-Faith Association (RIFA) to sort food donations to help provide weekend lunch packages for kids in Jackson and surrounding communities.
If your local non-profit organization would like to partner with the Generals Care program, please call us at (731) 988-5299 for information on how we can help or to pitch your idea.
CONSTRUCTION COMPLETED ON NEW OUTFIELD WALL
One of our biggest projects of the 2019-2020 offseason is now complete as we usher in a new decade of Generals baseball. Construction of our new outfield wall at The Ballpark began in January, stripping away the original plywood from the 1998 inaugural season. The Generals would like to thank the City of Jackson for their partnership on the project and their continued dedication to maintaining a top-tier facility. Also deserving of recognition are our own front office staff members, Matt Malone and Winston Brooks, who spent countless hours drilling, painting, and leading the construction effort.