Shuckers go back-to-back-to-back in stunner
Nottingham caps two-homer game, seventh-inning comeback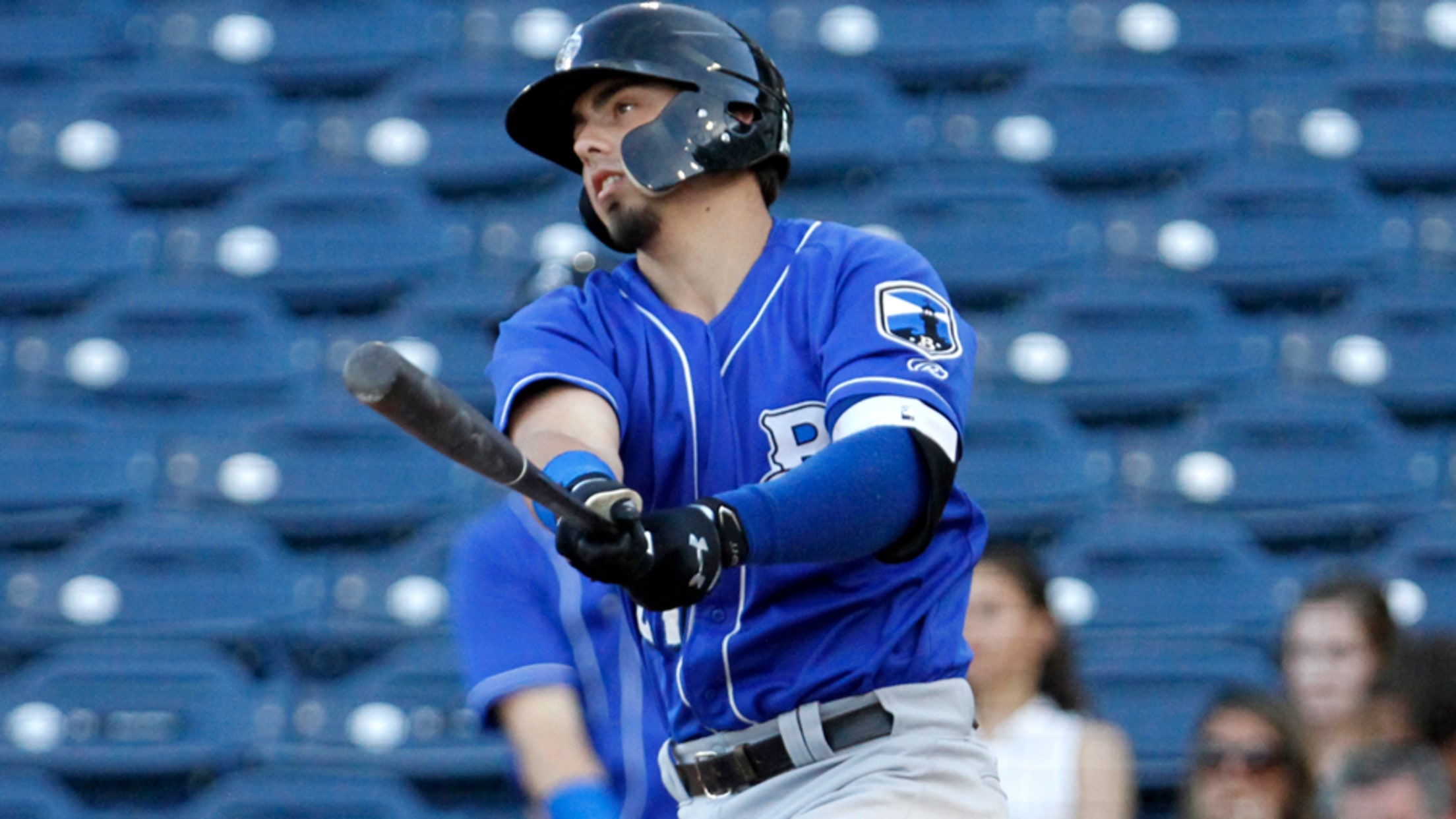 Jake Nottingham is 3-for-7 with three homers and four RBIs in his last two games for Biloxi. (Ed Gardner/MiLB.com)
Jacob Nottingham enjoyed a standout individual performance on Sunday, but the game was made especially memorable because of what he was able to do with his teammates."That's exciting because it's a team thing and, obviously, you want everyone to be doing good," the Brewers' 19th-ranked prospect said. "With us being in
Jacob Nottingham enjoyed a standout individual performance on Sunday, but the game was made especially memorable because of what he was able to do with his teammates.
"That's exciting because it's a team thing and, obviously, you want everyone to be doing good," the Brewers' 19th-ranked prospect said. "With us being in a playoff push, that really gets us going. I was pretty excited. I was just trying to go up and have fun and hit the ball."
Nottingham's second homer of the game capped a run of back-to-back-to-back jacks started by Angel Ortega and Javier Betancourt as Double-A Biloxi rallied for a 10-5 triumph over Jacksonville at MGM Park. It was the first time in franchise history the Shuckers have hit three consecutive long balls.
Gameday box score
It could not have come at a better time for Biloxi, which is four games behind first-place Jacksonville in the Southern League South Division with eight games to play -- including three more with the Jumbo Shrimp.
With the Shuckers trailing, 5-4, and two outs in the seventh, Ortega drilled a two-run blast. Betancourt followed with his sixth homer to chase Jacksonville right-hander Esmerling De La Rosa.
"It was a cool feeling. We were down by one and Angel Ortega put us ahead with a big hit. Betancourt follows with another good at-bat, puts a good swing on it," Nottingham said. "When I was coming up, I just wanted to get a good pitch and try to get a good swing on it, and luck was on my side."
The 22-year-old catcher welcomed southpaw Jeff Kinley by making him throw five pitches and putting the fifth on the other side of the fence in left-center.
"Usually, when you see more pitches, your timing gets better and you kind of see what pitches do what," he said. "I know he threw me three changeups and I was looking at something over the plate. He threw me a sinker, and the rest is history. The biggest thing going up was just trying to have a good at-bat, a good approach."
Trotting around the bases, the native of Redlands, California, basked in the roar from the crowd of 3,248.
"It's a good feeling when the crowd's involved and everyone's cheering," he said. "We have a great fan base here in Biloxi. To be able to do that in front of them, that gives us motivation."
After hitting five homers in his first 91 games of the season, Nottingham has belted three in his last two. He was in a 2-for-24 funk without a long ball since July 23 before going yard on Thursday. His first multi-homer game of the year boosted his slash line to .211/.331/.372.
"I've been working a lot on trying to simplify things," the 2013 sixth-round pick said. "It's just going up and seeing the ball. I'm not trying to worry about the mechanics and all that other stuff because I did that a little earlier. And if you think about it while you're hitting, it makes it harder. It's already hard enough to hit a baseball."
His first dinger of the day came in the fourth, when the right-handed hitter swatted Matt Tomshaw's first pitch out of the yard to left field for a two-run shot that forged a 2-2 tie.
"My first at-bat, he started me off with off-speed pitches," Nottingham said of his second-inning strikeout. "Going into that [fourth-inning] at-bat, I was trying to see something up in the zone. He left a fastball middle-middle and it was obviously in my zone where I wanted it, and I just hit it. It was awesome that I was able to do that and tie the game."
Ortega finished 2-for-5 with three RBIs and two runs scored, while Betancourt also doubled. Gabriel Noriega went 4-for-5 with two RBIs and a run scored for the Shuckers.
• Get tickets to a Shuckers game »
Marlins No. 25 prospectJohn Norwood slugged his 18th homer for the Jumbo Shrimp, giving him sole possession of fourth place in the Southern League.
Josh Jackson is a contributor to MiLB.com. Follow and interact with him on Twitter, @JoshJacksonMiLB.