Cyclones' Vilera extends shutout streak
Mets righty drops New York-Penn League-best ERA to 0.78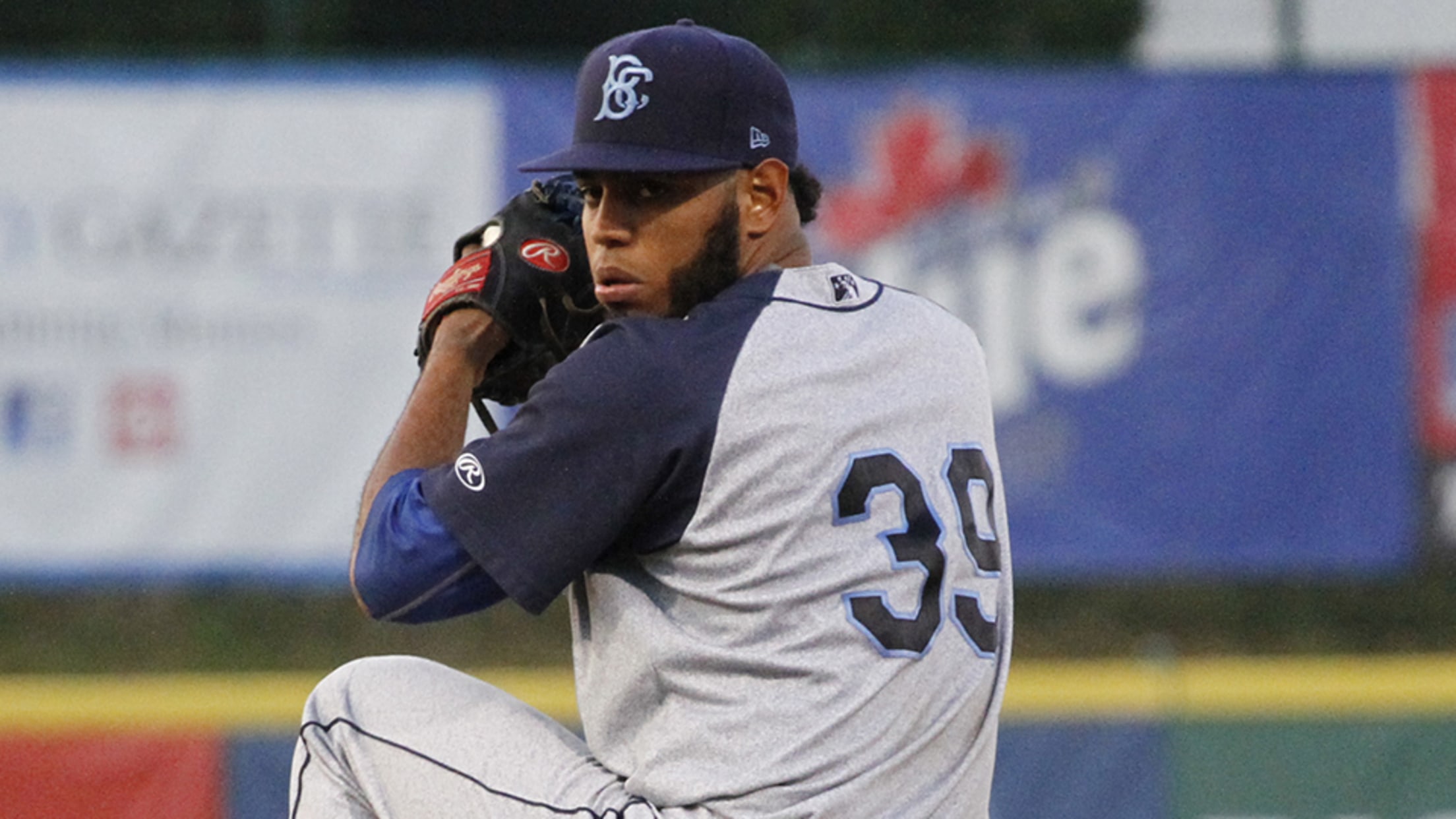 Jaison Vilera leads the New York-Penn League in wins, ERA, strikeouts and opponents' average. (Liz Flynn/Brooklyn Cyclones)
Jaison Vilera has found his groove in the New York-Penn League and shows no signs of letting it go.The Mets right-hander threw seven two-hit frames Sunday to extend his scoreless streak to 28 2/3 innings, leading Class A Short Season Brooklyn to a 7-1 victory over West Virginia at Monongalia
Jaison Vilera has found his groove in the New York-Penn League and shows no signs of letting it go.
The Mets right-hander threw seven two-hit frames Sunday to extend his scoreless streak to 28 2/3 innings, leading Class A Short Season Brooklyn to a 7-1 victory over West Virginia at Monongalia County Ballpark.
Gameday box score
"He did a really good job of commanding his off-speed pitches," said Cyclones pitching coach Royce Ring. "At times he struggled with his changeup early on a little bit, but he found that later in the game. He was able to use a fastball and curveball combination early in the game to get through and have quick, efficient innings. Later on, he started finding his changeup, which is his best pitch. By doing that, it allowed him to be strong all the way through seven innings."
Vilera (5-1) recorded three groundouts in a perfect first inning before allowing a leadoff single to Jin-De Jhang in the second. After that, he set down six batters in a row, a stretch that ended when Luke Mangieri led off the fourth with a single.
The 21-year-old again stranded the baserunner but issued back-to-back walks to Zack Kone and Grant Koch in the fifth before getting Edison Lantigua to bounce into a double play.
"I'm not worried when he gets a couple of guys on," said Ring. "He's done this all year. It's why he's having such a good year. You're seeing a really confident pitcher out there all year. He really wants it, he works hard. It's fun to watch him go about his daily business and find this success every day."
Vilera punched out two in a seamless sixth and did the same in the seventh, exiting after throwing 54 of 92 pitches for strikes.
"He throws nothing straight," said Ring. "He tunnel-pitches, so everything looks down the middle, but it cuts a different way. It moves back and forth. He can command it well and that makes it really hard for hitters to get in good counts. Even when they do get in good counts, there can be weak contact and then he gets those double plays and big key outs."
The right-hander leads the New York-Penn League in wins, ERA (0.78), strikeouts (56) and opponents' batting average (.150), having given up 23 hits over 46 innings in eight starts. His 0.83 WHIP ranks second, trailing only Lowell's Eduard Bazardo (0.80).
"He made the leap from the GCL to the Penn League from last year to this year, and I think he was trying to figure it out the first couple of starts," said Ring. "With all the noise and fans we have in Brooklyn, I think he had to get acclimated and understand it's still the same game that he was already successful at last year. Once he figured that out, he's kind of took off. Then he started to learn how to use his repertoire through a lineup three or four times."
Ryley Gilliam pitched a scoreless eighth and Ryan Selmer gave up a run in the ninth to cap the victory.
Jose Miguel Medina drove in two runs while Wagner Lagrange and Walter Rasquin chipped in two hits and an RBI for the cyclones.
Marisa Ingemi is a contributor to MiLB.com. Follow her on Twitter @Marisa_Ingemi.