Aces' Buchanan dominates in no-no bid
Signed in July, D-backs righty allows a single over seven innings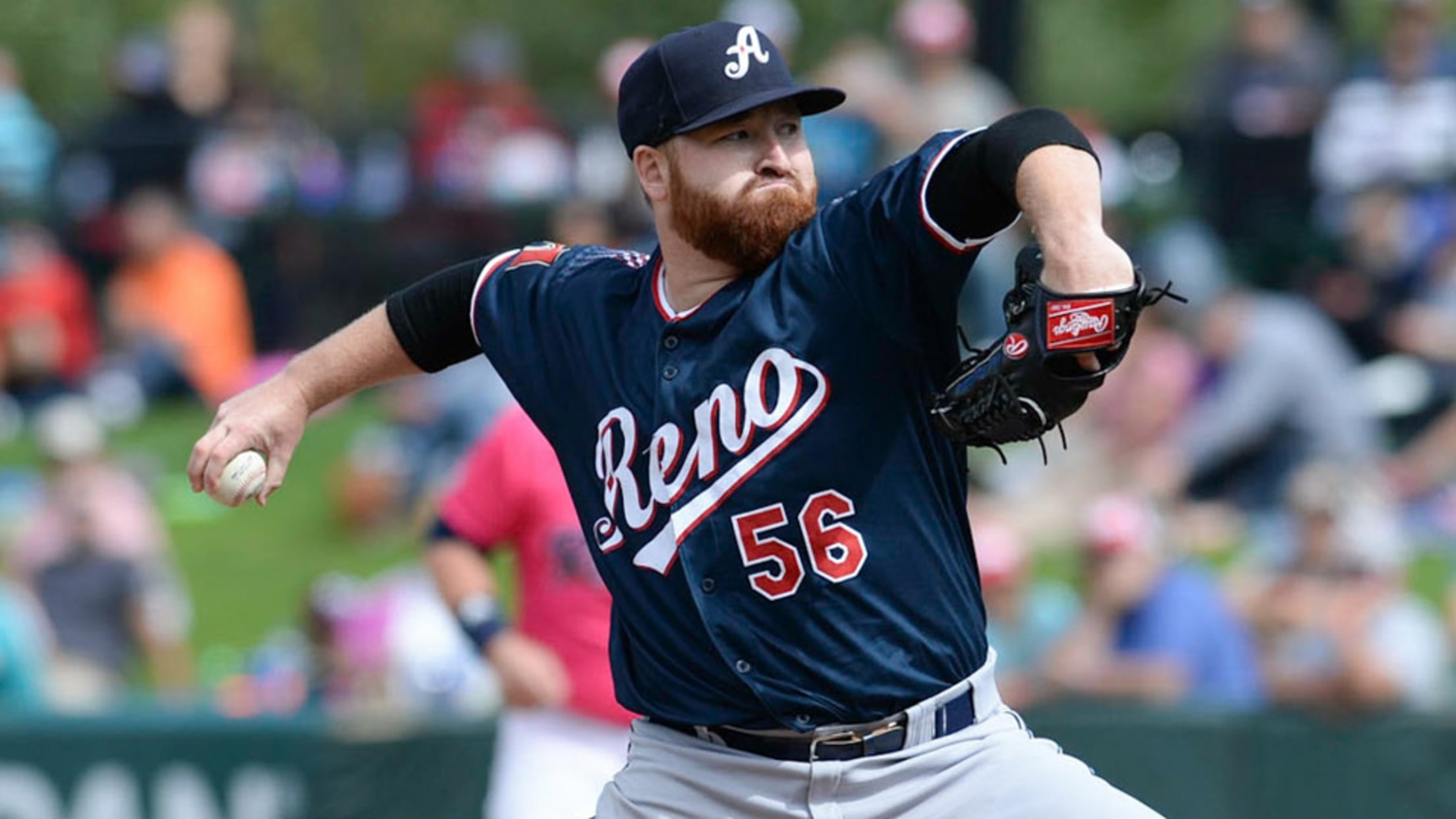 Jake Buchanan has a 4.15 ERA over eight seasons in the Minors, last four at the Triple-A level. (Tacoma Rainiers)
In need of a quality start from Jake Buchanan on Sunday, Triple-A Reno got one that was nearly perfect."Everything was working for him," Aces pitching coach Gil Heredia said. "But you've got to understand the situation as far as pitcher availability goes for our bullpen -- this was just what
In need of a quality start from Jake Buchanan on Sunday, Triple-A Reno got one that was nearly perfect.
"Everything was working for him," Aces pitching coach Gil Heredia said. "But you've got to understand the situation as far as pitcher availability goes for our bullpen -- this was just what the doctor ordered. He really helped us out there."
Carrying a no-no through 19 outs, Buchanan tossed seven one-hit frames in the Aces' 2-1 loss to Tacoma at Cheney Stadium. He walked two and struck out one.
The shutout outing came after Reno used seven pitchers and 14 over its previous three games. The 27-year-old right-hander sports a 4-0 record and a 4.14 ERA over eight starts spanning 45 2/3 innings since he signed as a Minor League free agent with the D-backs -- his third organization of the year -- on July 6. Sunday marked his fourth straight quality outing.
"He did a tremendous job. He doesn't overpower hitters, but he knows how to use the fastball effectively. It was the same thing [as in his last start]," Heredia said. "He's a guy we can really count on, as far as consistency. We've had some times with our starters not getting us to the fifth, and he's been solid for us basically the whole time he's been here.
"He's a good guy. He's down to earth, a guy you want to have in the clubhouse and he seems to have acclimated well. He's been a good pickup for us, helping us out in the rotation."
Gameday box score
Buchanan coasted from the opening frame, getting soft-contact outs and shrugging off a two-out walk to Danny Muno in the second inning.
"He usually has a game plan that he executes to a T. He did a wonderful job as far as mixing pitches and velocity and location," the Aces pitching coach said. "The most important thing was that he was pitching ahead. He's not afraid of contact. He was efficient, and that's what allowed him to go through the seventh inning.
"His late movement was probably better here at sea level," than in the more hitter-friendly Pacific Coast League parks, Heredia added. "You could see the results as far as how the hitters contended with it."
With two down in the sixth, Taylor Motter worked a five-pitch walk for the Rainiers, but catcher Ronnie Freeman threw him out trying to swipe second.
Twelfth-ranked Seattle prospectDaniel Vogelbach broke up the no-hitter bid with one out in the seventh, poking a 1-1 pitch through the left side.
"I commend Vogelbach for that," Heredia said. "It was a good pitch, outside, away, and he got the bat around to it."
Buchanan got Mitch Haniger to follow with an easy comebacker and then retired Gordon Beckham on an infield popout. His night was through after 92 pitches -- 55 for strikes.
No. 22 D-backs prospect Ildemaro Vargas finished 2-for-4 with a double and an RBI.
With Jimmie Sherfy on the mound and two outs in the ninth, Tacoma's Zach Shank singled and Beckham was hit by a pitch. Muno hit a high fly ball into the outfield that fell between shortstop Jack Reinheimer and left fielder Zach Borenstein for a walk-off double.
• Get tickets to an Aces game »
"We should have won, 1-0," Heredia said, "but, you know, that's not how baseball works."
Jeanmar Gómez (1-0), making his first appearance in the Seattle organization after signing Saturday, pitched two hitless innings of relief, allowing a walk and striking out one.
Josh Jackson is a contributor to MiLB.com. Follow and interact with him on Twitter, @JoshJacksonMiLB.