Woodford, Cardinals take lead in FSL semis
No. 16 prospect yields one run over six innings in series opener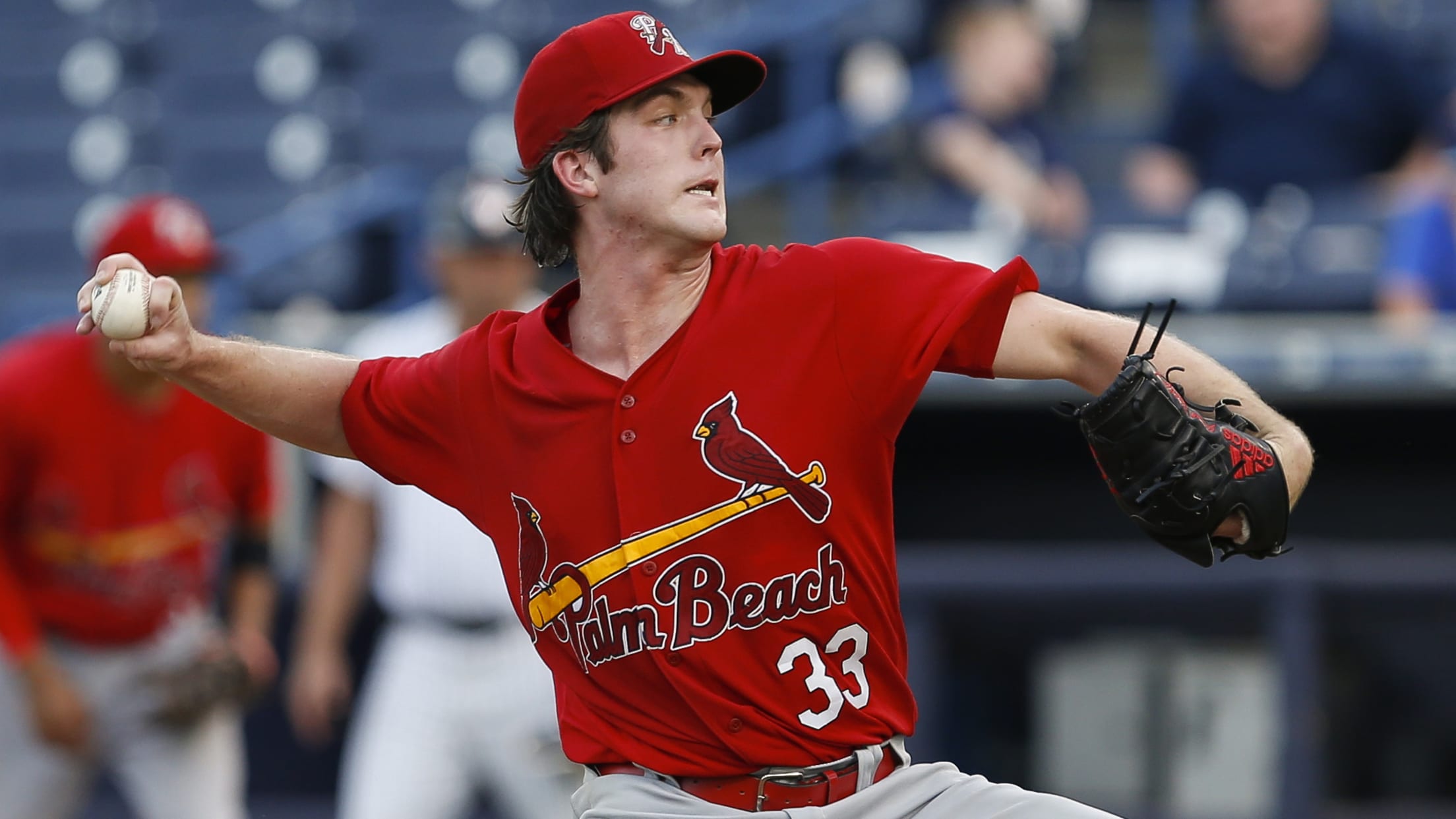 Jake Woodford is 1-1 in two postseason starts the last two years between Palm Beach and Class A Peoria. (Mark LoMoglio/Tampa Yankees)
After taking an inning to find his footing, Jake Woodford helped his team rally to win its postseason opener.The Cardinals' 16th-ranked prospect allowed one run on four hits and a walk while striking out three over six innings on Tuesday as Palm Beach edged Fort Myers, 3-2, in Game 1
After taking an inning to find his footing, Jake Woodford helped his team rally to win its postseason opener.
The Cardinals' 16th-ranked prospect allowed one run on four hits and a walk while striking out three over six innings on Tuesday as Palm Beach edged Fort Myers, 3-2, in Game 1 of the best-of-3 Florida State League semifinals at CenturyLink Sports Complex.
Woodford (1-0) gave up three of those four hits in the opening inning as the Miracle took the lead on an RBI single by Twins No. 14 prospectBrent Rooker. The right-hander surrendered another single to Zander Wiel but retired Mitchell Kranson on a lineout and Jermaine Palacios on a groundout to limit the damage.
Gameday box score
"Rooker put a good swing on a pitch that was in but just got enough of it to send it to right field for the run," Woodford said. "Other than that, you just try to minimize damage. First and second with one out and you just have to tell yourself you're going to keep it to one."
The 20-year-old limited Fort Myers to two baserunners over the next five innings. After the Cardinals tied the game in the third on an RBI single by Chris Chinea, Thomas Spitz put the 6-foot-4 right-hander in position to get the win with a go-ahead two-run double to center field in the sixth off reliever Andrew Vasquez (0-1).
Spitz reached base four times, going 3-for-4 with a walk and falling a home run shy of the cycle out of the second spot in Palm Beach's lineup.
"He's been great for us all year," Woodford said. "He just has a really mature approach at the plate. He was seeing pitches well tonight and kept finding himself on base. And then he had that big double that put us over the top."
Complete playoff coverage
Rooker pulled the Miracle within one with a sacrifice fly in the eighth, but Eric Carter yielded one hit while recording the final four outs to preserve the victory for the Cardinals and earn the save.
The series concludes on Wednesday, with Game 2 at 5 p.m. ET in Palm Beach. If necessary, a decisive Game 3 will follow. Due to the approach of Hurricane Irma, the circuit's Championship Series was canceled and the winners of both semifinal series will be declared co-champions. Tampa defeated Dunedin, 8-6, in 10 innings in Game 1 of the North Division finals on Wednesday.
• Get tickets to the FSL playoffs in Palm Beach
"I wouldn't really say anything has changed," Woodford said of the shortened playoff. "You still try to break it down to a small scale and try to focus pitch by pitch and just do your job. If everybody does their job, you know we're going to have a solid chance to win."