Jarrett, Lowther Win Orioles Minor Leaguers of Month
Jarrett posted 1.063 OPS, Lowther 1.23 ERA in April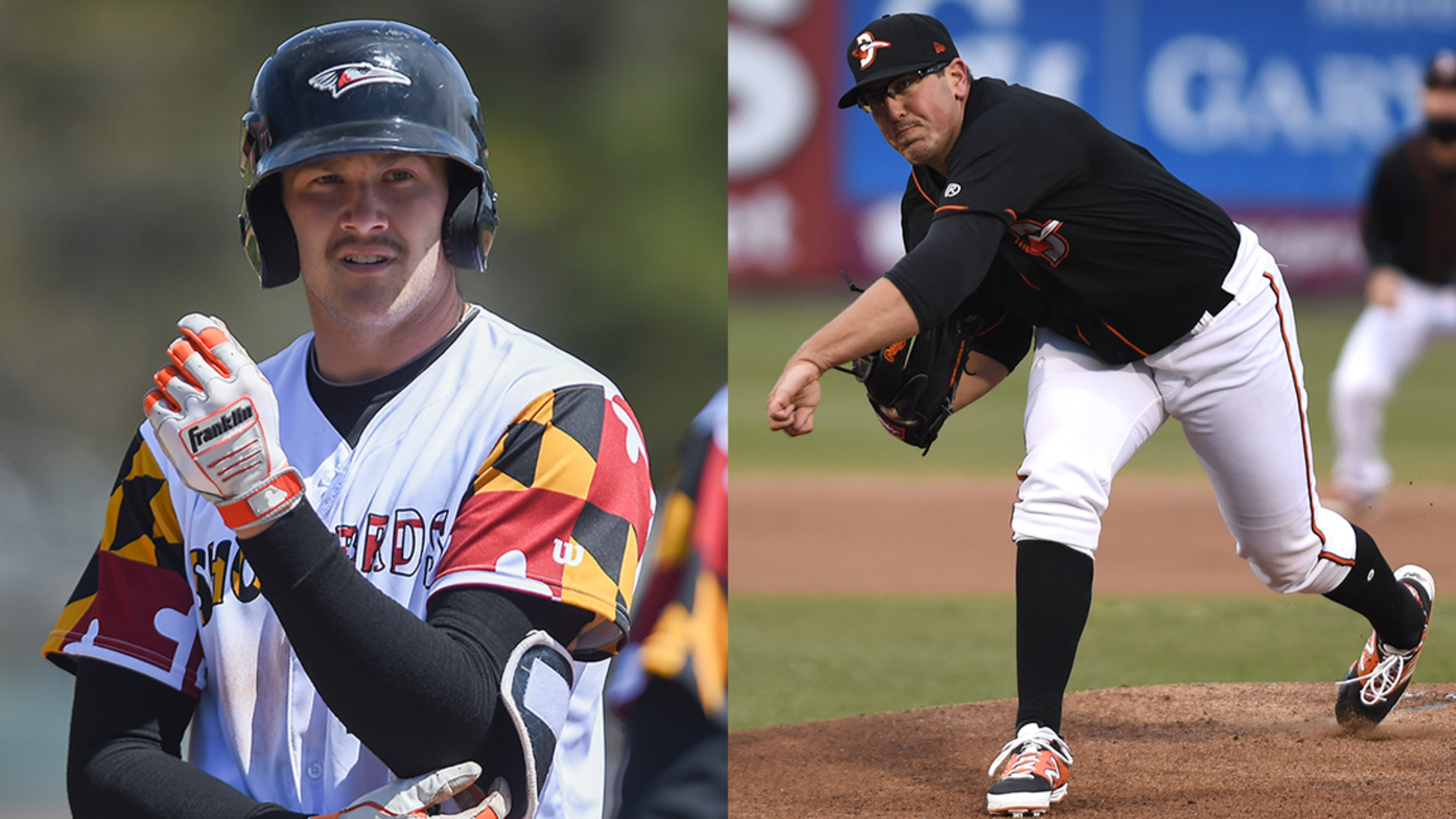 SALISBURY, MD - The Delmarva Shorebirds, in conjunction with the Baltimore Orioles, are pleased to announce that outfielder Zach Jarrett and left-handed pitcher Zac Lowther have been named the organization's Minor League Player and Pitcher of the Month, respectively, for April.Jarrett, a 23-year-old from Hickory, N.C., batted .333/.400/.663 over 21
SALISBURY, MD - The Delmarva Shorebirds, in conjunction with the Baltimore Orioles, are pleased to announce that outfielder Zach Jarrett and left-handed pitcher Zac Lowther have been named the organization's Minor League Player and Pitcher of the Month, respectively, for April.
Jarrett, a 23-year-old from Hickory, N.C., batted .333/.400/.663 over 21 games in the month, crushing five doubles, a league-leading seven home runs, and 14 RBIs. He also scored 18 runs and finished April on a seven-game hitting streak and 15-game on-base streak. At the month's conclusion he was the Shorebirds' team leader in eight offensive categories and ranked top-five in the South Atlantic League in seven statistics.
No slouch with the glove, either, Jarrett made a leaping catch against the left field wall to rob a home run on April 6 against Asheville and notched an outfield assist on the same night. He capped April on an 18-game errorless streak in the outfield, mostly in left.
Jarrett terrorized left-handed pitching all month, racking up a 1.356 OPS against southpaws. Even so, four of his seven home runs came against right-handers, including his biggest blast of the month. On April 26, the Shorebirds trailed Kannapolis 3-2 in the bottom of the ninth with a man on first and two out. With an 0-2 count against the Intimidators' Jake Elliott, Jarrett smashed a two-run walk-off home run to left, vaulting the Shorebirds to a 4-3 win.
The Orioles drafted Jarrett out of the University of North Carolina Charlotte in the 28th round of the 2017 MLB First-Year Player Draft. His signing scout was Rich Morales. Jarrett shares the Player of the Month award with Norfolk catcher Andrew Susac.
Lowther, a 22-year-old from Brooklyn Heights, Ohio, mystified SAL hitters all April, going 2-1 with a 1.23 ERA over four starts. In 22 innings, he struck out a league-leading 39 against just three walks. Lowther finished the month as the SAL leader in punchouts, WHIP (0.55), and batting average against (.120).
Lowther introduced himself to the Shorebirds in a big way on April 9 against the Hickory Crawdads. He tossed six hitless innings, issuing just one walk and striking out a career-high 13 in Delmarva's combined one-hit shutout. The southpaw was just as unhittable in his two starts the next week, posting a 0.90 ERA with a walk and 18 strikeouts over 10 innings en route to winning SAL Pitcher of the Week.
Before giving up a run in the fourth inning of an April 22 game, Lowther had started the year on a 14.2-inning scoreless streak. He didn't give up a hit through his first seven innings on the mound.
The Orioles drafted Lowther in the supplemental second round of the 2017 MLB First-Year Player Draft. His signing scout was Adrian Dorsey.
As April turns to May, Jarrett has extended his on-base streak to a team-high 18 games, while Lowther is set to make the start for the Shorebirds against Augusta on Saturday night at Perdue Stadium.