Captains' Mejia twirls second straight stunner
Tribe righty has allowed four hits, whiffed 20 over last 14 innings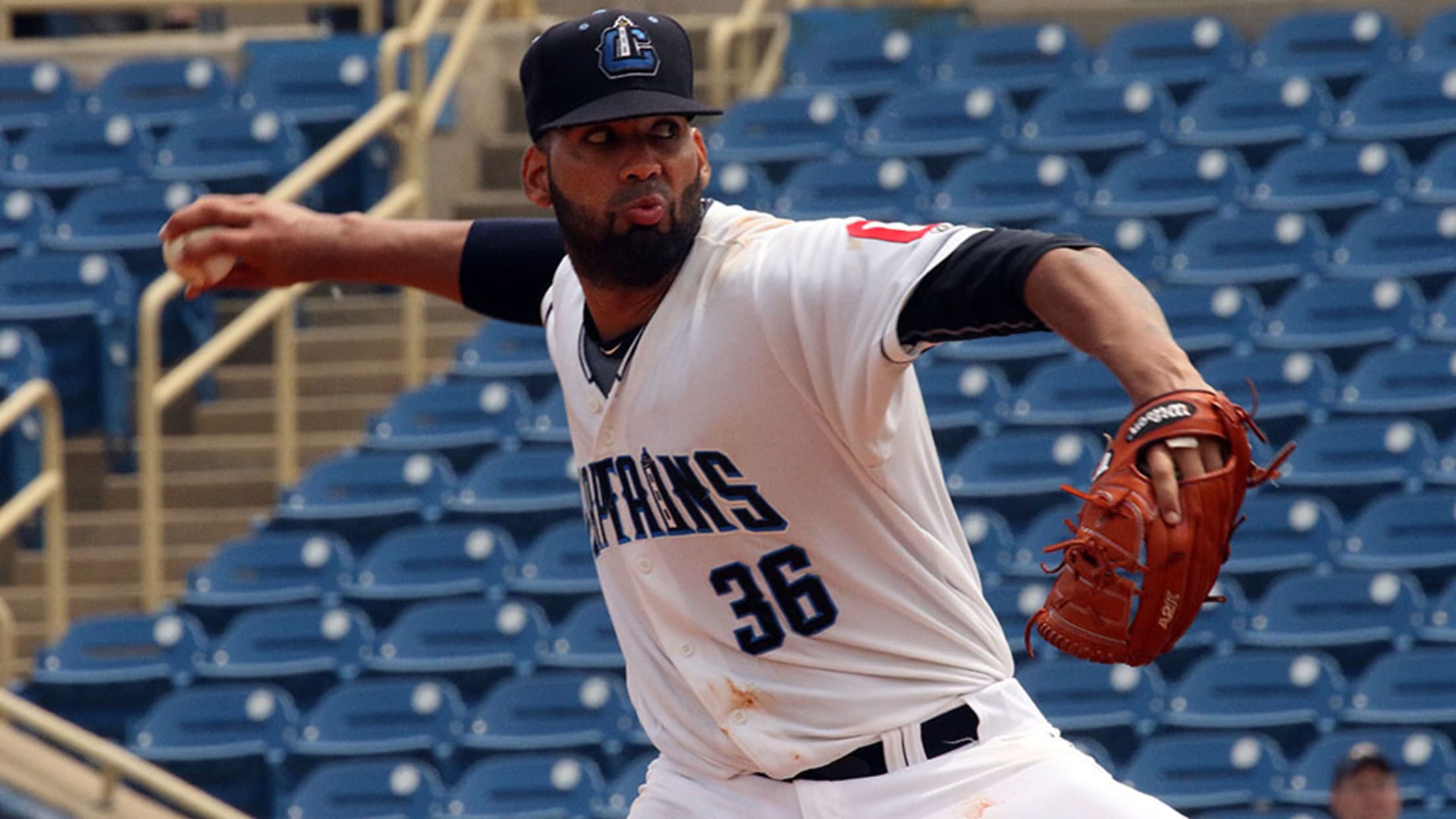 With 14 consecutive scoreless innings, Jean Carlos Mejia has dipped his Midwest League ERA to 2.64. (Lake County Captains)
Jean Carlos Mejía made 73 appearances during his first four professional seasons, all but one in relief. But after racking up 20 strikeouts over 14 consecutive scoreless innings in his final two starts in July, he's made quite the impression in the rotation.The Cleveland right-hander fanned 10 batters over seven
Jean Carlos Mejía made 73 appearances during his first four professional seasons, all but one in relief. But after racking up 20 strikeouts over 14 consecutive scoreless innings in his final two starts in July, he's made quite the impression in the rotation.
The Cleveland right-hander fanned 10 batters over seven innings -- tying career highs set in his last game -- while allowing one hit and one walk as Class A Lake County fell to Great Lakes, 3-0, on Monday at Classic Park.
Gameday box score
After he signed with the Indians on Nov. 29, 2013, Mejia spent three seasons in Rookie ball in his native Dominican Republic before landing in the United States with Class A Short Season Mahoning Valley at the start of 2017. But it wasn't until Spring Training this year that the Cleveland front office began to see the 21-year-old's body and game develop into the stuff of a starter.
The 6-foot-4, 205-pound right-hander with three pitches -- a fastball, a slider and a changeup -- has shown flashes of brilliance during 2018, despite missing nearly seven weeks while he nursed some elbow irritation and spent time with family after his father passed away in May. Until Monday, though, Lake County pitching coach Joe Torres hadn't seen two starts of this caliber back-to-back.
"He would give us a good one, but then he'd just be so-so," Torres said. "We needed that consistent focus from him, inning to inning and pitch to pitch.
"One of the biggest things for him is trusting his fastball and using it more. He's got a really good sinker with good velocity. It's a tough pitch for hitters to square up, so when he doesn't shy away and leans on his fastball and works off it, he can be really good. Tonight, after his last start, his confidence in the fastball was just even greater. Those pitches had incredible life."
Coming off his first career 10-strikeout appearance on July 25 at West Michigan, Mejia (3-4) started strong. He retired his first 13 batters, recording six strikeouts during that span and taking a perfect-game bid into the fifth, when Romer Cuadrado worked a one-out walk. After Cuadrado moved to second on a balk with two outs, Mejia fanned Brock Carpenter swinging.
From the Captains' perspective, the play that resulted in the balk could have turned out much worse. With a 3-2 count, Mejia was unaware first baseman Jose Medina had set up behind Cuadrado. The hurler turned for a pickoff attempt but managed to hold onto the ball rather than tossing it away and giving up another bag, or potentially, a run.
"You could tell there he was in control and that was a huge comeback with his slider on a 3-2 pitch for the next guy [to] get the out," Torres said.
Mejia maintained a no-hitter through six frames, but Drew Avans plopped a fly-ball single into center field with one out in the seventh. With two outs, Avans stole second and advanced to third on a throwing error by catcher Josh Rolette. But Mejia capped his night by fanning Cuadrado for his 10th strikeout.
"He's done a really good job of that all season," Torres said. "He can feel when it's probably going to be the end of his night, but he comes through to the last pitch, and he stepped up big right there. It was a great way to cap off a great night for him."
Deacon Liput pushed the Loons ahead with a sacrifice fly in the eighth. Cuadrado added a cushion in the ninth with a two-run double off Lake County closer Robert Broom.
Nathan Brown is a contributor to MiLB.com. Follow him on Twitter @NathanBrownNYC.