Hammerheads' Brigham puts up six zeros
Marlins No. 15 prospect ties season high with nine strikeouts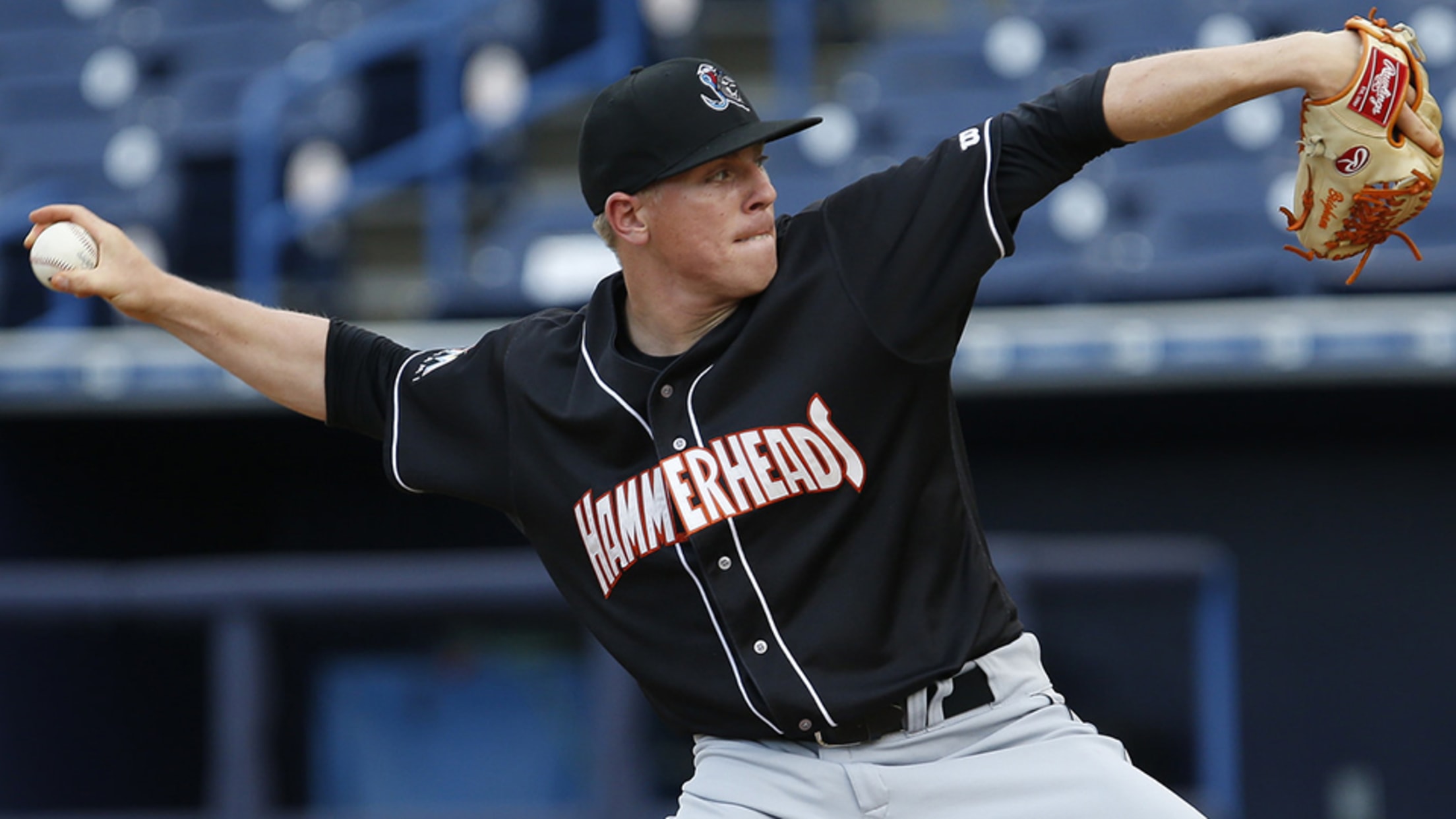 Jeff Brigham's 1.02 WHIP would rank third in the FSL if he had enough innings to qualify. (Mark LoMoglio/Tampa Yankees)
Facing Class A Advanced St. Lucie for the second time in less than a month, Jeff Brigham knew he needed to implement his entire repertoire to repeat his one-hit outing on June 12.With some help from his changeup, the Marlins No. 15 prospect matched his season high with nine strikeouts
Facing Class A Advanced St. Lucie for the second time in less than a month, Jeff Brigham knew he needed to implement his entire repertoire to repeat his one-hit outing on June 12.
With some help from his changeup, the Marlins No. 15 prospect matched his season high with nine strikeouts in six innings in the Hammerheads' 3-0 win over the Mets at Roger Dean Stadium. Brigham allowed four hits and didn't walk a batter.
"I'm feeling good, feeling healthy and feeling strong, and I'm starting to get into a little groove," the right-hander said. "They had seven lefties in that lineup, which forced me to really implement that changeup. [Catcher Gunner Pollman] wasn't afraid to call it and that really helped my fastball play up.
"You keep them off guard when you throw that third pitch and that was the main focus tonight ... having faced them twice, I mixed that in more."
Gameday box score
Brigham (3-1) breezed through the first frame on 12 pitches before No. 24 Mets prospectPatrick Mazeika led off the second with a single. The 6-foot, 200-pound hurler struck out the next three batters. In the third, Anthony Dimino and John Mora singled and stole second. But with two outs, Brigham ran the count full on 19th-ranked Jhoan Urena and struck him out swinging.
"I was having trouble getting the leadoff guy out, [Mazeika] got a knock on a changeup," the Dodgers' fourth-round pick in 2014 said. "I just needed to bear down and see if I could get out of that with guys on second and third. Just needed to get that punchout and got it. I had an open base so I just went for it, had to bear down and hope I get him."
Brigham allowed another leadoff single by Mazeika in the fourth, but the 25-year-old struck out Mets No. 8 prospect Peter Alonso, Tim Tebow and 10th-ranked Wuilmer Becerra to get out of the inning with the Hammerheads clinging to a 1-0 lead.
"I've always had trouble focusing on getting back into it and trying to get into that groove of the game, so I try and get ahead [of the leadoff man] with strikes. Sometimes it backfires on me," Brigham said. "I started focusing later in the game on closing out that first [batter]. Getting that first out makes the inning feel a lot easier."
The Federal Way, Washington native finished strong in his eighth outing of the season, retiring the final nine batters. He needed 20 pitches to navigate the fifth and sixth and threw 70 of his 90 pitches for strikes.
"I tried closing out every batter those last three innings and just focused on pounding the zone early and mixing all three of my pitches," Brigham said. "My defense made some good plays, so it was good to get them involved and have quicker innings than my first [few]."
After missing all of April and May with right shoulder tendinitis, Brigham was effective through five starts, going 2-1 with a 2.48 ERA despite an 18-to-12 strikeout-to-walk ratio over 29 innings. Between 2014 and 2016, he struck out 242 and walked 110 across four levels.
In 16 innings over his last three starts, Brigham has fanned 24 and walked four -- three in his last start Wednesday against Florida.
"I've been really focusing in my sides on fastball location. Even my last time out, my fastball location wasn't great," he said. "Starting with pounding the fastball, my slider is coming along [which] kind of disappeared on me the first couple outings. Me and JP [Jupiter pitching coach Jeremy Powell] have really worked on that changeup -- I need it to be a starter. Just starting to get comfortable throwing all three pitches for strikes and pounding the strike zone early."
Zach Sullivan blasted a two-run homer in the eighth for the Hammerheads.
Rehabbing Mets reliever Josh Smoker (0-1) allowed one run on two hits with two strikeouts in two innings for St. Lucie, while Tebow extended his hitting streak to nine games.