Back with 'Hounds, Luzardo dazzles again
Top A's prospect tosses five one-hit innings, strikes out seven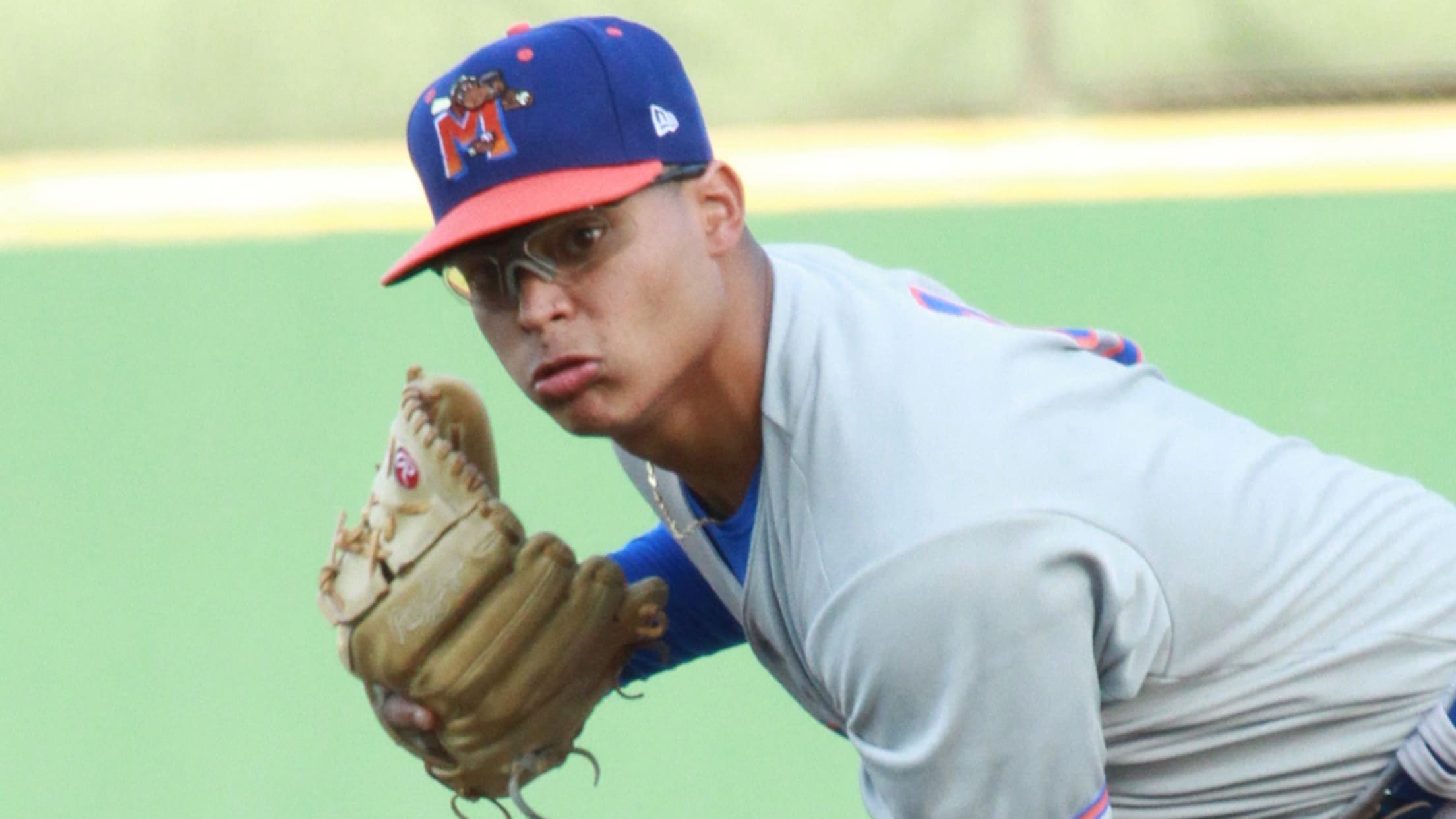 Jesus Luzardo has dropped his ERA by more than two full runs in his last six starts for Midland. (Dave Michael/MiLB.com)
Texas Leaguers may have hoped that the schedule change that came with a Futures Game selection would throw Jesus Luzardo out of his rhythm. Those hopes were dashed on Thursday night.The top A's prospect returned to Security Bank Ballpark and tossed five one-hit innings, striking out seven and running his scoreless streak
Texas Leaguers may have hoped that the schedule change that came with a Futures Game selection would throw Jesus Luzardo out of his rhythm. Those hopes were dashed on Thursday night.
The top A's prospect returned to Security Bank Ballpark and tossed five one-hit innings, striking out seven and running his scoreless streak to 26 as Double-A Midland beat Corpus Christi, 3-1.
"Everything he throws toward the plate is quality with the stuff and the command," Midland manager Scott Steinmann said. "He mixes it up -- he can pitch backwards, get aggressive. He's just a really talented, young individual that has a really good feel at such a young age."
Luzardo worked quickly out of the gate against the league's leading offense, retiring the side in order the first time through. Chas McCormick led off the fourth inning with a single to left, but Luzardo still faced the minimum in that frame when he struck out Stephen Wrenn, picked off McCormick at first base and fanned Josh Rojas.
Gameday box score
The lefty issued a leadoff walk to Randy César in the fifth and balked him to second before retiring the side in order behind him.
"He goes out there with a mission," Steinmann said. "He knows he's got a limited number of innings every time he goes out because we're getting him through this season with a certain inning count. He knows he's only got those innings, and he's going to compete and put up zeros every time. It is special to watch him. Just the way he goes about his business is total focus. He just wants to go out there and compete."
The A's have limited Luzardo to five innings or fewer in all but one start through his first two seasons, the only exception being his last outing before the Futures Game, when he went six innings for the first time. The shorter appearances have given the young southpaw an ability to focus on his efficiency.
"He definitely does limit his pitches," the manager said. "He goes after hitters, he doesn't get ahead and just kind of toy with them. He's getting ahead, and he's wanting to get them out right away. I love that about the way he pitches. I think it leads to some of the other guys watching that and knowing that they can do it, too. As a 20-year-old, I think he's doing a good job of showing the other guys how to pitch."
MLB.com's No. 20 overall prospect has dropped his ERA by more than two full runs in his last seven starts, from 4.68 on May 31 to 2.36, earning his fifth straight win in the process. While his total scoreless streak is 26, Luzardo hasn't allowed an earned run in 31 innings.
"Just continue to put up zeros," Steinmann said of his message to Luzardo. "As he sees teams for a second and third time through, he needs to learn how to continue to get those guys out in different types of ways so he can continue his streak of pitching very well and consistently."
The 20-year-old got the nod as the World Team starter on Sunday at Nationals Park. In two innings, Luzardo surrendered a run on three hits, striking out two without issuing a walk.
After Corey Walter gave up a run over two innings, Nolan Blackwood and Kyle Finnegan each worked a scoreless frame, with Finnegan earning his third save.
J.P. Sportman provided the only runs Luzardo needed, finishing 2-for-3 with three RBIs to pace the Midland offense.
Tyler Maun is a contributor to MiLB.com. Follow him on Twitter @TylerMaun.