Reyes relies on sinker in gem for Tortugas
Reds righty scatters three hits over eight scoreless innings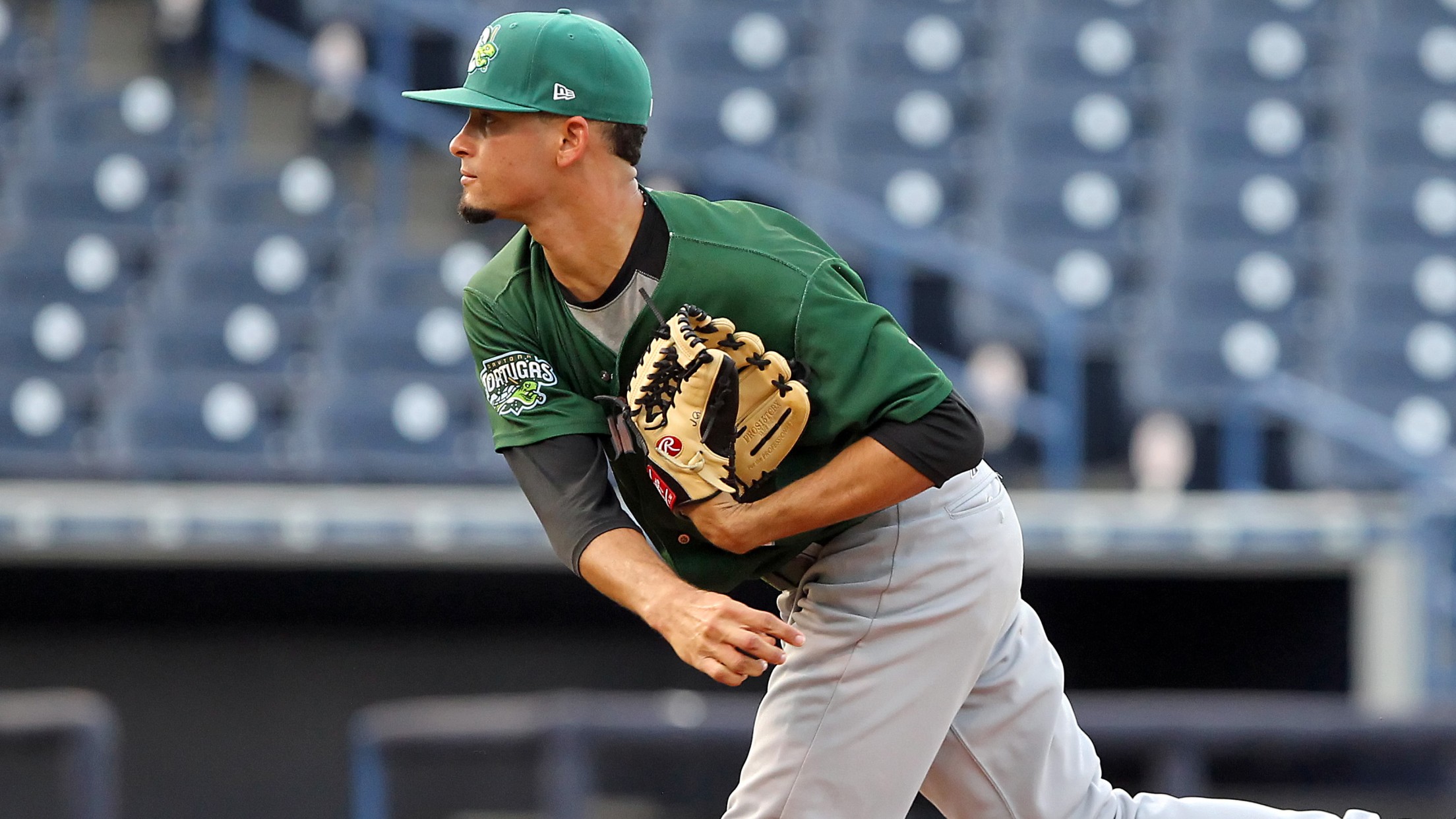 Jesus Reyes sports a 3.20 ERA and 1.18 WHIP in 11 starts in the Florida State League. (Cliff Welch/MiLB.com)
When Jesús Reyes is locked in, he's not looking to rack up strikeouts. His strategy entails using deception to get opponents to put the ball in play. The Cincinnati right-hander allowed three hits and a walk over a career-high eight scoreless innings in Class A Advanced Daytona's eventual 2-1 loss to
When Jesús Reyes is locked in, he's not looking to rack up strikeouts. His strategy entails using deception to get opponents to put the ball in play.
The Cincinnati right-hander allowed three hits and a walk over a career-high eight scoreless innings in Class A Advanced Daytona's eventual 2-1 loss to Florida on Monday at Osceola County Stadium. Reyes recorded 14 ground-ball outs and struck out six.
Gameday box score
"He's a power-sinker pitcher," Daytona pitching coach Tom Brown said. "When he has his sinker working, it's as good as any, just like today. I think one ball left the infield in the air tonight in eight innings. He has a plus-sinker and he had a good one tonight."
The sinker helped Reyes battle Braves No. 11 prospect Touki Toussaint, who yielded one run on five hits and three walks with five strikeouts over seven innings.
Brown was impressed with the way the 24-year-old Reyes fared against strong competition.
"Being as young as he is, it's hard to keep a guy like that composed and calm," Brown said. "But he was as calm as I've ever seen him. He had the game under control and I think he knew it."
Through his first nine starts of the year, Reyes amassed a 3.40 ERA and 1.19 WHIP, but struggled in his last outing against Dunedin on June 4 when he was tagged for three runs on six hits in 3 2/3 innings. Brown believes the struggles came about because the 6-foot-2, 180-pound hurler was trying to do too much.
"We just tried to get him back on track," Brown said. "He was really opening up, flying open and getting underneath the ball. He just calmed back down and let his sinker ball work and did not overthrow."
Reyes used his favorite pitch effectively to record three groundouts in the first.
"He looked good and had a great bullpen, and I figured he'd have a great night," Brown said. "He's got such a good sinker. It's so late that they're not sure if it's going to sink and they're going to swing. He just throws it below the bat. He has that natural gift."
The Fire Frogs put pressure on Reyes in the second as No. 12 Atlanta prospect Austin Riley singled and 27th-ranked Braxton Davidson walked with one out. The Dominican Republic native got out of trouble when Jonathan Morales bounced into an inning-ending double play.
It was the only inning in which Florida put multiple runners on base against him.
"That's the kind of pitcher he is," Brown said. "He knows if there's a man on base, it doesn't matter. He can get a guy to hit a ground ball any time they come to the plate. It's another time where he gets a ground ball in the right situation for a double play."
Reyes continued to deploy his sinker, recording four more 1-2-3 innings along the way. Pitching into the eighth for the second time this season, he retired the side in order, capped by striking out Davidson and Morales.
Reyes sports a 3.20 ERA through 11 Florida State League starts. Now it's all about maintaining consistency in his approach and mind-set in each start and side session.
"He's had other starts just like this," Brown said. "Obviously, he's a young guy. It's hard to keep him on even keel. There's some highs, some lows. He's got to be the same guy every time out there. That's all he's doing this year -- learning how to be the same guy every time."
The Fire Frogs rallied for a walk-off win with two outs in the ninth against reliever Zack Weiss. Left fielder Shane Mardirosian misplayed a single by Tyler Neslony, allowing the decisive runs to score.
Andrew Battifarano is a contributor to MiLB.com. Follow him on Twitter, @AndrewAtBatt.