Adell plates eight in Bees' 28-7 blowout
Angels prospect hits one of Burlington's two grand slams in rout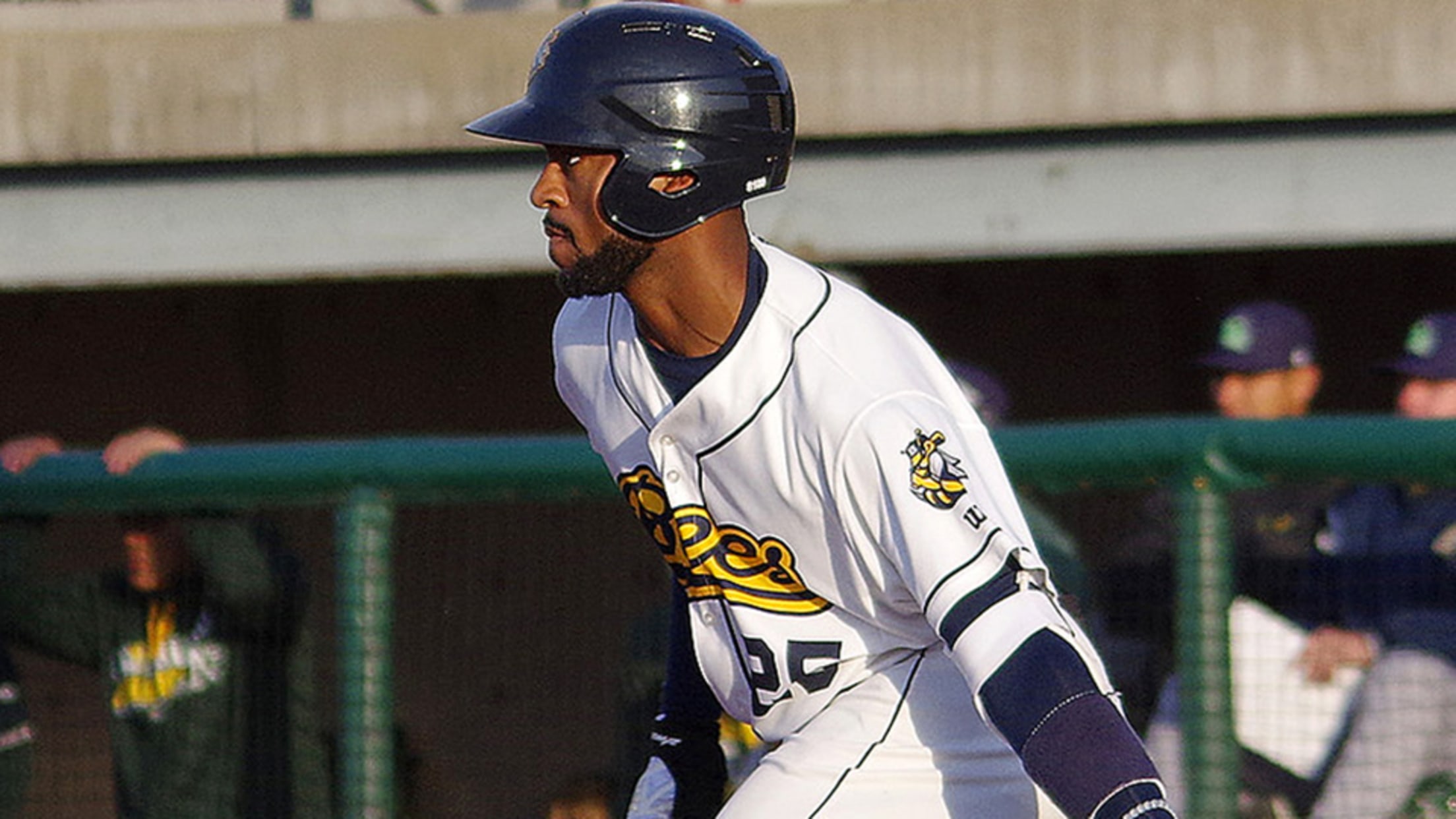 Jo Adell entered the day with five RBIs in his first eight games with Class A Burlington. (Stephen A. Cirinna/Burlington Bees)
Class A Burlington had six of its first 14 games postponed by cold, snow, rain and generally inclement weather. In the nine games they did play, the club scored only 29 runs and collectively hit just .191 with a .588 OPS. No. 2 Angels prospectJo Adell was one of the
Class A Burlington had six of its first 14 games postponed by cold, snow, rain and generally inclement weather. In the nine games they did play, the club scored only 29 runs and collectively hit just .191 with a .588 OPS. No. 2 Angels prospectJo Adell was one of the sluggers caught in the cold snap, hitting just .185 with no homers and a .639 OPS in his first eight Midwest League games.
Apparently, the Bees were saving all of their offense for Friday afternoon.
Adell went 4-for-6 and drove in a career-high eight runs and No. 5 Angels prospect Brandon Marsh added his own career-high seven RBIs to lead Burlington to a whopping 28-7 win over Quad Cities at Community Field on Friday. Both Bees outfielders hit grand slams in the 21-run victory.
As a team, the Bees collected 24 hits, three home runs, four doubles and eight walks. The bottom three players in the lineup -- Spencer Griffin, David MacKinnon, Gleyvin Pineda -- combined to go 13-for-15 with two doubles, six RBIs, 14 runs scored and three walks. Pineda alone reached in all six of his plate appearances from the No. 9 spot.
By all measures, this was an offensive outburst for a club that really needed one.
"It's warmed up outside, that's a big plus," said Adell after the matinee, which featured a gametime temperature of 49 degrees. "But a lot of guys squared up balls before this, and today, they started falling in a ton. Lots of people in this organization, like our hitting coach Matt Spring, preach to us to make good decisions in the box, to wait for our pitch and to drive it when it's there. We got on with walks today and then kept squaring up balls like we have."
Gameday box score
Indeed, the Bees' onslaught began with an eight-run first inning that featured four walks, three hits (all singles), a hit batsman and a reach-on-error. (In other words, it was a low-level Minor League inning.) Adell got it going when he was plunked by River Bandits right-handed starter Cesar Rosado, who threw only 14 of his 33 pitches for strikes before exiting the frame with two outs, and scored Burlington's first run when Harrison Wenson walked with the bases loaded. The right-handed slugger concluded the first-frame scoring with a two-run single the other way off southpaw reliever Cole Watts.
The Bees tacked on two runs in the second inning, three in the fourth and five more in the fifth. They had already scored one run in the sixth when Adell stepped into the box with the bases loaded and two outs against left-hander Patrick Sandoval, who was coming out of the bullpen for the first time in 2018 after making two starts earlier this month. Following a first-pitch strike, Adell connected on a long ball to left-center. The result was the 2017 first-rounder's first homer of 2018 and the first grand slam of his young career.
"It feels really good," Adell said. "That first pitch, I could tell he was busting me inside, so I knew I needed to prepare a little earlier and get my load ready and in the right place for it. He threw middle and low with a fastball, and I was just able to get some good wood on it."
The left-handed-hitting Marsh added his own grand slam in a five-run eighth, following up an RBI single by Adell (his eighth RBI) by sending a 1-2 pitch from right-handed reliever Carlos Sanabria over the wall in left-center. The Bees' No. 3 hitter finished 2-for-5 with the homer, a double, seven RBIs and two walks.
Adell -- the No. 10 overall pick in last year's Draft -- was expected to combine with 2016 second-rounder Marsh and Torii Hunter Jr., son of the nine-time Gold Glove winner, to make one of the Minor Leagues' toolsiest outfields, though their offense was lacking before Friday. Even so, all three -- who started in center, right and left, respectively -- are considered gifted defenders with good speed who can impact the game in multiple ways, as they did together at Rookie-level Orem in 2017.
"Playing with Marsh and Torii, I'll tell you, it talkes a lot of the pressure off me," Adell said. "As athletes, as defenders, as hitters, they allow me to feel like I don't need to be Superman every time I'm out there. And on the flip side, we open up opportunities for each other. We put pressure on the pitcher, and that helps everybody. Really, one through nine, we're all a tough out, and you could see that with what we did today."
Adell's breakout couldn't have come at a better time. The 19-year-old outfielder hit .325/.376/.532 with five homers, eight triples and 11 doubles in 49 games between the Rookie-level Arizona and Pioneer Leagues in his Draft year but had struggled with the Midwest League cold. Before Friday, he hadn't recorded more than one hit in any of his first eight games with the Bees, going 5-for-27 with two extra-base hits, seven walks and 12 strikeouts. After the latest outburst, his line is up to .273/.405/.485, and his 13 RBIs lead the Class A circuit.
"Today for me was about continuing to not expand the zone," Adell said. "I need to keep waiting on my pitch and realizing that every time I'm up I don't need to do something special. I just need to get up and hit the ball with authority, and that's when the special things can happen. ... It's turnaround time for all of us. We're getting to that point, 10-15 games in, and everything's just starting to get going for us. It's going to be fun as more of these balls fall in."
For the record, the Midwest League mark for runs scored in a game is 40, achieved by Danville on June 17, 1951.
Sam Dykstra is a reporter for MiLB.com. Follow and interact with him on Twitter, @SamDykstraMiLB.