Harris puts Cats on brink of EL title
2015 first-round pick hurls six strong frames for 2-0 Finals lead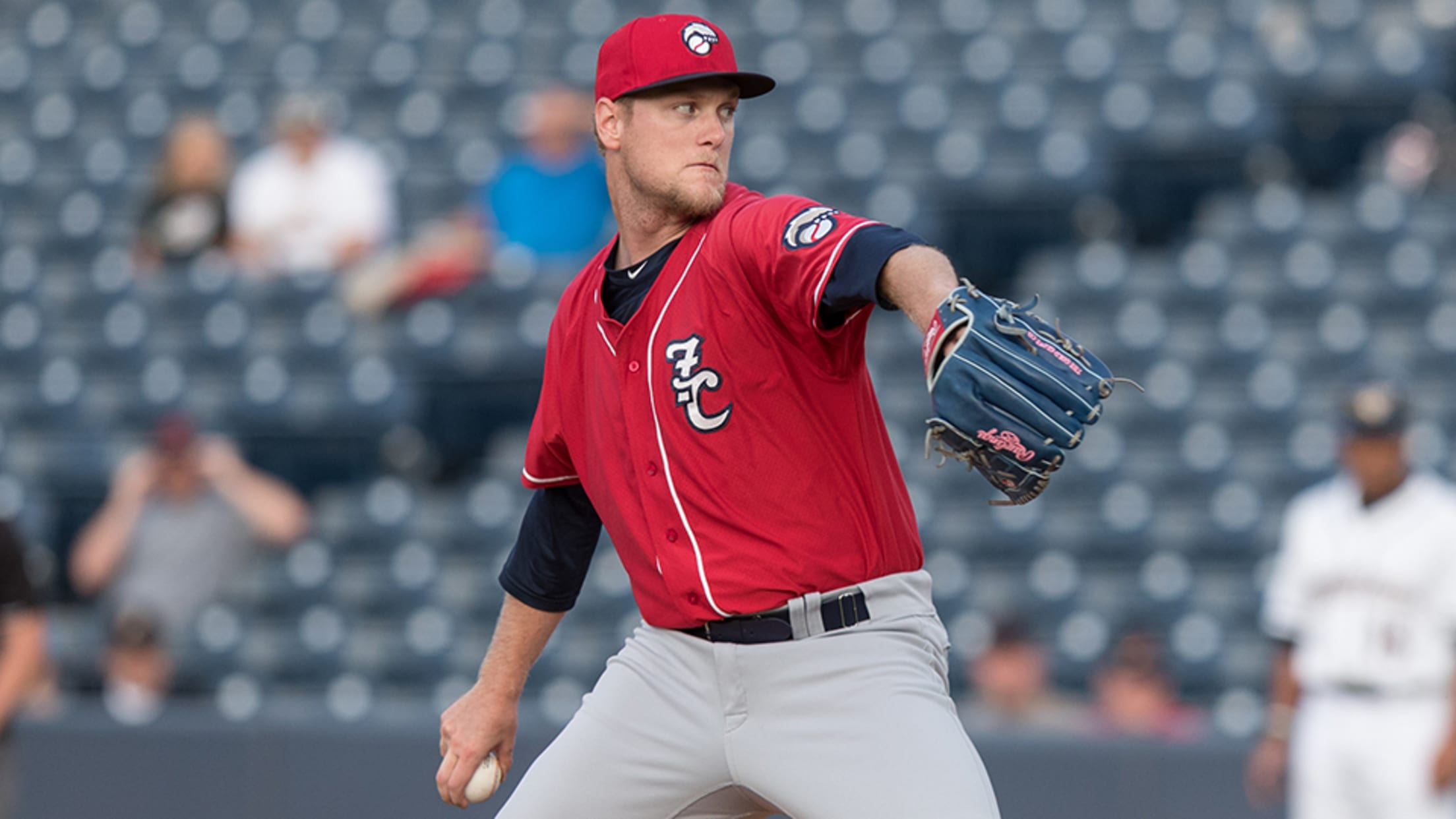 Jon Harris went 13-6 with a 4.61 ERA between Double-A and Triple-A this season. (David Monseur/MiLB.com)
A year ago, John Schneider won a Florida State League championship in his first season as manager at Class A Advanced Dunedin. Now thanks to Jon Harris, Schneider's a win away from an Eastern League crown in his first year at Double-A New Hampshire.The right-handed Blue Jays prospect allowed a
A year ago, John Schneider won a Florida State League championship in his first season as manager at Class A Advanced Dunedin. Now thanks to Jon Harris, Schneider's a win away from an Eastern League crown in his first year at Double-A New Hampshire.
The right-handed Blue Jays prospect allowed a run on five hits over six innings Wednesday as the Fisher Cats beat the RubberDucks, 6-1, at Canal Park, to take a 2-0 lead in the best-of-5 Championship Series.
"Yeah it's cool, cool to be in this position, with the majority of the same guys that were down with me at Dunedin," Schneider said. "But we've got to keep going, going to the end."
Pitching has been the story of the first two games as New Hampshire has held Akron to two runs on 13 hits. Fifteenth-ranked Blue Jays prospectT.J. Zeuch and four relievers combined on a seven-hitter on Tuesday, and Harris (1-0) and three relievers gave up just six hits without a walk with 11 strikeouts, seven by the one-time Missouri State ace in Game 2.
"He kind of had it all working," Schneider said of Harris. "He had a little bit of a layoff -- he was slated to go Game 4 [against Trenton], and we wanted to see how he came out early. But he had all four of his pitches and he got five of the seven strikeouts on his heater.
"I can't say enough about the job he did. He limited the walks and controlled the game. Phenomenal job."
Gameday box score
Harris, who went 13-6 with a 4.61 ERA between the top two levels of the Minors this season, said he tweaked his mechanics with New Hampshire pitching coach Vince Horsman in order to add some deception.
"We went with it, gave it a whirl, and I adapted to it real quick," the 24-year-old said. "It's allowed me to have the success I've had."
Harris said his fastball was his most effective pitch -- he was able to elevate it when he needed and bury it as well.
"More or less, I'm trying to change the eye level," he said. "If you do that once in a while, it makes going back down in the zone easier."
• Complete postseason coverage »
Harris' gameplan was all about remaining in attack mode to try and keep the RubberDucks off the bases.
"A team like Akron, it's not a big power-hitting team," he said. "I know I have to go out there and get ahead. If you show you can get ahead ... they get into defense mode, and they say, 'Holy cow, he's throwing a lot of strikes."
But the RubberDucks grabbed the early lead. Indians No. 26 prospectErnie Clement doubled to left field and moved to third on Ka'ai Tom's grounder to first in the first inning. A fly ball to left by Cleveland's No. 29 prospect Tyler Krieger plated Clement.
But after Kyle Dowdy (0-1) retired the first six Fisher Cats, New Hampshire came alive in the third with four straight hits, including a two-run single by Jon Berti.
Schneider said the 28-year-old has been an important piece of the puzzle to the young club.
"It's huge, he's a pro, he's a grinder," the skipper said. "He got here when [Vladimir Guerrero Jr.] got hurt. He's a stabilizing guy, a natural leader and players gravitate to him. I had him all the way back to Vancouver in 2011. I am thrilled for him."
Second-ranked Blue Jays prospect Bo Bichette drove a single into left. Following a bunt by Harold Ramirez, Berti crossed the plate when No. 9 Cavan Biggio grounded to first.
The Cats added a run in the sixth on first baseman Nellie Rodríguez's throwing error and added two more in the eighth, highlighted by an RBI single by Santiago Espinal.
Corey Copping closed the game by striking out the side in the ninth.
Toronto's No. 28 prospect Jordan Romano will have a chance to complete a sweep and give the franchise its first title since 2011 on Friday at 6:35 p.m. ET.
"He's had a tremendous year," Schneider said of the right-hander. "I'm hoping we can close it out."
Vince Lara-Cinisomo is a contributor to MiLB.com. Follow him on Twitter @vincelara.