Harris unhittable for New Hampshire
Toronto's No. 30 prospect allows walk, fans six over six frames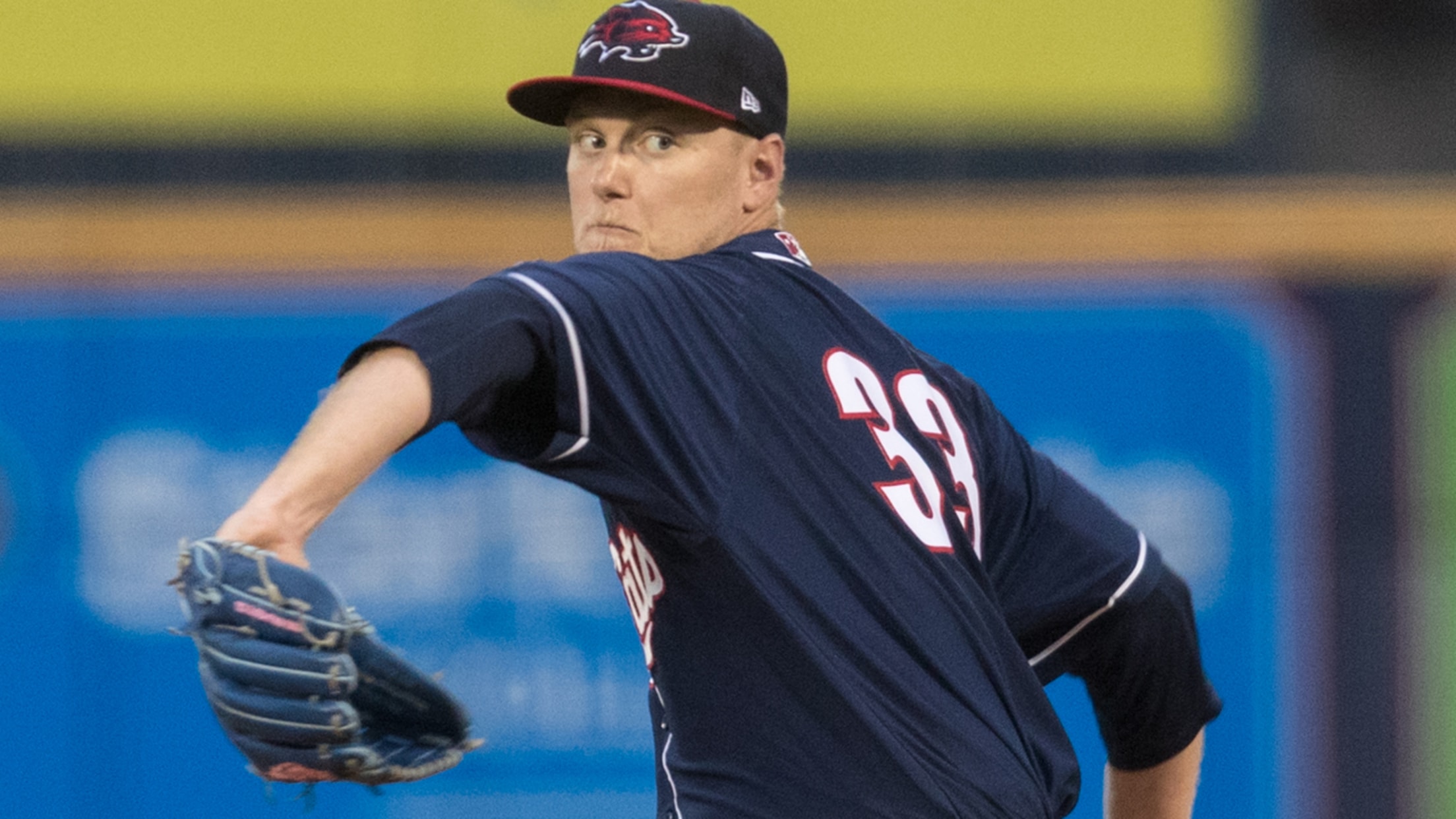 Jon Harris had allowed 76 hits in 57 innings prior to his six hitless frames against Akron. (David Monseur/MiLB.com)
Hits have proven to be an issue for Jon Harris all season, so on Tuesday he threw in a new wrinkle to eliminate them entirely.Toronto's No. 30 prospect dazzled over six hitless innings, striking out six while issuing just one walk as Double-A New Hampshire beat Akron, 6-1, at Canal
Hits have proven to be an issue for Jon Harris all season, so on Tuesday he threw in a new wrinkle to eliminate them entirely.
Toronto's No. 30 prospect dazzled over six hitless innings, striking out six while issuing just one walk as Double-A New Hampshire beat Akron, 6-1, at Canal Park.
"I made a little, not necessarily a delivery change, but I kind of moved my hands around a little bit to where I tried to get a little more deception in my delivery," Harris said. "I've been talking with our pitching coach, Vince Horsman, and he basically told me that he talks to a lot of the other [Eastern League] pitching coaches like, 'What do you see?' Their whole thing is, 'We see the ball way too much.' My last bullpen session, I was working on my hand placement to where I can hide the ball a little bit more to get some more deception, and tonight was one of those nights where it worked very well."
Six days ago, the RubberDucks tagged Harris (4-3) for five runs on eight hits over 4 1/3 innings, the right-hander's shortest outing since May 3. The outing pushed Harris' hit total to 76 allowed in 57 innings, and opponents have hit .323 against him. The problem for the 2015 first-round pick hasn't been trouble finding the zone -- he hasn't walked more than two batters in each start this year -- but perhaps being in the zone too much. His tweak kept Akron hitters from spotting up his pitches in the rematch.
"It wasn't really that a certain pitch was working or anything," Harris said. "I think it was just the ability to just hide the ball a little bit better and not get good swings taken off me."
The Missouri State product issued his only walk Tuesday to the RubberDucks' second batter, Andrew Calica, before finishing off the next 17 he faced.
Gameday box score
"The biggest success for me is being able to work backwards and forwards, so being able to throw my first-pitch fastball for a strike or throwing my first-pitch breaking ball for a strike. Guys will see, 'Oh, he can throw all four pitches for strikes, so we need to come out early swinging and jump on it so he doesn't get us backed into a hole,'" Harris explained.
"In most instances, you want a hitter to be in defensive mode and not attack mode because that means you have control over the AB and not the hitter having control over the AB."
After fanning two in the first, Harris notched a strikeout in the second, fanned two in the third and tallied his final whiff in the fifth. He distributed his outs on balls in play almost evenly with five on the ground and three on the fly.
Lifted after six innings with the no-hit bid intact, Harris threw 89 pitches, 56 for strikes, and was able to counter his disappointment at leaving the start with his knowledge that his team was headed to a victory.
"It was [tough] just because I was in a groove," he said. "I was rolling. I was in my own zone, but with the score being 6-0, I mean in that case I understand where the coaching staff was coming from. They have their jobs for a reason. I trust [Fisher Cats manager] John Schneider and Vince with whatever it is that they have to do. This is the third or fourth year I've had Schneider as a manager, and I know when he makes a decision, there's a reason behind it."
The win dropped his ERA from 6.00 to 5.43 and his opponents' average from .323 to .300.
"[Schneider] came up and shook my hand and I was like, 'You know what, I did my job,'" Harris said. "The boys are up, 6-0, so let's coast through these next three innings and get us a 'W' and we can all go home happy.
"It was just one of those things like we need to figure out something to give a little more deception that could be that final piece I'm missing to where I can have a consistent success rate instead of having one or two good starts and then one or two rocky starts," he added. "Hopefully this process will kind of get me in the right direction of having two, three, four, five consecutive good starts."
Akron's Joe Sever broke up the no-hit bid with a one-out double to right field in the seventh against reliever Danny Young. Sever went to third base on Connor Marabell's grounder to first and scored on Young's wild pitch to end the shutout. Sever's hit was the only one allowed by New Hampshire hurlers, setting a season-best mark.
The Fisher Cats pushed their starter into the win column by scoring all six of their runs between the fourth and fifth innings. Bo Bichette, the second-ranked Blue Jays prospect, belted a two-run homer to left field in the fourth and Jon Berti cleared the bases with a three-run triple to left field in the fifth. Baseball's No. 9 overall prospect drove Berti home with a sacrifice fly to right for New Hampshire's last run.
Tyler Maun is a contributor to MiLB.com. Follow him on Twitter @TylerMaun.