Kemmer, Grizzlies break out at the plate
Left fielder drives in six runs, shortstop goes yard twice in rout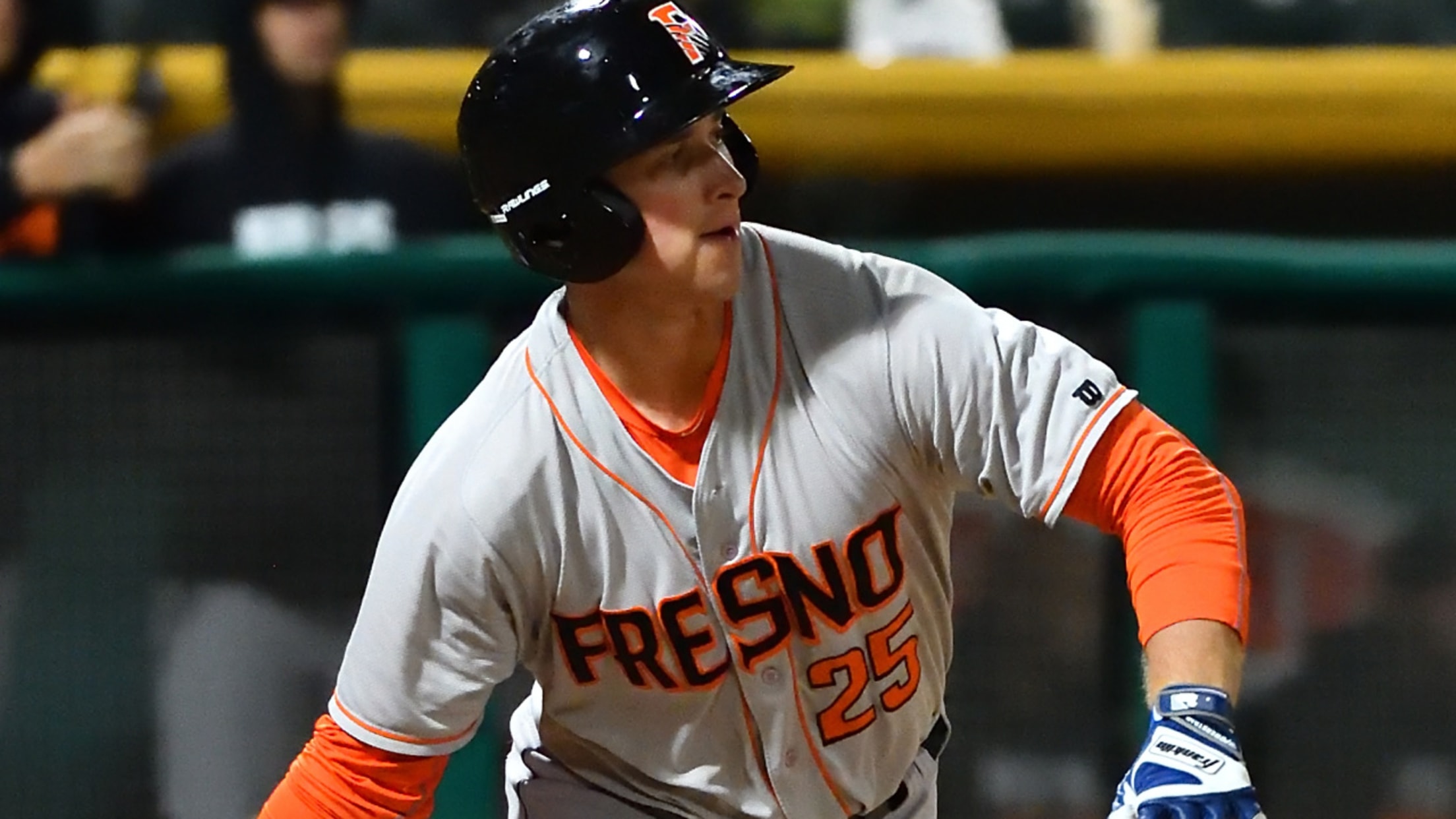 Jon Kemmer has gone 14-for-34 with four multi-hit games in his last seven. (Stephen Smith/Four Seam Images)
The Fresno Grizzlies got their bats going early Monday night and barely slowed down.Jon Kemmer went 4-for-6 with a homer and six RBIs while Reid Brignac went deep twice on a 3-for-4 night and plated five runs as Triple-A Fresno racked up a season-high 22 hits in a 22-8 rout
The Fresno Grizzlies got their bats going early Monday night and barely slowed down.
Jon Kemmer went 4-for-6 with a homer and six RBIs while Reid Brignac went deep twice on a 3-for-4 night and plated five runs as Triple-A Fresno racked up a season-high 22 hits in a 22-8 rout of Las Vegas at Cashman Field.
Gameday box score
"It was awesome," Kemmer said after matching his career high for RBIs. "We are really coming together as a team offensively and we feed off of each other well. Nights like tonight are a lot of fun to be a part of when everyone is hitting as well as they are."
Kemmer and Brignac signaled the start of their big night in the top of the second. The Grizzlies' left fielder and No. 8 hitter bounced a run-scoring single through the right side and the shortstop followed with a sacrifice fly to center.
Houston's No. 4 prospect Derek Fisher belted a long ball to right field in the third and Preston Tucker led off the fourth with a shot to right-center.
But Fresno really broke up the game in the seven-run fifth. Kemmer plated the third run of the frame with a single to right. Brignac and Tony Kemp followed with back-to-back long balls. Brignac skied a three-run shot to right-center and Kemp's blast to left extended his hitting streak to 22 games.
"What Tony is doing now is really not surprising at all," Kemmer said. "He is the best guy you can ask for to lead off. He sees so many pitches and lets the rest of the guys know what the pitcher has. He is one of the best table-setters you can ask for."
Kemp, who added singles in the sixth and eighth, is hitting .342 and has homered twice with four RBIs in his last two games.
The onslaught continued in a five-run sixth highlighted by Kemmer's two-out grand slam to right followed by Brignac's solo shot to left-center. The pair contributed their final knocks on singles to right in the eighth, another five-run frame.
"It was a very solid night for [me and Reid]," Kemmer said. "The thing that worked well for me was just attacking early and making sure I get my pitch and not miss it. It was also very nice having people in scoring position when I was at the plate almost every at bat."
The Grizzlies have won seven straight overall and 10 in a row on the road. They set season highs for runs and hits and matched a season best in homers. The 22 runs marked their most ever against the 51s, and the margin of victory was Fresno's biggest in the all-time series, according to the Grizzlies.
"This lineup is one of the most impressive lineups I've been a part of," Kemmer said. "The guys just feel we are never out of any games. Then you have nights like tonight where we just feed off each other."
Mets No. 6 prospect Gavin Cecchini went 4-for-5 with a double and a run scored from the leadoff spot, while Amed Rosario, MLB.com's No. 3 overall prospect, extended his hitting streak to 13 games on a 2-for-5 night for Las Vegas.
Tyler Maun is a contributor to MiLB.com. Follow him on Twitter @TylerMaun.