Jones, Cardinals Take Down Mets
Jose Martinez Sparks Top of Order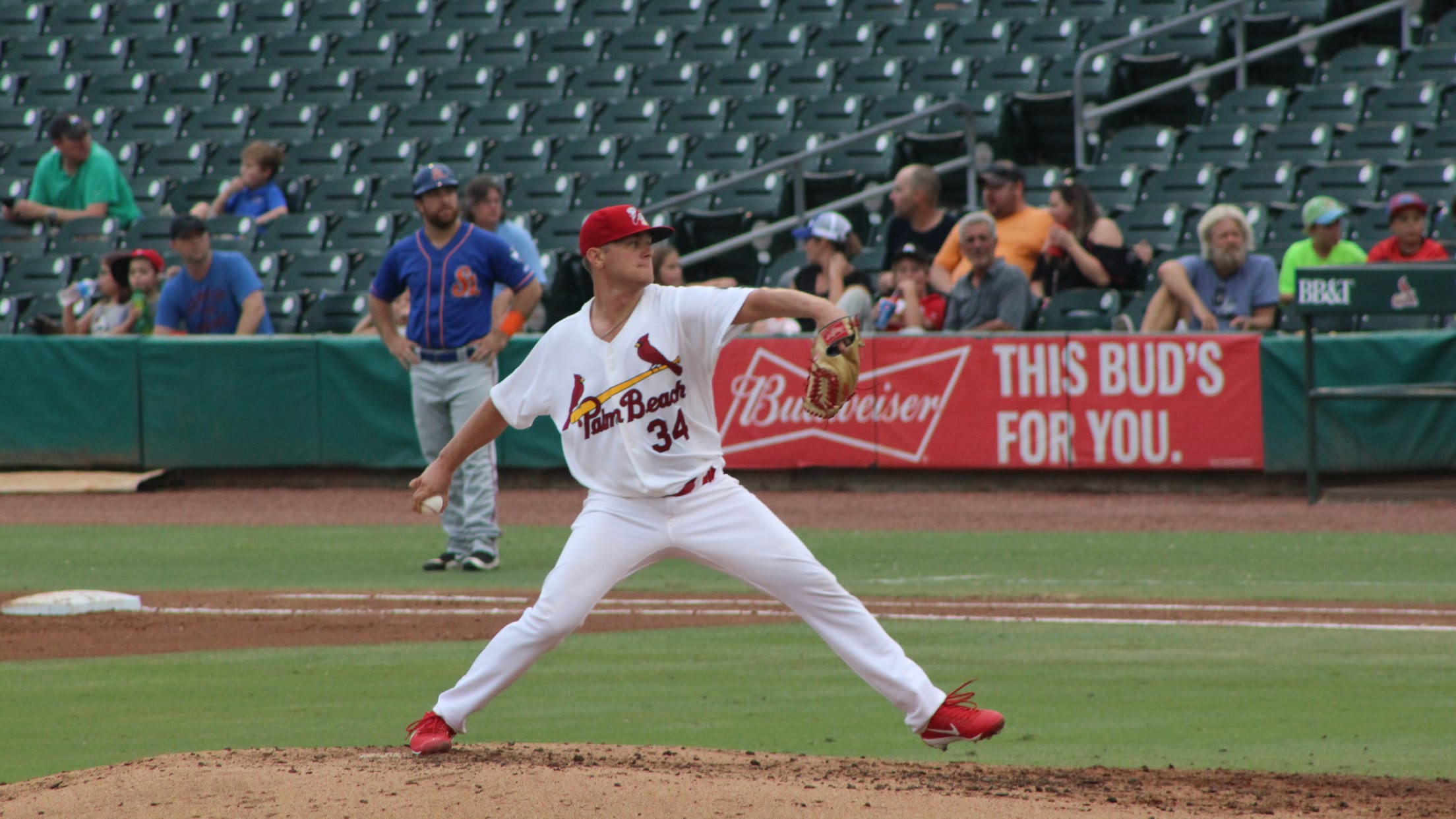 Jupiter, FL - The Palm Beach Cardinals (71-55, 31-28) got seven one-run innings from Connor Jones to help lead to a 5-2 win over the St. Lucie Mets (58-72, 25-37).Kevin Siegrist started the game for Palm Beach on a Major League rehab and tossed a scoreless first inning giving up
Jupiter, FL - The Palm Beach Cardinals (71-55, 31-28) got seven one-run innings from Connor Jones to help lead to a 5-2 win over the St. Lucie Mets (58-72, 25-37).
Kevin Siegrist started the game for Palm Beach on a Major League rehab and tossed a scoreless first inning giving up one hit, and turned it over to Connor Jones.
Palm Beach got the lead in the bottom of the first as Jose Martinez led things off with a double to left field and scored on a José Godoy single to give the Cardinals a 1-0 lead.
Jones looked shaky coming out of the pen early, as he gave up a single and a walk to start the second inning. He got Woodmansee to ground out into a fielder's choice and get the runner at third for out number one. Jones walked Michael Paez to load the bases then struck out Jose Garcia for the second out. He looked like he would get out unscathed, but walked J.C. Rodriguez to put across St. Lucie's first run of the game and make it 1-1.
The Cardinals took the lead in the fourth inning and made it 2-1. Thomas Spitz reached on an error to start the fourth inning and got to second on a Casey Grayson single. Both runners advanced on a wild pitch. Spitz scored two batters later when Edmundo Sosa grounded out and made it a 2-1 game.
The Cardinals added to their lead in the fifth inning and made it 4-1. Vince Jackson hit a one out single and got to second after Jose Martinez walked. Godoy loaded the bases with a single of his own, bringing Spitz to the plate. Spitz drew a walk to bring Jackson in. Grayson beat out a double play on a ground ball to drive in Martinez and make it a three run game.
The Cardinals added to their lead with a run in the sixth as Edmundo Sosa singled and got to third on a Brian O'Keefe double in the right-center gap. Sosa would score on a Billings ground out to give the Cardinals the 5-1 lead.
Jones went through eight giving him seven scoreless innings in a row, giving up five hits, walking three and striking out six. He turned it over to Eric Carter in the ninth who struck out the side, but not until he gave up a home run to Cody Woodmansee to cut the lead to 5-2. Cardinals would win 5-2 as the game ended on Carter striking out Josh Garcia.