Garcia, Herget provide heroics for Redbirds
Outfielder hits walk-off homer in 11th; starter fans 15 in Game 2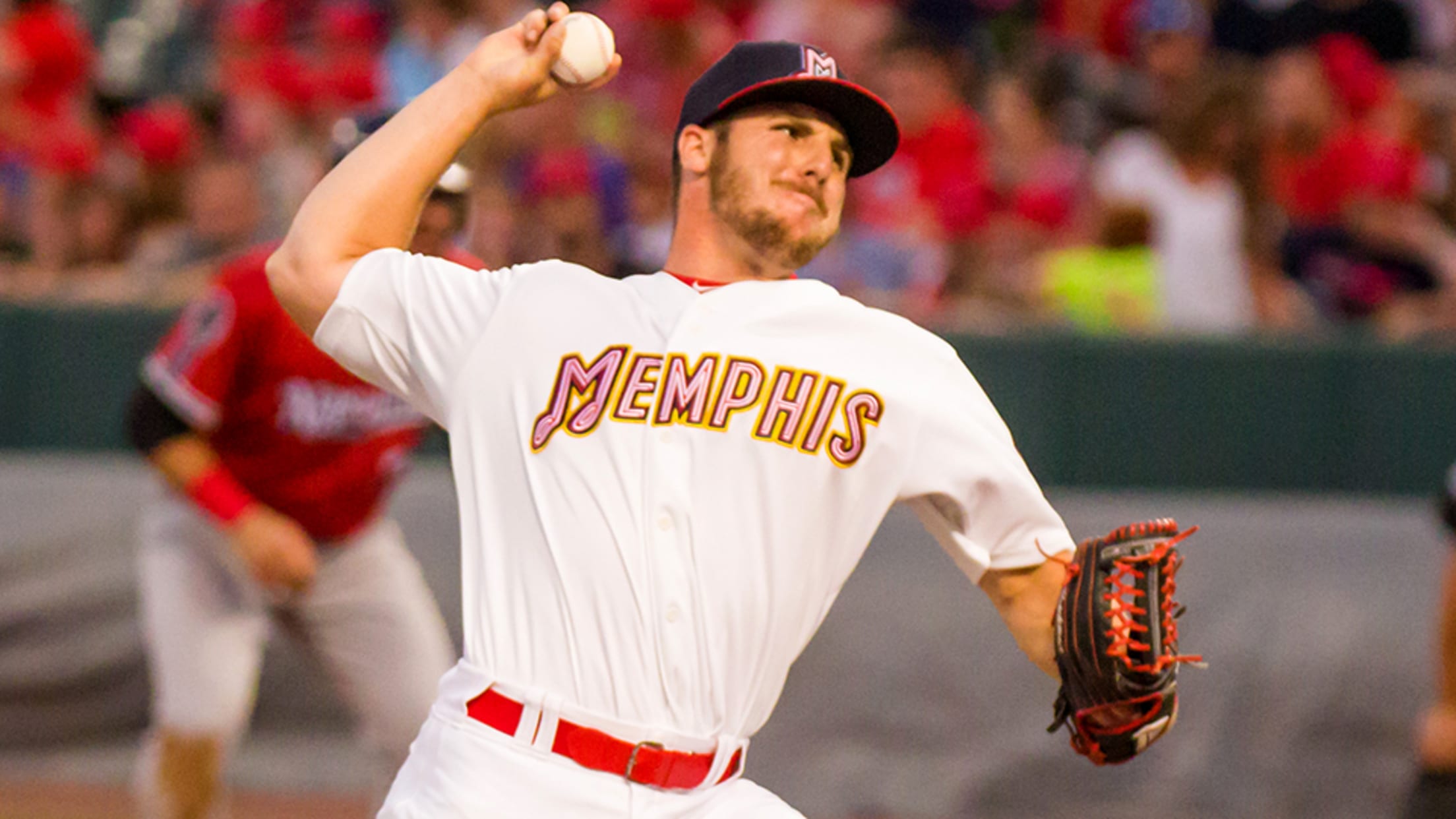 Kevin Herget has allowed just one earned run over 13 innings during Memphis' run in the postseason. (Roger Cotton/Memphis Redbirds)
For 11 innings Thursday afternoon, the Triple-A Memphis pitching staff did its part. Then with one swing, the club's bats did just enough to seal the deal and send AutoZone Park off in style.Kevin Herget struck out a career-high 15 over eight scoreless innings before Jose Adolis Garcia hit a
For 11 innings Thursday afternoon, the Triple-A Memphis pitching staff did its part. Then with one swing, the club's bats did just enough to seal the deal and send AutoZone Park off in style.
Kevin Herget struck out a career-high 15 over eight scoreless innings before Jose Adolis Garcia hit a two-run walk-off homer in the 11th in Memphis' 2-0 win over El Paso in Game 3 of the Pacific Coast League Championship Series. With the victory in their final home game of 2017, the Redbirds took a 2-0 lead in the best-of-5 series and stand one win away from their third PCL title and first since 2009.
"Going into an opposing team's park, it can be tough to think about having to win three games," said Memphis manager Stubby Clapp. "But we're able to have a different mindset now. We've been able to take care of business at our place, and now we're just trying to get one win instead of three, which is big."
The Memphis right-hander came flying out of the gate with whiffs for his first five outs. By the fourth, he had matched his career high for strikeouts -- eight, set on Aug. 28 against Iowa -- and by the end of the fifth, he was into double-digits in the category for the first time since being selected in the 39th round of the 2013 Draft.
Herget's 15 total strikeouts fell one short of the Memphis club record of 16 -- a mark amassed by Lance Lynn on Sept. 10, 2010 in Game 3 of the PCL semifinals against Oklahoma City. The Kean University product allowed only four hits and one walk and threw 80 of his 107 pitches for strikes.
"He was unbelievable right when the team needed him," Clapp said. "He pounded the strike zone with his fastball, had command of his secondary pitches and made them honor three pitches really. He threw his curveball well, his changeup. It was just a combination of everything coming together on one day for him."
Gameday box score
The 26-year-old posted a 4.62 ERA with 60 strikeouts and 21 walks in 62 1/3 innings with Memphis during the regular season, but only nine of his 22 appearances came as starts. He combined with relievers Mike Mayers, Sean Gilmartin and Rowan Wick to punch out 20 Chihuahuas on the day.
That's when the Memphis bats, which had been silenced for 10 frames, took over. With one out in the 11th, Aledmys Diaz singled to left field off right-handed sidearmer Eric Yardley. Fourth-ranked Cardinals prospectTyler O'Neill popped out to short before Garcia stepped in for the game's final at-bat. The right-handed slugger uncorked the first pitch he saw, sending it deep past the wall in left-center, and was met by cooler showers and celebrations from his teammates following his first homer of the postseason.
"It can get kinda crazy every time you get into extras, just thinking that you need that one run to get over the bump," Clapp said. "But when things like that happen, all you can do is feel blessed. ... [Garcia] was ready to hit right when he stepped up. He got a good pitch, got the barrel on it and that's all we needed."
Complete playoff coverage
Both teams travel to El Paso for Game 3 at 9:05 p.m. ET Friday. Right-handers Ryan Helsley, St. Louis' No. 23 prospect, and Walker Lockett (Chihuahuas) are the scheduled starters for that contest. Games 4 and 5 will take place Saturday and Sunday, if necessary. Moments before flying to Texas, Clapp wasn't about to allow his players to get too excited after Thursday's theatrics, even if they put them on the brink of a PCL title.
"Everybody's in good spirits right now," he said. "But they're humble too. Everyone here knows that El Paso is not an easy team to face, and that's especially true in their home stadium. We haven't been there yet [this season], so that'll be new too. We're happy with the win, but we're not there yet."
Sam Dykstra is a reporter for MiLB.com. Follow and interact with him on Twitter, @SamDykstraMiLB.