Rojas shows he belongs in River Bandits' rout
Astros infield prospect notches first multi-homer game, plates six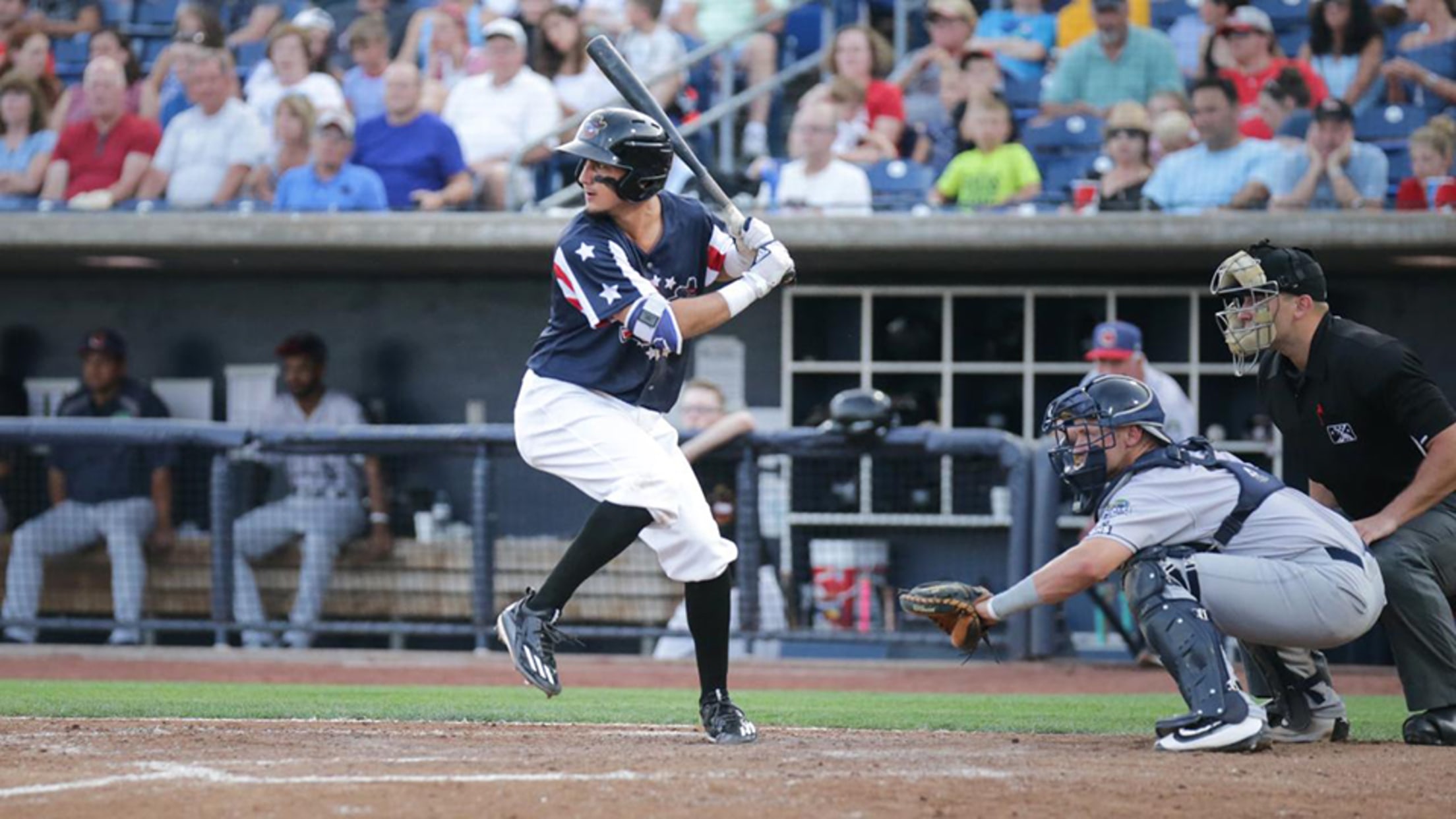 Josh Rojas had three long balls in his first 14 games this season before his multi-homer outing. (Rich Guill/Quad Cities River Bandits)
Josh Rojas was set on proving that he belongs in Class A during his first professional season. Three weeks in, he's doing just that.The 2017 26th-round Houston pick belted two home runs and went 4-for-6 with six RBIs as Class A Quad Cities pummeled Lansing, 20-3, on Wednesday night at
Josh Rojas was set on proving that he belongs in Class A during his first professional season. Three weeks in, he's doing just that.
The 2017 26th-round Houston pick belted two home runs and went 4-for-6 with six RBIs as Class A Quad Cities pummeled Lansing, 20-3, on Wednesday night at Modern Woodmen Park.
Gameday box score
"That was a lot of fun," Rojas said. "We were all seeing the ball well, and when you have guys hitting around you, it just gives you that comfort when you go up to the plate to get another knock. We were talking about in the dugout. It's just like when everybody's hitting, nobody wants to be the guy who's getting out that inning. It just makes you compete that much more."
The 23-year-old infielder delivered an RBI single to right field as part of the River Bandits' four-run first inning, then doubled to right in the nine-run second. Astros No. 20 prospectRonnie Dawson highlighted the frame with a two-run homer to left as the second man to the plate and later belted a three-run shot to left with two outs in the inning.
"That was unreal, especially because they were pretty much in the same spot," Rojas said. "That just shows you, [Dawson] picked a spot where he thought he could handle a pitch, and he got it twice in the same inning. That was amazing. I've never seen that before."
Rojas entered the long ball column in the third with a two-run shot to right and again in the fifth with another two-run shot to right in the first multi-homer game of his career.
"They were trying to work the bottom of the zone, and we knew that coming in, that the starter (Mike Ellenbest) was going to be a guy that was going to pound the bottom of the zone and work in a good changeup," Rojas said. "I think a lot of the guys, including myself, took that into account when we stepped up to the plate. For me, I was trying to see the ball up and only swing at pitches I could handle and lay off the pitcher's pitches. I think we all did a really good job of that."
The River Bandits led after five innings, 18-0, and piled up 22 hits in the rout, scoring 20 runs for the first time since a 20-5 victory over Peoria on May 5, 2012. Eight of Quad Cities' nine starters had hits with eight players notching multi-hit games, including catcher Gabriel Bracamonte, who entered as a pinch-hitter in the fifth. Quad Cities belted six homers, and three players finished one hit shy of the cycle. Rojas needed a triple while Dawson and No. 9 Astros prospect Daz Cameron sought doubles.
Rojas' six RBIs marked a personal best in his short career, and his four hits equaled the third baseman's output from his previous four games.
"The last couple weeks for me has been a huge confidence booster because I think when I got here, the first thing I thought I had to do was prove to the people around me that I belonged here and prove to the coaching staff and players that I do belong," the Hawaii product said. "I think once you get a couple good games under your belt and show that you do belong here and show yourself, most of all, that you belong, you kind of get to settle in. I think tonight was one of those nights where I felt comfortable at the plate."
Rojas thought he was going to start his professional career with Class A Short Season Tri-City in the New York-Penn League and even traveled to New York to do so. But on the day he was activated, the Astros sent him to Quad Cities.
"I showed up to Quad Cities as the first guy of this Draft class to make it to Quad Cities, and I hadn't played a game," he said. "I think that was the biggest reason I felt like I had something to prove."
• Get tickets to a River Bandits game »
Wednesday's showing boosted Rojas' line to .286/.354/.732 after 15 games, and the 23-year-old is pleased with how his approach is coming together.
"If you look at all levels, that's the biggest thing the Astros stress is plate discipline," he said. "That's probably been one of my biggest struggles the last couple years in college was swinging at pitches that were pitcher's pitches. We work on plate discipline a lot here, so that's been my biggest focus."
Right-hander Carson LaRue (10-3) allowed two hits and two walks over five scoreless innings to reach double digits in the win column.
Tyler Maun is a contributor to MiLB.com. Follow him on Twitter @TylerMaun.