Omaha's Staumont fans 12 on dominant night
No. 3 Kansas City prospect allows just one hit across six innings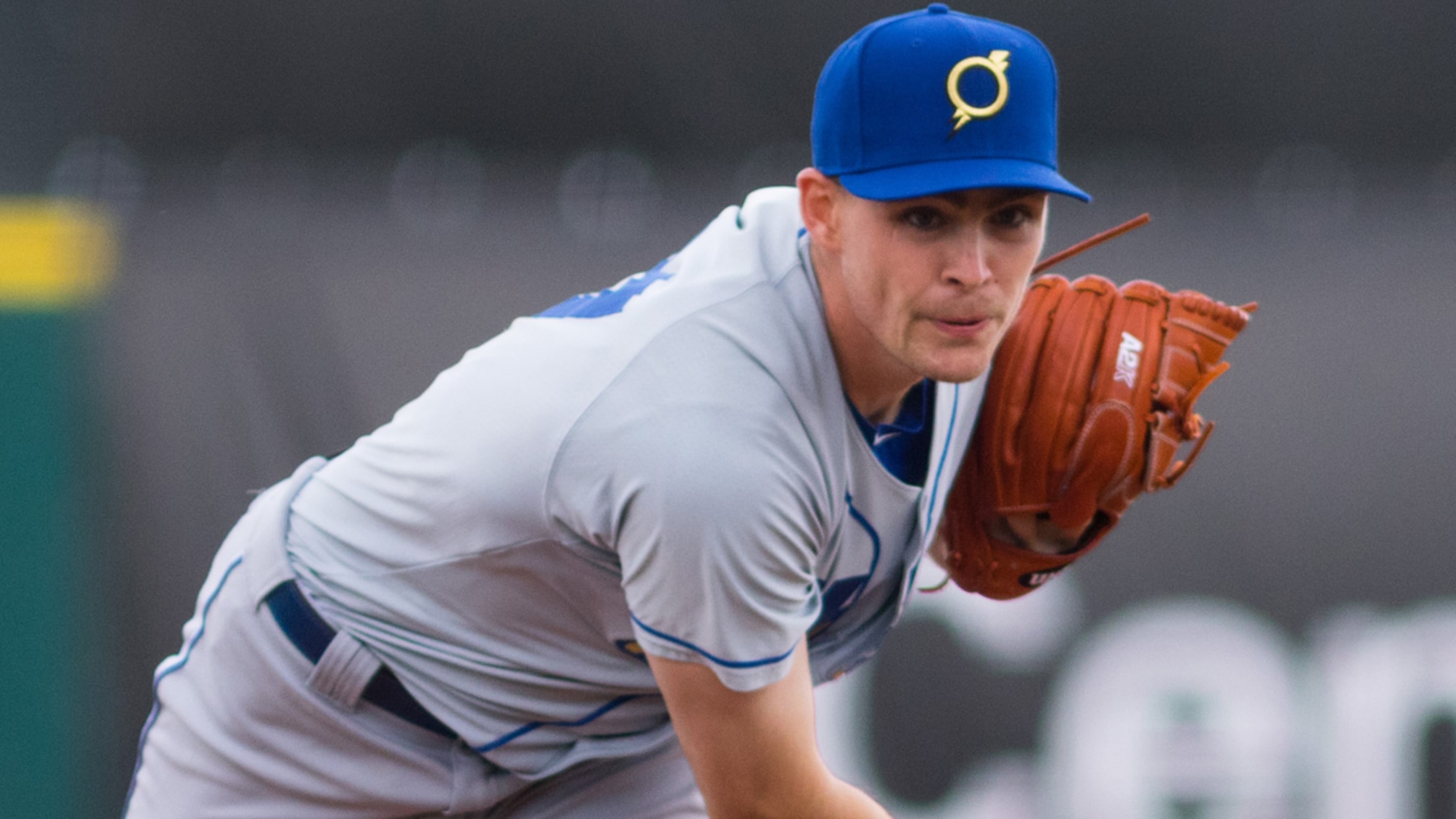 Josh Staumont struck out 12 in a game twice previously, most recently in September for the Naturals. (Bobby Stevens/MiLB.com)
Though the numbers didn't reflect it, Josh Staumont felt like his season debut last week wasn't all bad. After his home bow Thursday night in Omaha, there's no debating how good the righty pitched.Kansas City's No. 3 prospect matched a career high with 12 strikeouts over six one-hit innings and
Though the numbers didn't reflect it, Josh Staumont felt like his season debut last week wasn't all bad. After his home bow Thursday night in Omaha, there's no debating how good the righty pitched.
Kansas City's No. 3 prospect matched a career high with 12 strikeouts over six one-hit innings and faced just three baserunners as Triple-A Omaha blanked Round Rock, 3-0, at Werner Park.
"In Colorado (Springs), it wasn't an overall terrible outing from a process standpoint, but the outcome definitely wasn't what I wanted," said Staumont, who allowed seven runs on seven hits over 3 1/3 innings on April 8. "I think we just had to tweak a couple little things that got the ball rolling a little bit more in our direction tonight and got us that win."
Hittable against the Sky Sox last week, Staumont (1-1) was nearly untouchable against the Express. The Azusa Pacific product took a perfect game into the fifth inning and struck out the side in the first, third and fourth. Ronald Guzmán notched Round Rock's only hit of the night -- a single to right with two out in the fifth.
"We used the curve a lot today, just kind of playing with it in and out of the zone," Staumont said. "We threw a couple changeups just to keep them from looking dead red on fast curve and kind of keep them a little honest. Other than that, it was a pretty true night. Cam Gallagher did a phenomenal job behind the plate as usual."
Staumont walked Brett Hayes with one out and Drew Robinson with two gone in the sixth, but finished his night fittingly, with a strikeout of Round Rock's Will Middlebrooks. His final K matched a career best, accomplished twice before, most recently Sept. 5 with Double-A Northwest Arkansas.
The ability to throw strikes has been a pronounced factor in Staumont's quick rise through the upper Minors since the middle of last season. After struggling with walks in his first year-and-a-half in pro ball -- including 67 free passes in 73 innings to start last year with Class A Advanced Wilmington -- the 23-year-old has found his place in the strike zone.
Box score
"I've heard over and over little things like when you start to throw strikes, it's kind of like riding a bike," he said. "You don't really forget. I hope to goodness that that's the case, but at the same time, it was definitely a work in progress."
Staumont struck out 73 and walked 37 in 50 1/3 innings to end last year with Northwest Arkansas. Through his first two starts with Omaha, the Californian has fanned 17 while walking five. The ability to work in the zone -- and to employ instruction he's received in the Kansas City system -- is propelling Staumont's ascension.
"Everyone who's getting drafted nowadays has been looked at, polished and is extremely under the microscope compared to in the past," he said. "I feel like a lot of times when guys come in to pro ball now, especially from college, they've just had so many different voices and mentors throughout their life that it's a lot of little adjustments. It's being able to accept those little adjustments and apply them. It's almost like teaching an old dog new tricks.
"I think the Royals have been phenomenal. They've definitely put me on the right path and put little blinders on me and allowed me to focus on exactly what I needed to do, whether it's stepping in the right direction on the mound, getting the ball out early or really finishing down through the zone."
Jorge Bonifacio gave the Storm Chasers the lead with an RBI double to right in the fourth. Staumont and his staff needed no more.
The righty handed the ball to his bullpen and a capable arm behind him. Kansas City's top prospect Matt Strahm struck out three over two perfect innings. Bobby Parnell walked Robinson in the ninth, but struck out Middlebrooks on the way to his first save.
"I trust everyone out there," Staumont said. "I don't care who comes in behind me, we've all got faith in each other that we can finish that game and get us the win. It's nice to have a one-hitter, but regardless of how many they knock around, the win is the ultimate goal."
After a frustrating start to the season last week, Staumont kept the victory in perspective with a philosophical bend.
"I think baseball's a little like the winds in the Midwest out here," he said on an eastern Nebraska night. "It'll blow your direction, and a few innings later, it'll be blowing out. It's a humbling game."
Tyler Maun is a contributor to MiLB.com. Follow him on Twitter @TylerMaun.