Rojas rides power binge to weekly award
Astros prospect belted six of his seven home runs in last week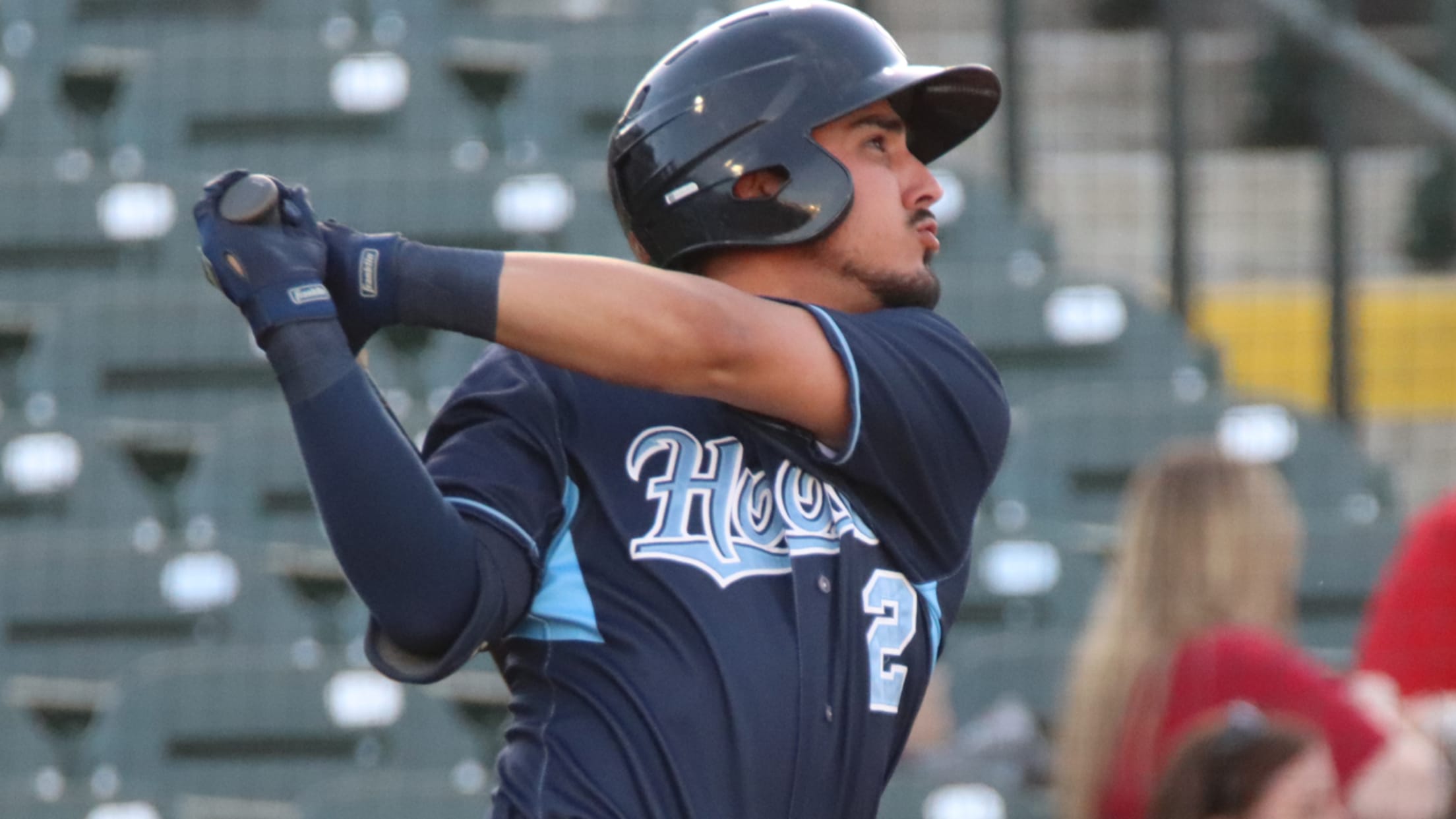 Joshua Rojas boosted his slugging percentage from .397 to .545 over the award period for Double-A Corpus Christi. (Joshua Tijong/MiLB.com)
Joshua Rojas was in the middle of a fine season entering last week, but his last seven games have taken things to another level. The Houston prospect went off at the plate, going 16-for-31 with six homers to cruise to Texas League Player of the Week accolades for the period
Joshua Rojas was in the middle of a fine season entering last week, but his last seven games have taken things to another level.
The Houston prospect went off at the plate, going 16-for-31 with six homers to cruise to Texas League Player of the Week accolades for the period of May 20-26.
• View the Pitchers of the Week winners »
"The last week, I really just tried to focus on using all sides of the field," Rojas said. "I think early in the year, I was getting caught up on maybe not having enough homers and trying to use the right side of the field a lot, being a lefty. These last couple of weeks before I actually broke open, I've really just been looking at where pitchers have been attacking me and trying to focus on taking what they're trying to use against me and using that against them.
"This last week, the ball's just started getting elevated and going out of the park without much effort."
Rojas left play on May 19 as a .272/.361/.397 hitter with one home run and 22 RBIs in 36 games played. On the 20th, he kicked off his monster week quietly with a 2-for-5 day that included a walk. One night later, the Hawaii product doubled his season homer total by hammering a pair of solo blasts on a 3-for-4 day. He matched that line the next day.
After going 0-for-4 on Thursday, Rojas rattled off three straight multi-hit contests, doubling twice on Friday and once Saturday before swatting another pair of solo homers on Sunday afternoon.
"I didn't really realize it at first because I had the first two-homer games back-to-back in the Amarillo series, so that was pretty awesome just to get four homers in two days considering last year I had seven homers [in Double-A] all year," he said. "That was pretty cool. I just got caught up in the grind against Frisco. They've been a really tough team all year, and that Sunday game, I hit the two homers and didn't even realize it was the same week until after the game. I heard the announcer say, 'That was your sixth homer just this week,' and I was like, 'Oh wow, that was all this week.'"
Heading into the last week, Rojas had just 19 home runs in his entire professional career. The 24-year-old finished the period with an overall line of .516/.571/1.194, seven RBIs, 11 runs scored and four walks to three strikeouts. The surge pushed his season-long slash line to .317/.400/.545 for a .945 OPS.
Houston selected the third baseman in the 26th round of the 2017 Major League First-Year Player Draft. Rojas spent the bulk of his debut season at Class A Quad Cities before splitting time last year between Class A Advanced Buies Creek and Corpus Christi. With the Hooks a year ago, he batted .251/.338/.385 with seven home runs in 106 games -- the same total he now has through 43 contests this season. The Texas League recognition -- Rojas' first since his draft year in the Midwest League -- is a milepost for the season.
"It's really awesome," he said. "When you're going through the grind of a season, I try not to stop and think about the stats or how many homers you're hitting. You kind of just try to keep your nose down and keep on the grind of the season. When you get an award like this, it gives you time to stop and look back like, 'OK, that was a really good week for me.' It's a really good stepping stone, and you get to look at that and keep that piece with you and move on and keep grinding."
Below is the complete list of Minor League Offensive Players of the Week for May 20-26:
| League | Player | Team | MLB | Stats |
| --- | --- | --- | --- | --- |
| International | Breyvic Valera | Scranton/Wilkes-Barre | NYY | .522/.607/1.130, 6 G, 12-for-23, 2 2B, 4 HR, 12 RBI, 6 R, 4 BB, 1 K, 1 SB |
| Pacific Coast | Yasmany Tomas | Reno | ARI | .400/.438/1.233, 7 G, 12-for-30, 0 2B, 2 3B, 7 HR, 13 RBI, 10 R, 2 BB, 9 K |
| Eastern | Ka'ai Tom | Akron | CLE | .450/.542/.850, 6 G, 9-for-20, 2 2B, 2 HR, 4 RBI, 5 R, 4 BB, 6 K |
| Southern | Vimael Machin | Tennessee | CHC | .476/.560/.667, 5 G, 10-for-21, 1 2B, 1 HR, 6 RBI, 6 R, 4 BB, 1 K |
| Texas | Joshua Rojas | Corpus Christi | HOU | .516/.571/1.194, 7 G, 16-for-31, 3 2B, 6 HR, 7 RBI, 11 R, 4 BB, 3 K |
| California | Luis Castro | Lancaster | COL | .421/.607/.947, 6 G, 8-for-19, 1 2B, 3 HR, 9 RBI, 10 R, 7 BB, 5 K, 1 SB |
| Carolina | Ryan Dorow | Down East | TEX | .320/.419/.840, 7 G, 8-for-25, 1 2B, 4 HR, 10 RBI, 6 R, 4 BB, 3 K, 1 SB, 1 CS |
| Florida State | Lucas Tancas | Bradenton | PIT | .423/.464/.769, 7 G, 11-for-26, 6 2B, 1 HR, 6 RBI, 4 R, 1 BB, 10 K, 2 SB |
| Midwest | Niko Hulsizer | Great Lakes | LAD | .313/.333/.844, 7 G, 10-for-32, 2 2B, 5 HR, 9 RBI, 7 R, 0 BB, 10 K |
| South Atlantic | Josh Stowers | Charleston | NYY | .385/.429/.923, 6 G, 10-for-26, 0 2B, 1 3B, 4 HR, 7 RBI, 6 R, 1 BB, 10 K, 1 SB, 1 CS |
Tyler Maun is a contributor to MiLB.com. Follow him on Twitter @TylerMaun.