Trash Pandas Swept By Smokies In Twin Bill
Rocket City limited to two runs in two games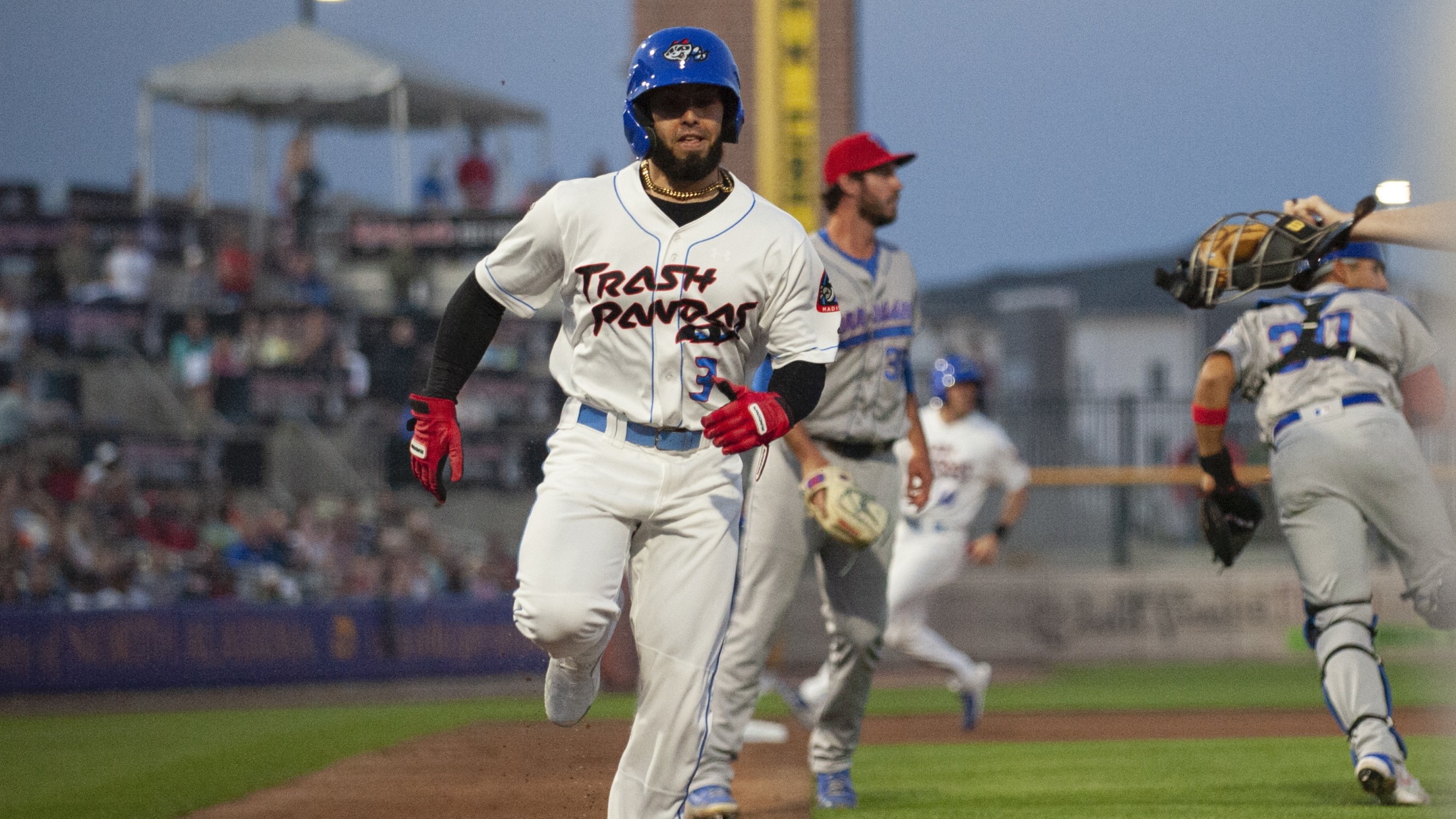 Michael Cruz scored one of Rocket City's two runs on Friday night. (Cristina Byrne/Rocket City Trash Pandas)
The Rocket City Trash Pandas pitching staff struggled with the long ball and the offense was unable to produce much in a pair of losses to the Tennessee Smokies in Friday night's doubleheader at Smokies Stadium. The Smokies hit four home runs to win the first game 9-2 before a
The Rocket City Trash Pandas pitching staff struggled with the long ball and the offense was unable to produce much in a pair of losses to the Tennessee Smokies in Friday night's doubleheader at Smokies Stadium.
The Smokies hit four home runs to win the first game 9-2 before a pair of solo home runs were enough for a 2-0 win in the second matchup to hand the Trash Pandas a series loss, having dropped the first four games of the six-game set.
In the opener, the Smokies scored early and often against Trash Pandas starter Kyle Tyler (L, 4-2). An error plated the first Tennessee run in the second. Christopher Morel then put the game out of reach single-handedly by hitting a two-run home run in both third and fourth inning to make it 6-0 Smokies.
The Trash Pandas got on the board in the fifth on a sacrifice fly from Luis Aviles Jr. to score Michael Cruz. But that would be all the Trash Pandas could muster.
Back-to-back home runs from Chase Strumpf and Tim Susnara off Kyle Molnar increased the score to 9-1 Tennessee in the fifth. Aviles Jr. capped the scoring for the Trash Pandas with another sacrifice fly in the seventh.
Tyler took the loss after giving up six runs, five earned, on 10 hits with one walk and three strikeouts over 4.0 innings. Molnar gave up three runs in his only inning and Luke Leftwich pitched a scoreless bottom of the sixth.
The Smokies began the nightcap in similar fashion as Morel hit a solo home run, his third of the doubleheader, off Rocket City starter Reid Detmers in the bottom of the first to open the scoring.
Three innings later, Jared Young doubled the Smokies lead with a home run to right-center, and that would prove to be all the runs for either side.
Tennessee starter Javier Assad (W, 1-3) kept the Trash Pandas off the board for the duration of his outing. Over 6.0 scoreless innings, he gave up just two hits, walked one, and struck out three to earn the win.
In the seventh, the Trash Pandas loaded the bases with two walks and a single against Tennessee reliever Cayne Ueckert (S, 3). But the closer rebounded to strike out Torii Hunter Jr. to finish the shutout and earn the save.
Detmers suffered the loss after giving up two runs, both on solo home runs, with three walks and eight strikeouts over 5.0 innings. Oliver Ortega kept the deficit at two with a scoreless bottom of the sixth.
The Trash Pandas (25-26) and Smokies (20-30) meet again on Saturday night. First pitch at Smokies Stadium is set for 6 p.m. Josh Caray will be on the call for 103.9 FM THE UMP and 730 AM SportsRadio.