Trash Pandas Power Past Smokies 10-5 
Davis, Pompey, Martinez homer in series-opening win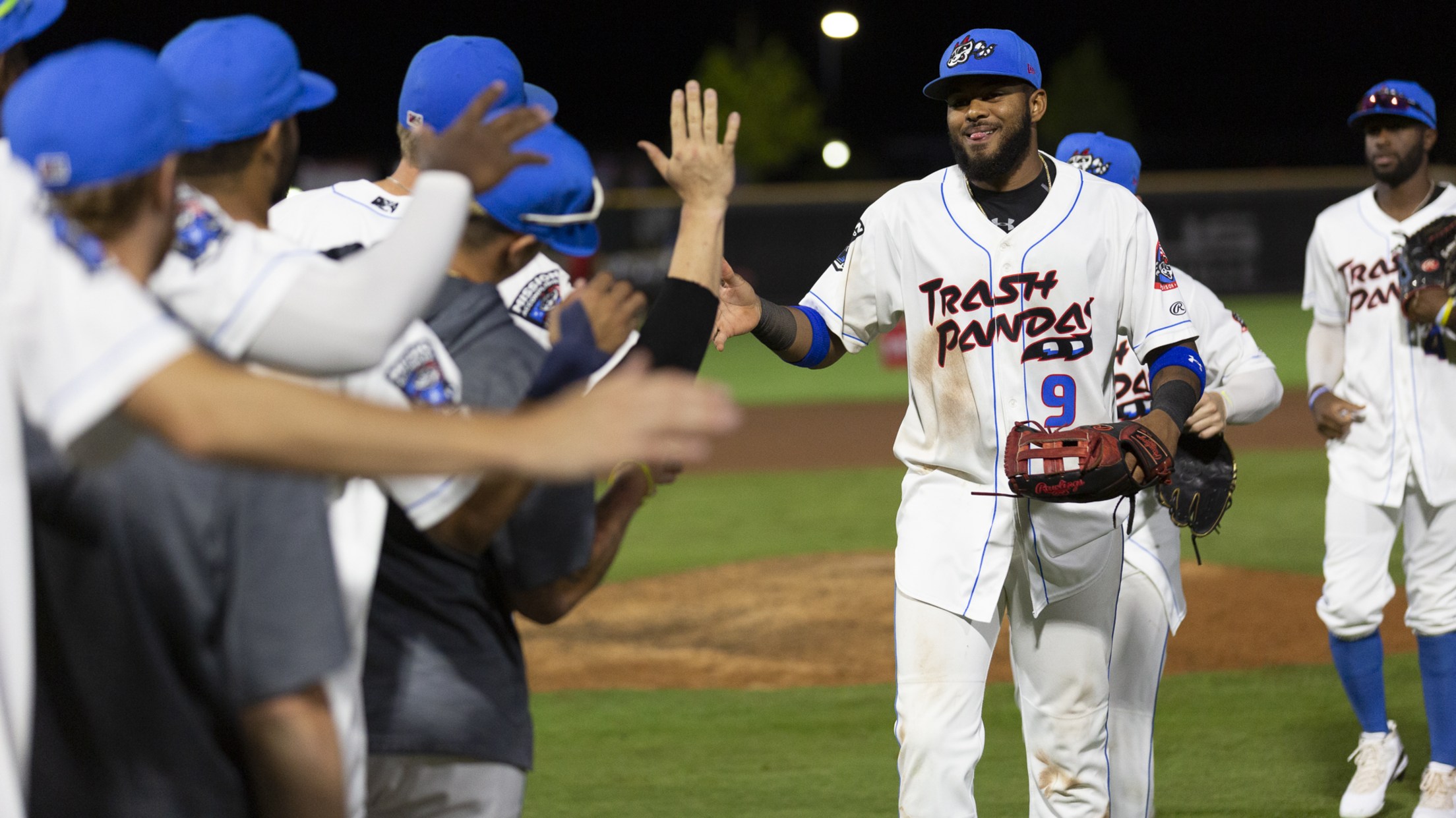 MADISON, Alabama – The Rocket City Trash Pandas began their homestand with a 10-5 win over the Tennessee Smokies on Tuesday night at Toyota Field behind a timely power display at the plate and a strong night from the bullpen. After a one, two, three first inning, Rocket City starter
MADISON, Alabama – The Rocket City Trash Pandas began their homestand with a 10-5 win over the Tennessee Smokies on Tuesday night at Toyota Field behind a timely power display at the plate and a strong night from the bullpen.
After a one, two, three first inning, Rocket City starter Chris Rodriguez struggled in the second as RBI singles from Chase Strumpf and Levi Jordan put Tennessee ahead 2-0.
The Trash Pandas were quick to respond in the bottom half. David MacKinnon led off with a walk and Dalton Pompey singled to put two on with nobody out. Izzy Wilson got the Trash Pandas on the board with a sharp single to left scoring MacKinnon. Mitch Nay then doubled to the gap in right-center, scoring Pompey and Wilson to put Rocket City in front 3-2.
Rodriguez rebounded by retiring the Smokies In order in the third, giving the Trash Pandas an opportunity to expand their lead. Making his Rocket City debut, third baseman Brendon Davis launched a solo home run 398 feet to right-center field to make it 4-2. Orlando Martinez doubled, and MacKinnon walked to keep the rally moving. Afterwards, Pompey crushed a 390-foot three-run home run to right-center, his fifth blast of the season to break the game open at 7-2. Wilson capped the inning's scoring by doubling, stealing third, and coming home on an Anthony Mulrine single.
Tennessee got a pair of runs back in the fourth off Rodriguez in the fourth. But the visitors would get no closer. Martinez added to the lead with a solo home run of his own in the fourth, his 11th of the season.
The Smokies plated an unearned run off Rodriguez in the fifth, ending his outing. Making the start on his 23rd birthday, the righty gave up two earned runs on four hits with two walks and four strikeouts over 4.0 innings.
Luke Leftwich (W, 1-1) was first out of the bullpen for Rocket City and earned the win with 2.0 scoreless innings. Keith Rogalla also threw 2.0 clean innings and Oliver Ortega finished the win by recording three strikeouts in the ninth.
At the plate, all nine Rocket City starters reached base. Wilson led the way by going 3-for-4 with two runs scored and an RBI while Pompey was 2-for-3 with the three-run homer and a pair of runs. Davis went 1-for-5 with a home run in his first game for the Trash Pandas.
The Trash Pandas (32-33) continue their series with the Smokies (27-36) on Wednesday night. First pitch at Toyota Field is set for 6:35 p.m. Josh Caray will be on the call for 103.9 FM THE UMP and 730 AM SportsRadio. The game will also be televised locally on WAAY-31.6, This TV.