Sheffield, Devers, Stewart named EL All-Stars
Conlon, Mejia among other big names bound for New Hampshire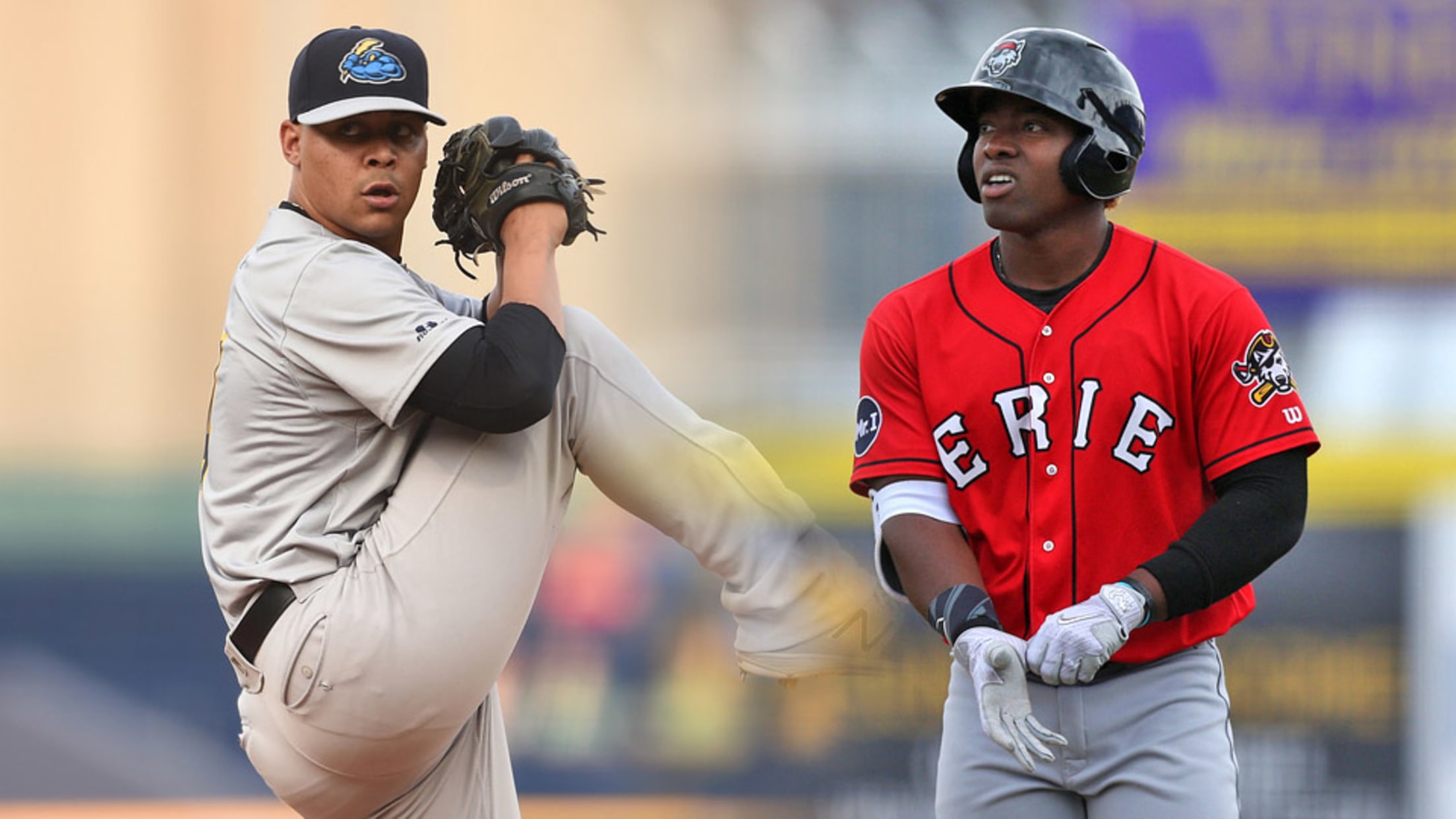 Justus Sheffield (left) and Christin Stewart will face off July 12 at Northeast Delta Dental Stadium. (Kevin Pataky, Gordon Donovan)
Portland's Rafael Devers, Trenton's Justus Sheffield and Erie's Christin Stewart are among the big names headed to New Hampshire after the Eastern League announced its All-Star Game rosters on Wednesday afternoon.Devers, the top Red Sox prospect and No. 12 overall, will represent the Eastern Division while Stewart, Detroit's No. 2
Portland's Rafael Devers, Trenton's Justus Sheffield and Erie's Christin Stewart are among the big names headed to New Hampshire after the Eastern League announced its All-Star Game rosters on Wednesday afternoon.
Devers, the top Red Sox prospect and No. 12 overall, will represent the Eastern Division while Stewart, Detroit's No. 2 prospect, will represent the Western squad when the Double-A circuit holds its annual All-Star Game on July 12 at New Hampshire's Northeast Delta Dental Stadium. Sheffield, the Yankees' top left-handed prospect and No. 67 overall, will join Devers on the Eastern squad.
Highlighting the Western squad along with Stewart will be the league's leading hitter, Akron's Francisco Mejía. Ranked as the No. 34 overall prospect, the Indians' switch-hitting catcher owns a .352 average with nine homers and 31 RBIs.
The hometown Fisher Cats boast five players in the game -- pitchers Conner Greene and Dusty Isaacs, infielders Gunnar Heidt and Ryan McBroom and catcher Danny Jansen. Greene is ranked as the Blue Jays' No. 2 pitching prospect ,and Jansen is No. 21 overall for Toronto.
Eastern League All-Star Rosters:Western Division | Eastern Division
"We can't wait to showcase our beautiful stadium and wonderful community to fans across the league while watching some of the best young talents baseball has to offer," said Fisher Cats president Mike Ramshaw.
New Hampshire, Binghamton, Altoona and Bowie all saw five players selected. The teams were assembled by votes from Eastern League managers, media members and fans, and the event will also include a home run derby and a military-themed celebrity softball game on July 11.
Sheffield, a 2014 first-round pick, is 6-5 with a 3.28 ERA in 14 starts for Trenton this season. The 21-year-old has struck out 69 and walked 27 in 79 2/3 innings this season for the Thunder.
Devers, 20, is putting up big numbers at Portland and is expected to earn a promotion to Triple-A Pawtucket in the near future. In the EL, he's batting .291 with 14 homers, 45 RBIs and 17 doubles in 66 games.
Stewart, a 2015 first-round pick out of Tennessee, is hitting .269 with a league-leading 18 home runs to go along with 54 RBIs and a .350 OBP in 75 games with Erie. He ranks second in the league in RBIs.
Other notable All-Stars include Bowie's Garabez Rosa, an Orioles prospect who leads the league with 56 RBIs, and Binghamton's P.J. Conlon, a Mets lefty who is 5-6 with a 4.15 ERA and ranks second in the circuit with 71 strikeouts. Best known for his glove, fellow Mets infield prospect Luis Guillorme got the nod after hitting .293 with 35 runs scored in 68 games for the Rumble Ponies.
There were some noticeable names who weren't honored, including Neftali Soto, who was batting .329 for Harrisburg before getting promoted to Triple-A last week. Hartford's Ryan Castellani leads the league with 74 strikeouts but was likely hurt by his 5.31 ERA. One of the Eastern League's best hitters this season, Scott Kingery, also wasn't selected -- the second baseman was promoted to Triple-A Lehigh Valley on June 26 after hitting .313 with 18 homers, 44 RBIs and 19 steals in 69 games with Reading.
New Hampshire's Gary Allenson will manage the Eastern team, while Akron's Mark Budzinski takes the Western squad.
The game will be streamed live from Manchester via MiLB.TV.