Bees' Cowart cycles in six-hit masterpiece
Angels infielder collects three doubles, five RBIs and five runs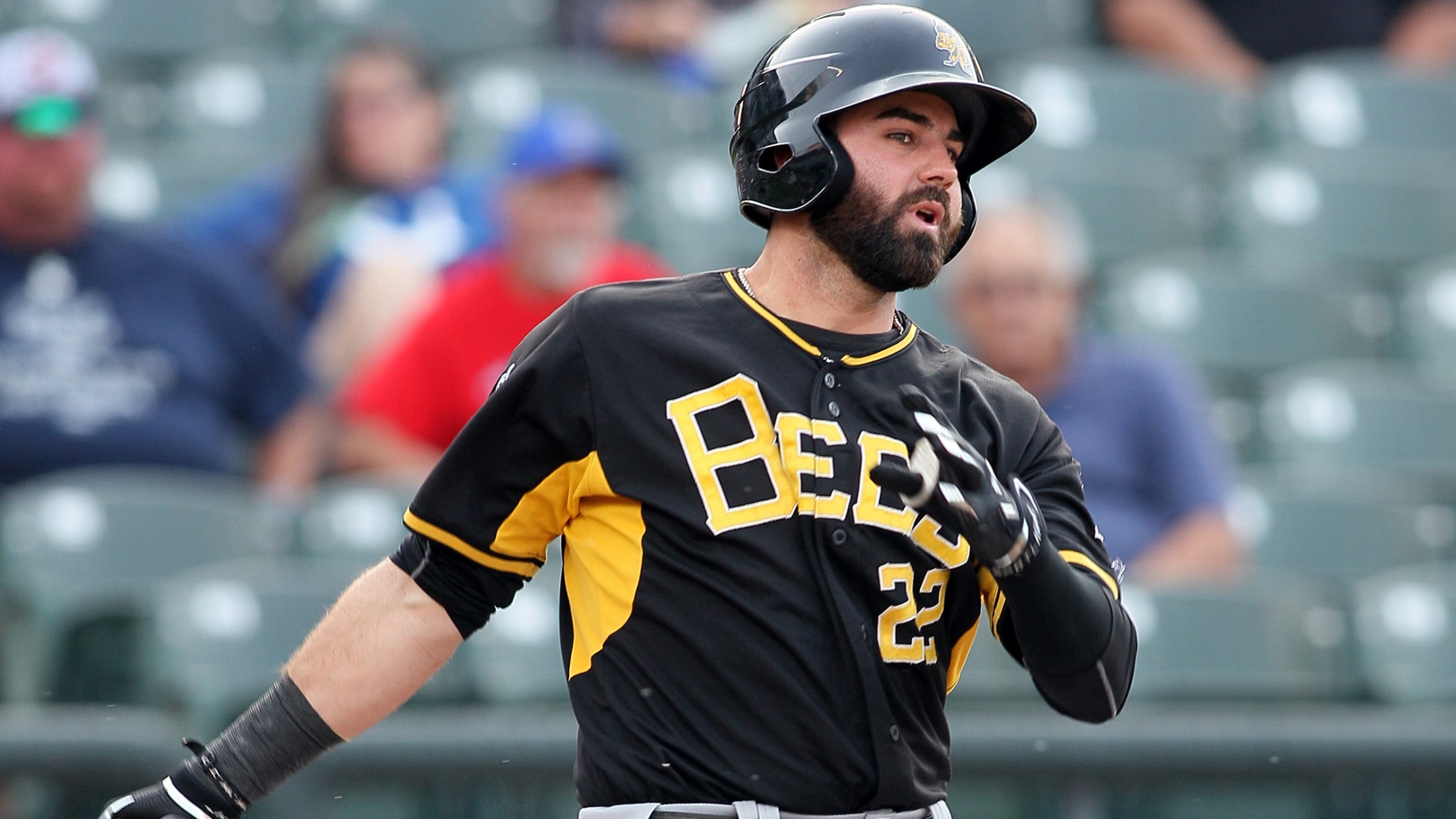 Kaleb Cowart has collected three or more hits in seven games for Salt Lake this season. (Jim Redman/MiLB.com)
Hitting for his first cycle just barely begins to tell the story of Kaleb Cowart's performance Thursday. The Angels infielder went 6-for-6 with five RBIs and scored five runs to lead the Triple-A Salt Lake Bees in a 16-2 romp over the Las Vegas 51s at Cashman Field. 
Hitting for his first cycle just barely begins to tell the story of Kaleb Cowart's performance Thursday.
The Angels infielder went 6-for-6 with five RBIs and scored five runs to lead the Triple-A Salt Lake Bees in a 16-2 romp over the Las Vegas 51s at Cashman Field.
The six hits, three doubles and five runs all represent career highs for Cowart.
"It's the best hitting performance of my career and something I'll always remember doing," he said. "I'm just happy that I had the chance to do it. Now I'm looking forward to going out there and trying to win some ballgames."
Gameday box score
Cowart put the Bees ahead in the first inning with a two-run double to right field. He went back to right for a single in the third. The 25-year-old drove in his third run of the game with a double to left in the fourth.
In the sixth, Cowart was allowed to swing on a 3-1 pitch from 51s reliever Donovan Hand (1-3) and sent it over the fence in left field for a solo homer.
"I got the green light and he threw me a fastball that ended up middle-away. It caught a good part of the plate, so I was able to get a good swing on it," he added.
Well aware of what was at stake, the 2010 first-round pick fell behind Hansel Robles, 1-2, during his at-bat in the eighth. Trying to stay in the at-bat, Cowart sent a line drive to deep center and got on his horse.
"I knew I needed a triple. I wasn't shooting for it, but if it happened, it happened," the Georgia native said. "I just wanted to get a good pitch to hit and drive out to center. He painted two fastballs on the black, but then he left one on a good part of the plate."
Asked whether he was thinking three right out of the box, Cowart replied emphatically.
"I wasn't stopping."
It was the seventh cycle in team history and the first since Matt Brown completed the feat on April 9, 2008.
When Cowart got back to the dugout, his teammates were quick to mob him, but Cowart wasn't done. He came to the plate with two outs in the ninth and snuck a blooper into no-man's land behind short and stretched it out into a double. This time, his fellow Bees were quick to get on him about the way in which he collected his third two-bagger.
"My teammates were giving me a hard time about that," Cowart said with a laugh. "Just the bloop double and the fact that it was my sixth hit. That was a first for me as well. But it was great. It was the first time I hit for the cycle, and to top it off with the 6-for-6 was a pretty exciting moment."
Cowart wasn't the only member of the lineup trying to enter the history books. Catcher Tony Sanchez fell a triple short of the cycle and drove in four runs.
"I knew Tony was doing well and was close to one too," Cowart said. "He had a no-doubter and had a heck of a night. When I finished my cycle, he told me, 'I can't keep up with you, keep going."
Michael Leboff is a contributor to MiL,B.com.