McWilliams adds five hitless to resume
D-backs prospect lowers ERA to 0.45 in fourth start of season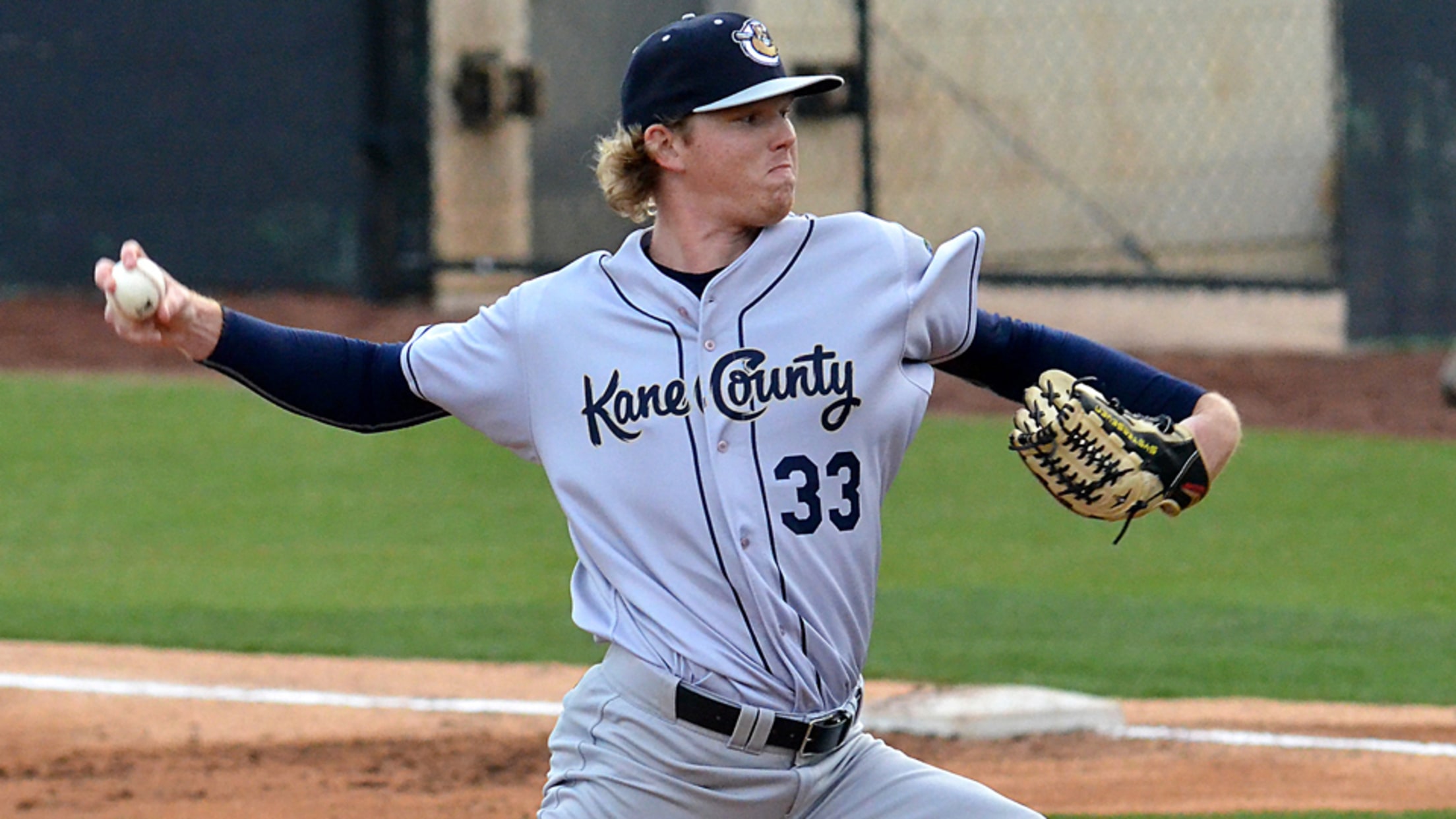 Sam McWilliams leads the Midwest League with a 0.40 WHIP and ranks third with a 0.45 ERA. (Paul R. Gierhart/MiLB.com)
Sam McWilliams was aware his time on the mound was going to be limited on Tuesday night, but he made the most of it."I knew I was only going five innings," he said. "They told us all in Spring Training that for the first month we were only going five
Sam McWilliams was aware his time on the mound was going to be limited on Tuesday night, but he made the most of it.
"I knew I was only going five innings," he said. "They told us all in Spring Training that for the first month we were only going five innings."
The D-backs right-hander was almost perfect in his brief tenure, hitting a batter and striking out five, as Class A Kane County took a no-hitter into the eighth inning in a 5-1 victory at Wisconsin.
Box score
"It was fun, obviously. Giving up no hits is always fun," McWilliams said, noting he didn't have many experiences with which to compare it. "I had the game in my second start [of the season] where I gave up one hit, so it was kind of similar to that. But actually, I didn't have any no-hitters in high school."
Selected by the Phillies at the age of 18 in the eighth round of the 2014 Draft, he spent his first two seasons in the Rookie-level Gulf Coast League. In November 2015, the D-backs acquired him for right-hander Jeremy Hellickson, and over 15 starts with the Cougars from last June through the end of the season, he was 3-6 with a 3.98 ERA.
Returning to the Midwest League to start this year, the 21-year-old has been dominant, going 3-0 with a 0.45 ERA and .111 opponents' batting average. He's given up one earned run on seven hits over 20 innings, going the five-inning limit in all four starts while totaling 20 strikeouts against one walk.
"For me, it's just fastball command. As long as I can throw that where I want, the rest just falls into place," the Tennessee native said. "The year makes a huge difference. Me and my pitching coach, Rich Sauveur, have talked a lot about trusting my stuff. My fastball is my best pitch, so go with it and trust in all my stuff."
Although he retired the first 13 batters he faced against the Timber Rattlers, McWilliams said he didn't feel like he was working on anything special.
"I wouldn't say any moreso than usual. Every start, I go in with confidence. As long as I have my fastball, I'm not too worried about anything. It was kind of just another day," he said. "I try not to think about it. I didn't want to jinx it and I knew I was only getting five [innings], anyway."
With one out in the fifth, his 2-1 pitch plunked Ryan Aguilar, the Timber Rattlers' No. 5 hitter. McWilliams admitted it was a frustrating way to see the first baserunner get aboard.
"Yeah, I thought it was a decent pitch," he said. "There were two strikes, so I was a little upset."
Not for long.
On his next pitch, he got Jose Cuas to bounce into an inning-ending double play.
"[That was] very satisfying," McWilliams said. "That was one of the few sinkers I threw and I was happy with the execution -- got him first-pitch swinging."
He threw 39 of 53 pitches for strikes and, despite Arizona policy, he didn't feel quite done.
"I went [into the dugout] and asked the pitching coach to text the pitching coordinator [Dan Carlson] and see if I could go back out there," he said, "but I kind of figured that wasn't going to happen."
Ryan Burr got the ball for the sixth and retired the side in order. The 22-year-old righty needed only six pitches to get three straight ground-ball outs in the seventh.
"I wouldn't say I had butterflies, but I knew what was going on by then," McWilliams said. "I had confidence in him and I knew he'd get it done, but it's not a big deal. It doesn't matter as long as the team wins, especially this early in the season."
The no-hit bid ended when Brewers No. 22 prospectMonte Harrison led off the eighth with a double against Cal Becker, who also allowed an RBI single to Aguilar. Austin Mason struck out two in a 1-2-3 ninth.
No. 23 D-backs prospectJose Herrera was 2-for-4 with a double for the Cougars, while Paxton De La Garza went 2-for-4 with a three-run homer and two runs scored.
Josh Jackson is a contributor to MiLB.com. Follow and interact with him on Twitter, @JoshJacksonMiLB.