Ray goes distance for Northwest Arkansas
Kansas City's No. 24 prospect tosses first nine-inning shutout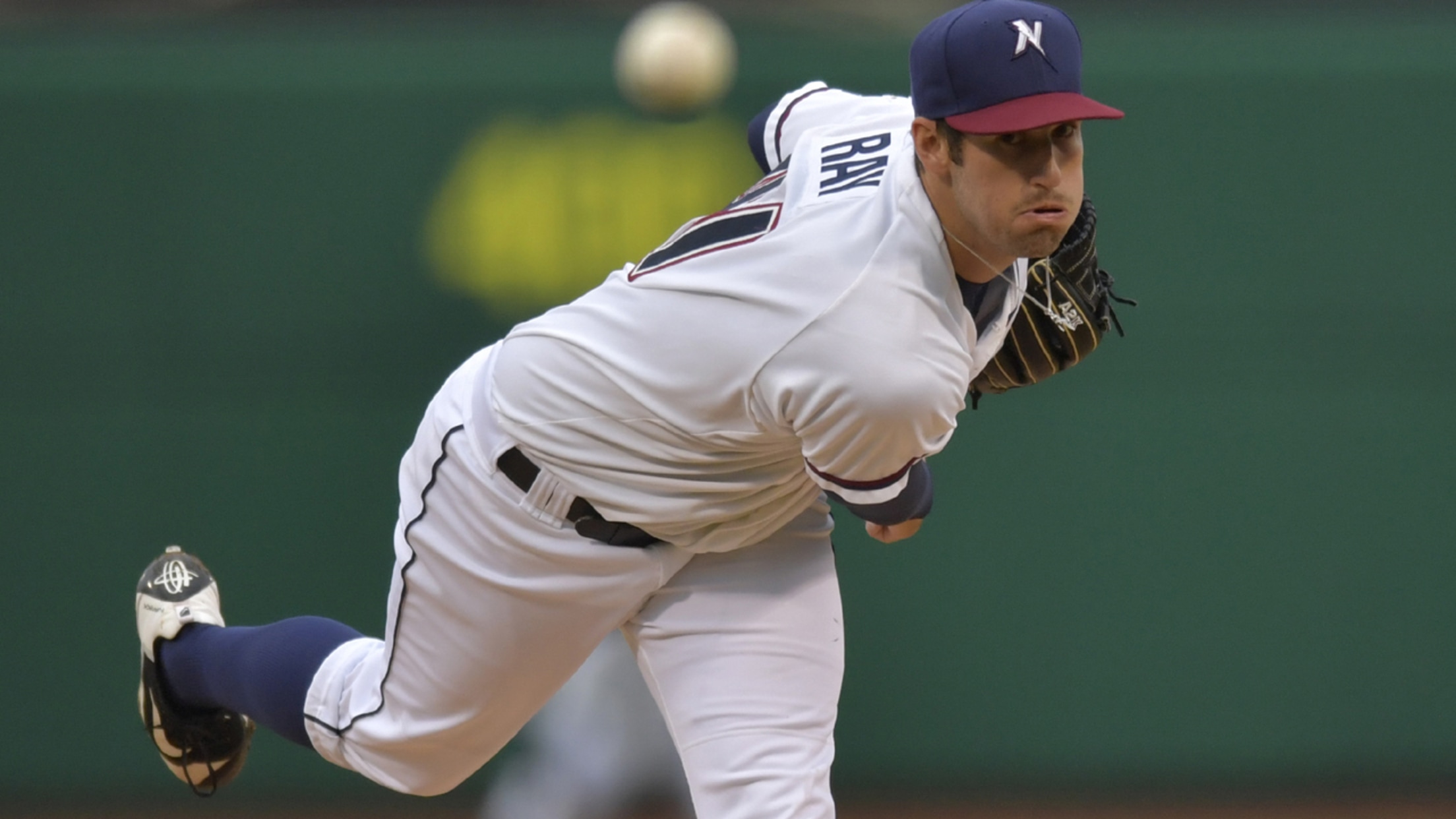 Northwest Arkansas' Corey Ray has beaten Tulsa and Springfield twice in 2017. (Northwest Arkansas Naturals)
It may be considered polite to give credit to teammates after a good individual performance, Northwest Arkansas pitcher Corey Ray was adamant that the game called by batterymate Nick Dini was exactly what he needed to find his groove."I didn't shake him off too many times today, and when you can
It may be considered polite to give credit to teammates after a good individual performance, Northwest Arkansas pitcher Corey Ray was adamant that the game called by batterymate Nick Dini was exactly what he needed to find his groove.
"I didn't shake him off too many times today, and when you can be in sync with your catcher like that, it just makes it a lot easier," the Royals' No. 24 prospect said. "When he can put a sign down and you just trust him, to be able to make that pitch just makes a huge difference."
Gameday box score
Ray (4-2) pitched the first nine-inning complete game of his four-year career as the Double-A Naturals defeated the Cardinals, 5-0, at Arvest Ballpark. He allowed four hits, struck out four and didn't issue a walk. The Spring, Texas native threw 60 of 88 pitches for strikes to notch his first win since defeating Springfield on May 3.
"I just followed the gameplan that the coaches and I set up, and it just worked out pretty well," Ray said. "They put the ball in play and the defense was able to make some spectacular plays out there."
Ray finished his outing without allowing a walk for the first time in 12 games, and the 24-year-old improved his walks-per-nine-innings rate to 3.05. In 65 frames this season, the right-hander sports a 4.34 ERA with 47 strikeouts.
"Making them earn everything they get -- that's big," Ray said. "That doesn't really happen for me usually, but I was able to throw a lot of strikes today and the results were there."
Thursday's effort marked the second time he was credited for a complete game in the Minors. With Class A Lexington on April 30, 2016, he pitched five innings in a rain-shortened game. It was also the first scoreless outing for Ray since his six-inning performance against Tulsa on April 28. In seven starts since, he's surrendered 13 walks and 24 runs over 38 innings for a 5.68 ERA.
The Texas A&M product said he's been working with Northwest Arkansas pitching coach Steve Luebber to correct a mechanical issue with his front shoulder opening up too early in his delivery.
"I was able to keep that under control today and really throw a lot of strikes," Ray said. "I was able to execute that. It made pitching a lot easier for me and it was just a lot of little things that were put together."
The 6-foot-4, 175-pound hurler retired the first four batters before allowing a single to Casey Grayson in the second inning. He tallied 14 consecutive outs, including seven on the ground, to get through the sixth.
Springfield right fielder Magneuris Sierra ended Ray's run with a leadoff double in the seventh. With two outs, Sierra stole third, but was stranded on Grayson's fly out.
He worked around a two-out single by Gabriel Lino in the eighth and allowed a leadoff hit to Oscar Mercado in the ninth. A pair of groundouts put Mercado on third, but Ray induced another out on the ground -- the 13th of the game -- from Anthony García.
"It's a pretty cool feeling, all the work that we've put in throughout the season so far, it really showed out there," Ray said.
Kansas City's No. 11 prospect Donald Dewees Jr. launched a two-run homer, his fifth of the season, doubled and scored twice.
Gerard Gilberto is a contributor to MiLB.com. Follow and interact with him on Twitter, @GerardGilberto4.