Royals Prospect Primer: High hopes for O'Hearn
Power hitter looking to carry spring momentum into 2018 season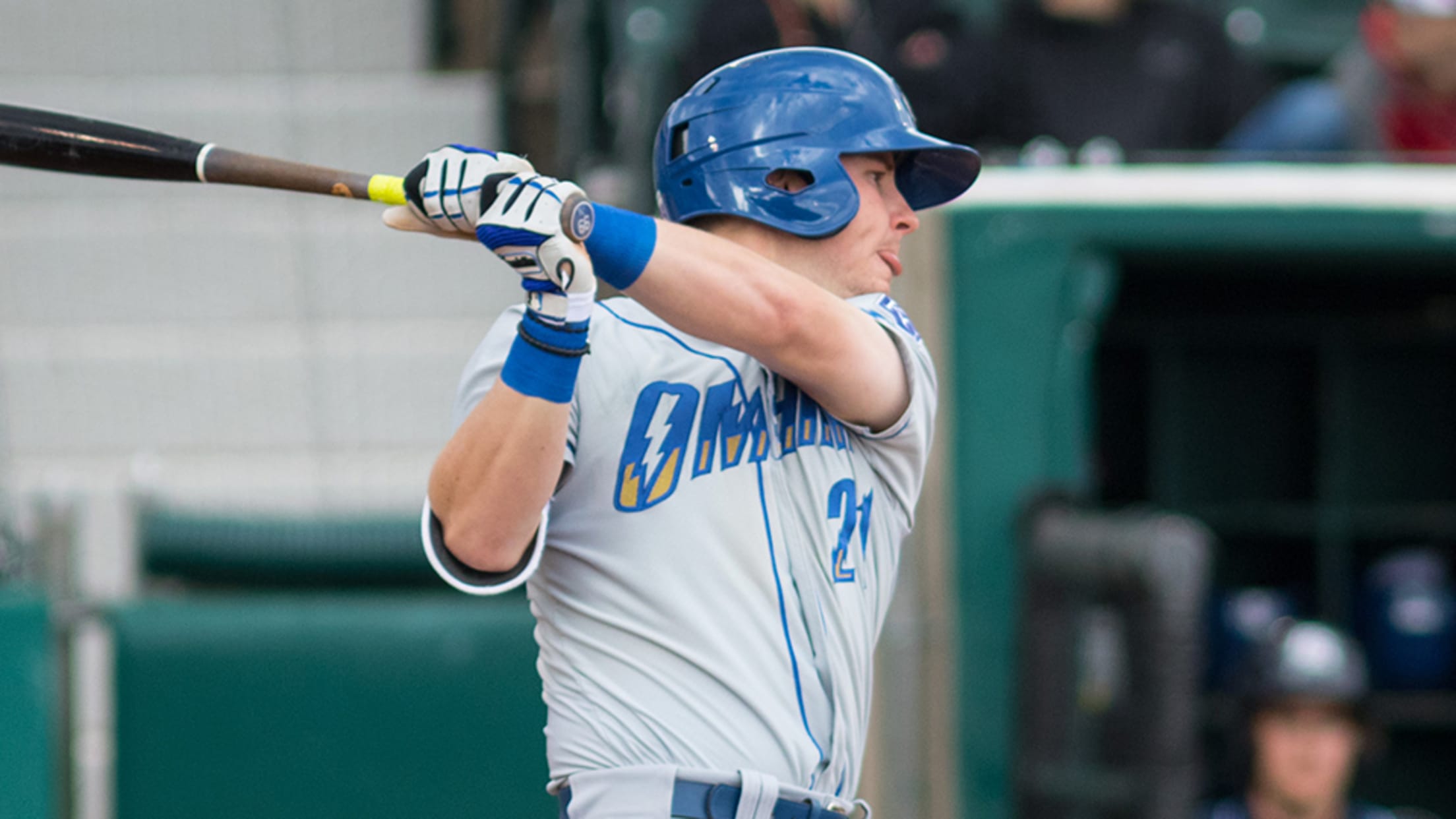 Ryan O'Hearn, a first baseman/outfielder who spent most of 2017 at Triple-A, has 84 homers over four seasons as a pro. (Bobby Stevens/MiLB.com)
Some players are on the verge of stardom, others are entering a crucial phase of their development and still others are getting their first tastes of full-season ball. With the 2018 season approaching, MiLB.com takes a look at the most intriguing prospects from each MLB organization.Major League-ready: Ryan O'Hearn, 1B/OFArguably
Some players are on the verge of stardom, others are entering a crucial phase of their development and still others are getting their first tastes of full-season ball. With the 2018 season approaching, MiLB.com takes a look at the most intriguing prospects from each MLB organization.
Major League-ready: Ryan O'Hearn, 1B/OF
Arguably the best power hitter in the system, O'Hearn and the Royals hope 2018 will be the season he waves goodbye to the Minors forever. Although the 24-year-old took a slight step back in 2017, he still topped 20 homers for the third straight year and has gone deep 84 times in four Minor League seasons. Overall, the Royals' 18th-ranked prospect hit .253/.330/.455 with 22 home runs and 64 RBIs in a career-high 133 games with Double-A Northwest Arkansas and Triple-A Omaha.
Primarily a first baseman who has also spent time in the outfield, O'Hearn had the inside track at first base until Kansas City signed Lucas Duda on Feb. 28. To O'Hearn's credit, the 2014 eighth-round Draft pick has done the job for the Royals this spring, batting .419 with five homers and 13 RBIs in 18 Cactus League games. He was reassigned to Minor League camp on Wednesday, but he still figures to get his shot with the big club in 2018.
"We're expecting good things from Ryan," Royals vice president and assistant general manager of player personnel J.J. Picollo said. "He just needs to continue on the path he's on. A lot of people took a negative view of us starting him at Double-A for a second straight year last season. But the reality was we just weren't going to be able to get him enough at-bats. But in doing so, he continued to work on his approach and harness it, which helped him as he moved up to Omaha. We're very pleased with how he's developing and feel he's on a perfect trajectory to the Majors."
Back and healthy: Hunter Dozier, 3B/OF
What could have been the start of a lengthy Major League stay turned into an injury-plagued season for the 2013 first-round pick. After enjoying a career year in 2016, which included his big league debut, Dozier suffered through oblique and hand injuries last season. The result was a forgettable 33-game effort that produced a .243/.341/.441 line in just 111 at-bats across three Minor League levels.
"It was a lost year for him and it started from the onset," Picollo said. "He strained his oblique on the last day of Minor League camp and then suffered a fractured nose when he was hit by a grounder. And then, of course, the injured hand, so it was just one thing after another, but we view last year as an outlier. That being said, he did miss out on 450 to 500 plate appearances, which is never a good thing."
The 26-year-old will look to mirror his resurgence of two seasons ago, when he hit .296/.366/.533 and collected 68 extra-base hits with Northwest Arkansas and Omaha. Primarily a third baseman, Dozier has spent extensive time in the outfield and tried his hand at first base. That defensive versatility will certainly help him as he tries to leave the Minors in the rearview mirror. With his health no longer a question, it's time for the Royals to figure out just what they have in their No. 7 prospect.
"Looking ahead to 2018, he's healthy and we're just trying to get him into a good spot," Picollo said. "One thing we like about Hunter is his versatility. He's played third and first and he surprised us with how well he handled the outfield, too. That's a valuable player to have. He just needs to get his timing and consistency back, but we're counting on him to be a contributor in the bigs fairly quickly."
At the crossroads: Josh Staumont, RHP
Minor League pitchers are rarely judged by wins and losses, but it's hard to ignore the disparity Staumont owns in those categories as he begins his fourth year as a pro. Taken in the second round of the 2015 Draft, the 24-year-old enjoyed a strong debut that same season. Over 18 games, including four starts, Staumont posted a 2.48 ERA to go along with 58 strikeouts in 40 innings. However, his 32 walks would be a harbinger of things to come as he entered full-season competition.
The La Habra, California native jumped directly to Class A Advanced Wilmington in 2016 and struggled to a 2-10 record and 5.05 ERA in 18 games, including 15 starts. Staumont seemed to hit his stride after a promotion to Double-A later in the season, but he took another step back in 2017, finishing 6-12 with a 5.56 ERA between Northwest Arkansas and Omaha. Although his mid-90s fastball generates plenty of swings and misses and weak contact, he still struggles with his command both in and out of the strike zone. Over 288 professional innings, Staumont has walked 233 for an average of 7.2 per nine.
Breakout prospect: Gabriel Cancel, 2B
Less than three years removed from his selection as a seventh-round Draft pick, Cancel finds himself on the Royals' radar after a breakthrough performance for Class A Lexington.
The 21-year-old played in more games (103) than in his first two seasons combined and hit .277/.324/.466 with 14 homers, 49 RBIs and 70 runs scored. Kansas City's No. 23 prospect led all South Atlantic League middle infielder's with 46 extra-base hits, although his plate discipline will need to improve as he continues his trek up the organization. He walked 23 times in 401 plate appearances, giving him a 5.3 percent walk rate.
"Gabriel is one of those guys who has sort of flown under the radar in our industry," Picollo explained. "He can hit, first and foremost. We love to talk about good fastball hitters, but saying and doing are not the same. Gabriel can do it and we expect a lot more upside with his bat. Defensively, he turns the double play as well as anyone we have in the organization, and he has the footwork to play at third if needed. He's not a household name by any means but he's quietly doing a terrific job."
Full-season debutant: Michael Gigliotti, OF
The Royals' fourth-round pick in last year's Draft hit the ground running with Rookie-level Burlington and Lexington. The lefty-swinging Gigliotti put together a .320/.420/.456 line, which included 21 extra-base hits, 38 RBIs and 22 stolen bases. The 22-year-old also showed a keen eye at the plate, walking 40 times against 41 strikeouts in 64 games.
"Michael is a Royals type of player," Picollo said. "He fits that mold. He's got a good bat, speed and is someone who will stay in the middle of the field. He just fits our team well. Michael gives you quality ABs, works the count and understands his role and what the team needs from him. Guys with that aptitude and talent tend to move quickly.
"He had an excellent year in the [Cape Cod League] two years ago and we saw him as a potential first-rounder coming into 2017. He got off to a slow start last season [at Lipscomb University], but our scouts did a good job of staying with him and bringing him aboard. It didn't take him long to show us why we thought he was first-round material."
Blessed with above-average speed, a line-drive stroke and an all-fields approach, Gigliotti figures to be a constant on the base paths, where he'll wreak havoc on opposing pitchers and catchers. The No. 5 Royals prospect does not have the strongest arm, but his speed adds an extra dimension to his defensive prowess, and he'll run down most of what's hit to him no matter what position in the outfield he plays.


Others to keep an eye on: Khalil Lee displayed the awesome potential and growing pains associated with a player competing in his first full season. The Royals' top prospect hit .237 and fanned 171 times, but he also notched 47 extra-base hits and stole 20 bases with Lexington. ... Southpaw Foster Griffin doesn't possess a blazing fastball or a knee-buckling curve, but he knows how to pitch and he knows how to win. Kansas City's first-round pick in 2014 led the organization with 15 victories and 141 strikeouts with Wilmington and Northwest Arkansas, but he'll have to consistently keep hitters off-balance to succeed as he faces more advanced hitters. ... Emmanuel Rivera is not flashy, but he can hit, and last season the 21-year-old tapped into his power with 44 extra-base hits for Lexington. Kansas City's 11th-ranked prospect will likely begin the year in the South Atlantic League again, but a hot start would almost certainly give him a push up to the Carolina League.
2018 organization predictions:
Most home runs: Chris DeVito
Most stolen bases: Rudy Martin
Most strikeouts: Griffin
Current prospect to get most Major League playing time: O'Hearn
Non-Top-100 prospect to end 2018 in the Top 100: Lee