O'Hearn storming out of gate for Omaha
Royals No. 8 prospect blasts off for third homer in four games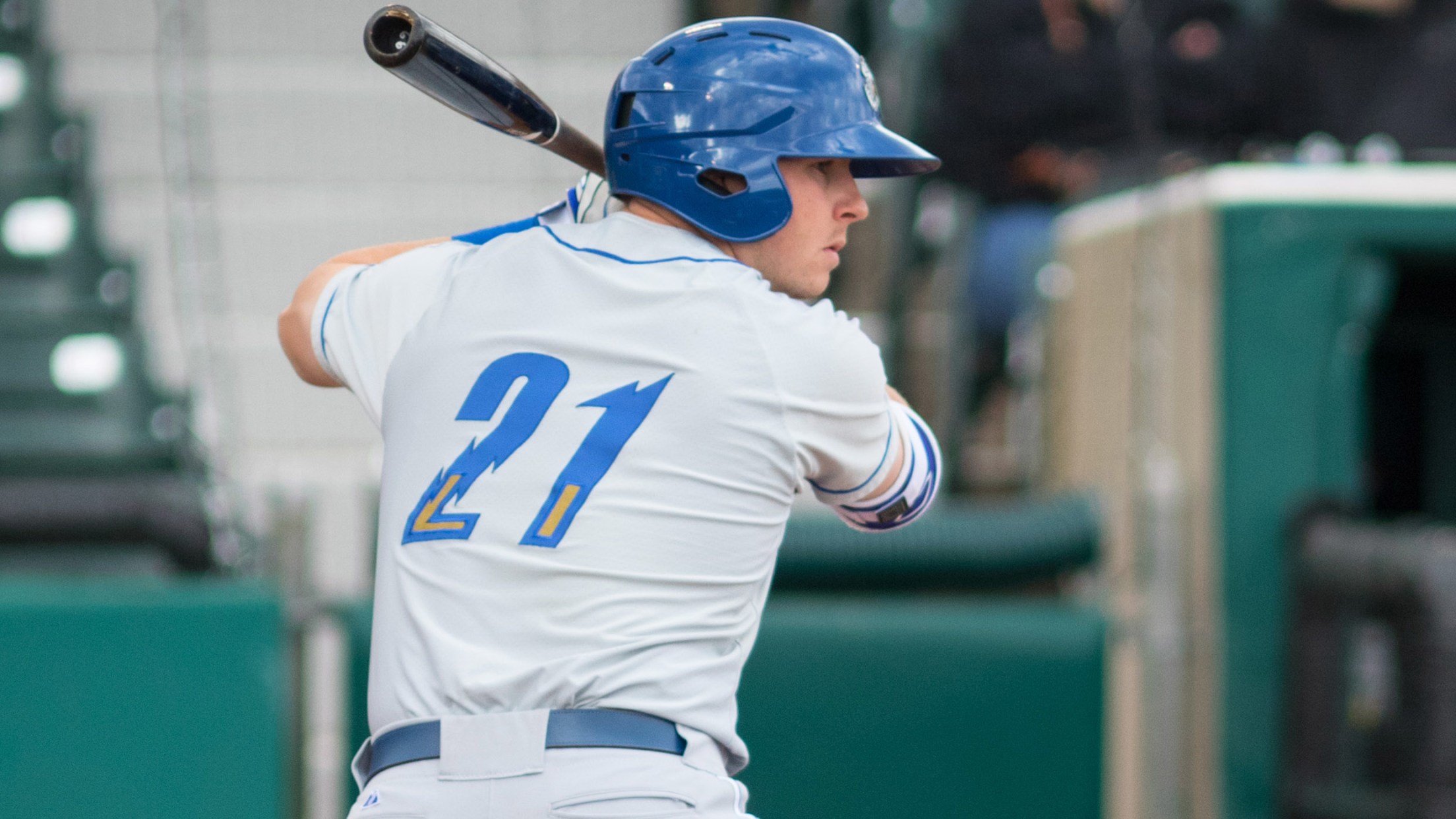 Ryan O'Hearn has posted an OPS of 1.019 with eight multi-hit games this season. (Bobby Stevens)
Ryan O'Hearn is making things look pretty easy through 15 games in the Pacific Coast League. The Royals' No. 8 prospect continued his roll Sunday afternoon with a solo homer and double as Triple-A Omaha defeated New Orleans, 4-2, at the Shrine on Airline. O'Hearn has produced a .317/.369/.650 slash line with
Ryan O'Hearn is making things look pretty easy through 15 games in the Pacific Coast League.
The Royals' No. 8 prospect continued his roll Sunday afternoon with a solo homer and double as Triple-A Omaha defeated New Orleans, 4-2, at the Shrine on Airline. O'Hearn has produced a .317/.369/.650 slash line with five homers and 11 RBIs in his first stint with the Storm Chasers.
"You want to have confidence, but I don't think I expected things to go this well," O'Hearn said. "I think this league has been really good for me so far because you really need to know how to hit and manipulate counts. Whenever you get a good pitch to hit, you need to attack it. As far as my development goes, this league has been huge for me."
Box score
After grounding out in the second inning, the 23-year-old ripped his fifth double of the season in the third.
"There is a difference in the pitching at this level, for sure," O'Hearn said. "You're facing a lot of older guys that have been around a while who know to pitch. You don't really see a lot of straight fastballs anymore, it's a lot of sinking or cutting. On top of that, you're not always going to see a fastball on a 2-0 count."
In his next at-bat, O'Hearn jumped on a first-pitch fastball from Baby Cakes starter Vance Worley (1-2) and deposited it over the wall in right-center for his third long ball in four games.
"I know Worley has good stuff, so when he left that one up over the plate I had to get after it," O'Hearn said. "I was ready to hit and I got a good swing on it."
While he hit 11 homers in three seasons at Sam Houston State, power has become O'Hearn's calling card since Kansas City selected him in the eighth round of the 2014 Draft. The Texas native has hit at least 20 roundtrippers each of the last two seasons and boasts a .505 slugging percentage in 340 Minor League games.
"I get asked [about my power] a lot and I don't think there's one specific answer," he said. "It's just been about me developing as a hitter. I've learned how to hit the ball with backspin and, obviously, you get stronger physically as the years go on. I've also learned how to get into good counts, and I think that's all translated into good at-bats."
Playing his third game of a rehab assignment, Jorge Soler went 1-for-4 for the Storm Chasers. he's 3-for-10 with a homer and three RBIs during his PCL stint.
"Jorge has incredible power and is physically gifted," O'Hearn said. "He's a lot of fun to watch hit during the game and during batting practice. It's been cool to be around him and learn from him."
Royals No. 3 prospect Josh Staumont (2-1) allowed two runs on a hit and five walks while striking out two in five innings for the win. In four starts, the 23-year-old owns a 4.66 ERA and is averaging 12.1 strikeouts per nine innings.
"Josh is doing the same thing that he's always done. He's a competitor with unbelievable stuff who can get a lot of swings and misses and strikeouts," O'Hearn said. "He's very mature for his age, so even when he doesn't have his best stuff he still gets after the hitters."
Major League veteran Al Alburquerque worked a perfect ninth to nail down his first save of the season.
Worley (1-2) gave up four runs -- three earned -- on seven hits and struck out two in 5 2/3 innings.
Michael Leboff is a contributor to MiLB.com.