Chasers' O'Hearn walks off on two-homer night
Royals No. 7 prospect goes deep in third straight game, plates five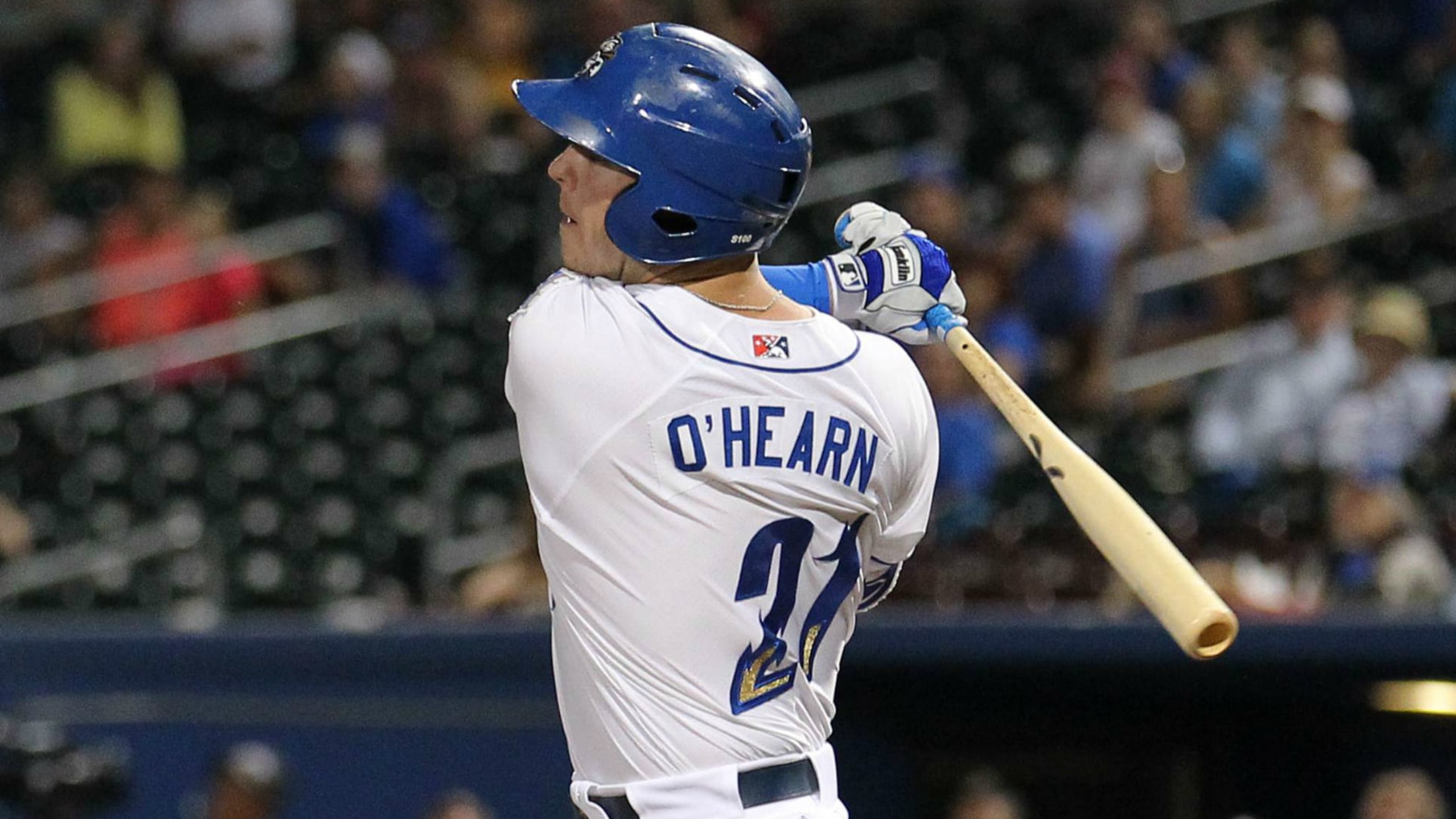 Ryan O'Hearn is 5-for-10 with four homers and nine RBIs over his last three games. (Minda Haas Kuhlmann)
When Ryan O'Hearn is locked in, look to left field. There's a good chance they ball will be clearing the fence there.The Royals' No. 7 prospect went deep in his third straight game on Saturday as he blasted a pair of long balls, including a walk-off three-run shot, and plated
When Ryan O'Hearn is locked in, look to left field. There's a good chance they ball will be clearing the fence there.
The Royals' No. 7 prospect went deep in his third straight game on Saturday as he blasted a pair of long balls, including a walk-off three-run shot, and plated five in Triple-A Omaha's 9-6 win over Colorado Springs at Werner Park.
O'Hearn started the scoring in the first inning. After taking a pair of pitches out of the strike zone from Sky Sox left-hander Andrew Barbosa, he deposited a hanging slider over the wall in left-center field for a two-run homer.
Gameday box score
The 23-year-old's bat went quiet over the next seven frames. He walked and scored on a double by Frank Schwindel in the third but struck out swinging in the fifth and flied to center in the eighth.
O'Hearn got another chance in the ninth after the Storm Chasers rallied from a 6-4 deficit and tied the game. With runners on first and second and one out, he planned to sit on a fastball from righty Tom Wilhelmsen (0-1). After taking a first-pitch breaking ball for a strike and watching another pitch go by for a ball, the 6-foot-3, 200-pound slugger stepped into a fastball and crushed it out to left-center.
"I was looking for a fastball over the plate to drive to left-center -- the big part of the park," O'Hearn said. "I stuck with the plan and didn't swing at the first pitch breaking ball, and I'm glad I didn't because it worked out."
O'Hearn said he knew almost immediately that the ball would clear the fence.
"I thought it was [a home run], because the ball had been flying here to left," he said. "I hit one earlier in the game to left. I figured right field, it wasn't really flying, but to left it was going, so I got it and I had a pretty good feeling about it."
The location of both dingers was no coincidence. The left-handed-hitting first baseman has hit eight of his 13 homers this season to left or left-center. In fact, O'Hearn said he produces better when he focuses on driving the ball the opposite way.
"I think when I'm doing my best and going good, I'm consistently hitting the ball to the left-center field gap," he said. "That's what I was just trying to focus on tonight. That's just the way that they've been pitching me. You have to hit it where it's pitched. I've been blessed to be able to hit the ball to left field with some authority. I take that as one of my strengths and just go with it and try to perfect it."
The blast gave the the 2014 eighth-round pick four in his last three games, moving him into the team lead and elevating him into a tie for eighth on the Pacific Coast League leaderboard.
"Just not trying to do too much," O'Hearn said. "I think every time you have a good game, you build confidence and just try to ride the streak and continue to come out with the same attitude every day and play hard. There's no secret. Same swing, same stuff I've been doing all year. Things are just bouncing my way right now."
Schwindel finished with three hits for Omaha. Eric Stout improved to 4-0, despite allowing two runs on five hits over the final three frames.
Brewers top prospectLewis Brinson went 2-for-5 with a double and three RBIs for the Sky Sox.