Kazmar Jr. Sets Atlanta Braves Triple-A Hits Record in 2-1 Win at Memphis
Sean Kazmar Jr. tallies his 658th career hit with Gwinnett, Travis Snider's two-run double is difference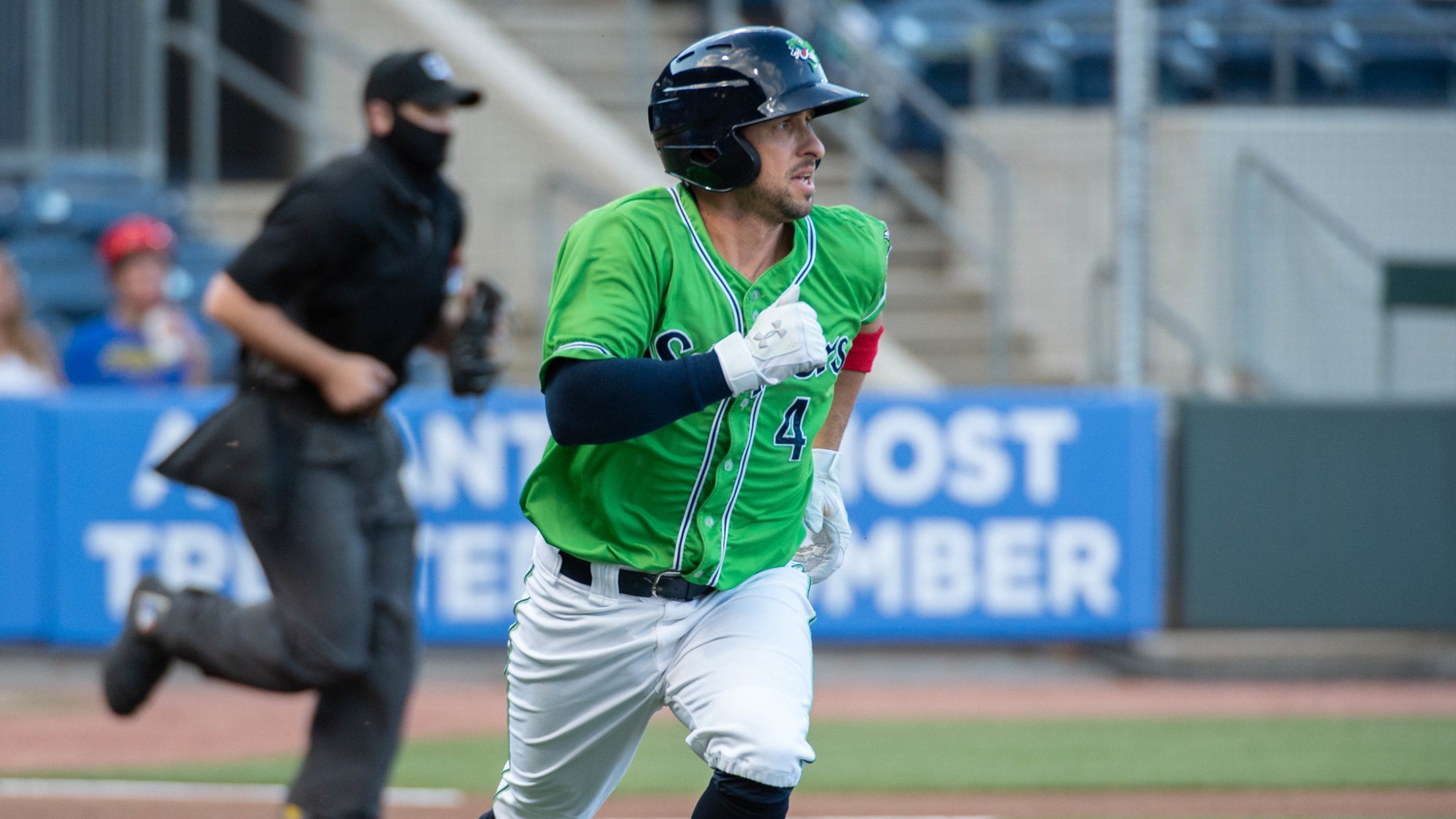 Sean Kazmar Jr. has tallied 658 hits over eight seasons with Gwinnett dating back to 2013. (Bernie Connelly)
MEMPHIS, Tenn. – On a night that saw Sean Kazmar Jr. make franchise history, the Gwinnett Stripers (40-37) hung on to defeat the Memphis Redbirds (38-39) 2-1 on Saturday night at AutoZone Park. Kazmar's second-inning single was his 658th career hit with Gwinnett, moving him past Larry Whisenton (657 hits
MEMPHIS, Tenn. – On a night that saw Sean Kazmar Jr. make franchise history, the Gwinnett Stripers (40-37) hung on to defeat the Memphis Redbirds (38-39) 2-1 on Saturday night at AutoZone Park. Kazmar's second-inning single was his 658th career hit with Gwinnett, moving him past Larry Whisenton (657 hits with Richmond from 1976-81, 1983-85) for first all-time in hits by an Atlanta Braves Triple-A player (1966-current).
Decisive Play: Travis Snider erased a 1-0 deficit in the top of the fourth inning with a two-out, two-run double off Johan Oviedo (L, 1-1) scoring Johan Camargo and Yolmer Sanchez. After 2.0 scoreless innings from spot starter Connor Johnstone, Chasen Bradford (W, 4-0) and five relievers combined on 7.0 one-run innings. Jacob Webb (S, 4) stranded the tying run on base in the ninth.
Key Contributors: Kazmar's record-setting single was his only hit in a 1-for-4 performance. Sanchez had Gwinnett's only multi-hit game, going 2-for-4. Snider drove in both runs, finishing 1-for-4 with a double. Scott Hurst blasted a solo home run (2) for the only tally for Memphis.
Noteworthy: Kazmar Jr., a member of Gwinnett for eight seasons since 2013, is batting .264 (658-for-2,489) with 134 doubles, 12 triples, 44 home runs, 300 runs, and 291 RBIs in 724 games. All five games of the series at Memphis have been decided by one run, with the Stripers winning three of them (1-0 on Tuesday, 8-7 on Friday, 2-1 on Saturday).
Next Game (Sunday, August 1): Gwinnett at Memphis, 3:05 p.m. at AutoZone Park. RHP **Kyle Wright (3-4, 3.69 ERA) for the Stripers vs. RHP Jack Flaherty (0-0, 0.00 ERA) for the Redbirds. Radio Broadcast: 2:50 p.m. on MyCountry993.com.
Next Home Game (Tuesday, August 3): Gwinnett vs. Charlotte, 7:05 p.m. at Coolray Field (Family Value Tuesday, $2 hot dogs and $1 desserts, presented by Coolray Heating & Cooling).