Grizzlies' Emanuel turns in another gem
Astros left-hander on a roll since returning to rotation last week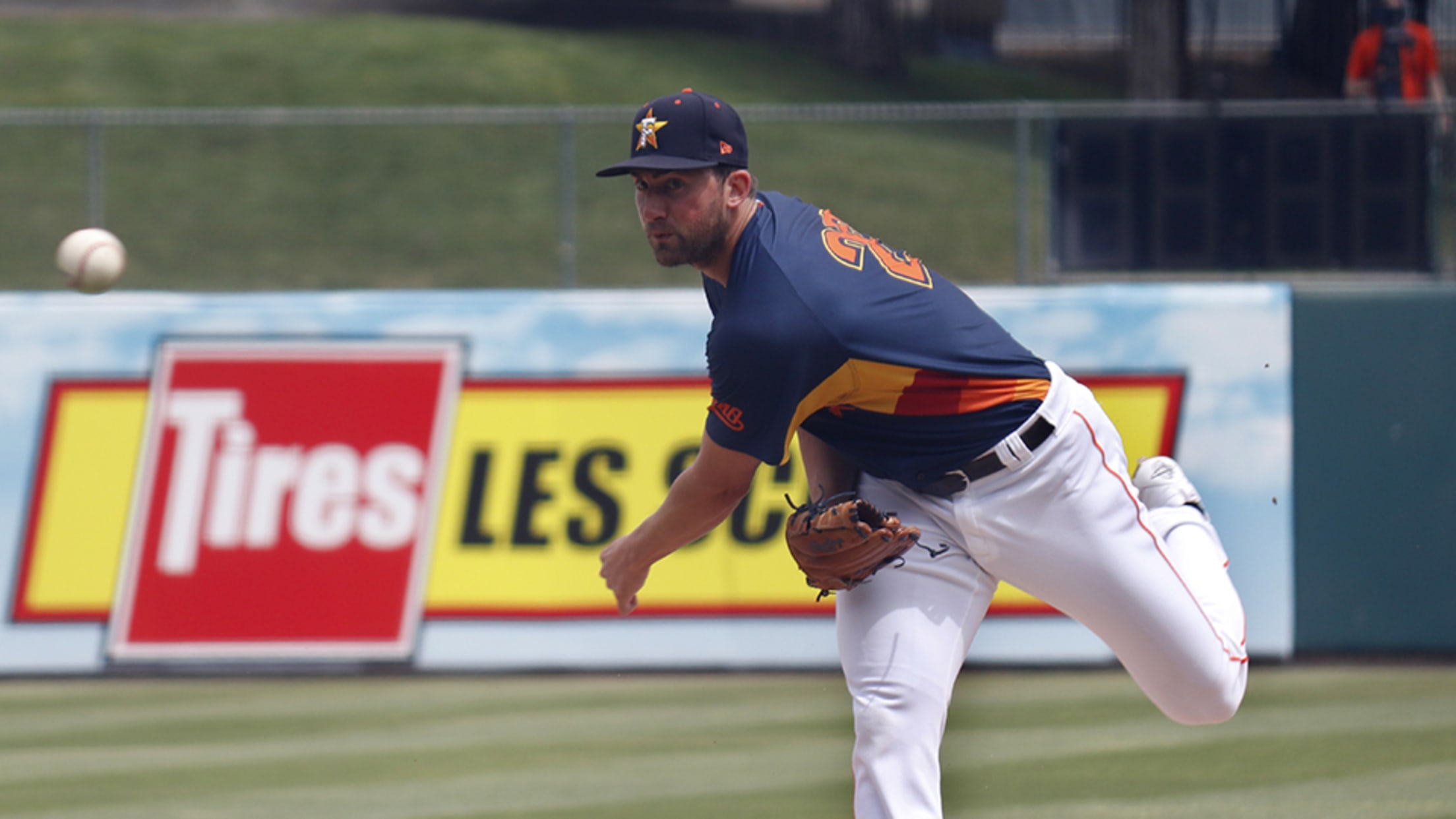 Kent Emanuel is 5-2 with a 4.42 ERA over 28 games -- seven starts -- in the Pacific Coast League this year. (Fresno Grizzlies)
Kent Emanuel returned to the Grizzlies rotation last week. The way he's pitched, it'll be tough to get him out of it.The Houston left-hander delivered his second straight scoreless outing Monday, allowing three hits and two walks while fanning eight over six innings in Triple-A Fresno's 4-0 blanking of Las
Kent Emanuel returned to the Grizzlies rotation last week. The way he's pitched, it'll be tough to get him out of it.
The Houston left-hander delivered his second straight scoreless outing Monday, allowing three hits and two walks while fanning eight over six innings in Triple-A Fresno's 4-0 blanking of Las Vegas at Chukchansi Park.
Emanuel (5-2) was at a loss to explain his recent run of success.
"It's tough to tell. I've been getting that question a lot, just because my splits between starting and relieving have been pretty wide this season," he said. "But if I knew the answer, it would have made my job in the bullpen a lot easier. But I don't really know. I think it's just, I've just tried to stay in attack mode and it's just worked out these past two games."
Emanuel has allowed a total of four hits and three walks over 11 scoreless innings. Prior to holding Memphis to one hit over five frames in his return to the rotation last Monday, the 26-year-old had last started on May 4, when he earned a win for limiting Sacramento to two runs into the seventh.
But he was anything but disappointed about being bumped from the rotation at that time.
"I was actually very excited because that move to the 'pen was due more to what was needed in the big leagues at the time," Emanuel said. "So I was excited, hoping that maybe that was my road to The Show. Obviously, with [Tony] Sipp up there and our other lefty relievers, they've been pitching pretty well, and it just kind of panned out that I'm back in the rotation."
Gameday box score
Against Vegas, the 2013 third-round pick threw 86 pitches, 52 for strikes. His eight punchouts set a season high.
Emanuel allowed a leadoff single by Ty Kelly in the first inning and another by Dominic Smith in the second, but did not surrender another hit until Zach Borenstein lined a one-out double in the sixth. Emanuel fanned No. 2 Mets prospectPeter Alonso and Bryce Brentz in succession to end the sixth and his outing.
Dean Deetz, the Astros' No. 18 prospect, struck out four over two innings in relief of Emanuel, while No. 17 Riley Ferrell shrugged off a walk in the ninth.
The Grizzlies did all their scoring in the middle innings. In the fourth, a double by Jamie Ritchie put runners on second and third and Taylor Jones' infield hit to second base scored Nick Tanielu. Alex De Goti doubled to plate Ritchie.
In the fifth, No. 14 Astros prospect Myles Straw doubled and scored when third-ranked Yordan Alvarez ripped a double to center. Fresno tacked on a run in the sixth on a sacrifice fly by Alfredo Angarita that scored Ritchie.
With the Astros' deep roster in the big leagues, Emanuel and the rest of the Grizzlies remain patient.
"I think that's kind of the mood of our entire team," he said. "I think that if you went into our clubhouse, I mean I think we all agree there's a bunch of big leaguers there who just haven't found their spot yet. That's kind of our whole team's mood -- just do your thing and let it work out. Because if you think of that stuff too much, it's going to be nothing but frustrating."
Vince Lara-Cinisomo is a contributor to MiLB.com. Follow him on Twitter @vincelara.