Kruger Helps Bees Stop Skid
Vinson strikes out season high eight in win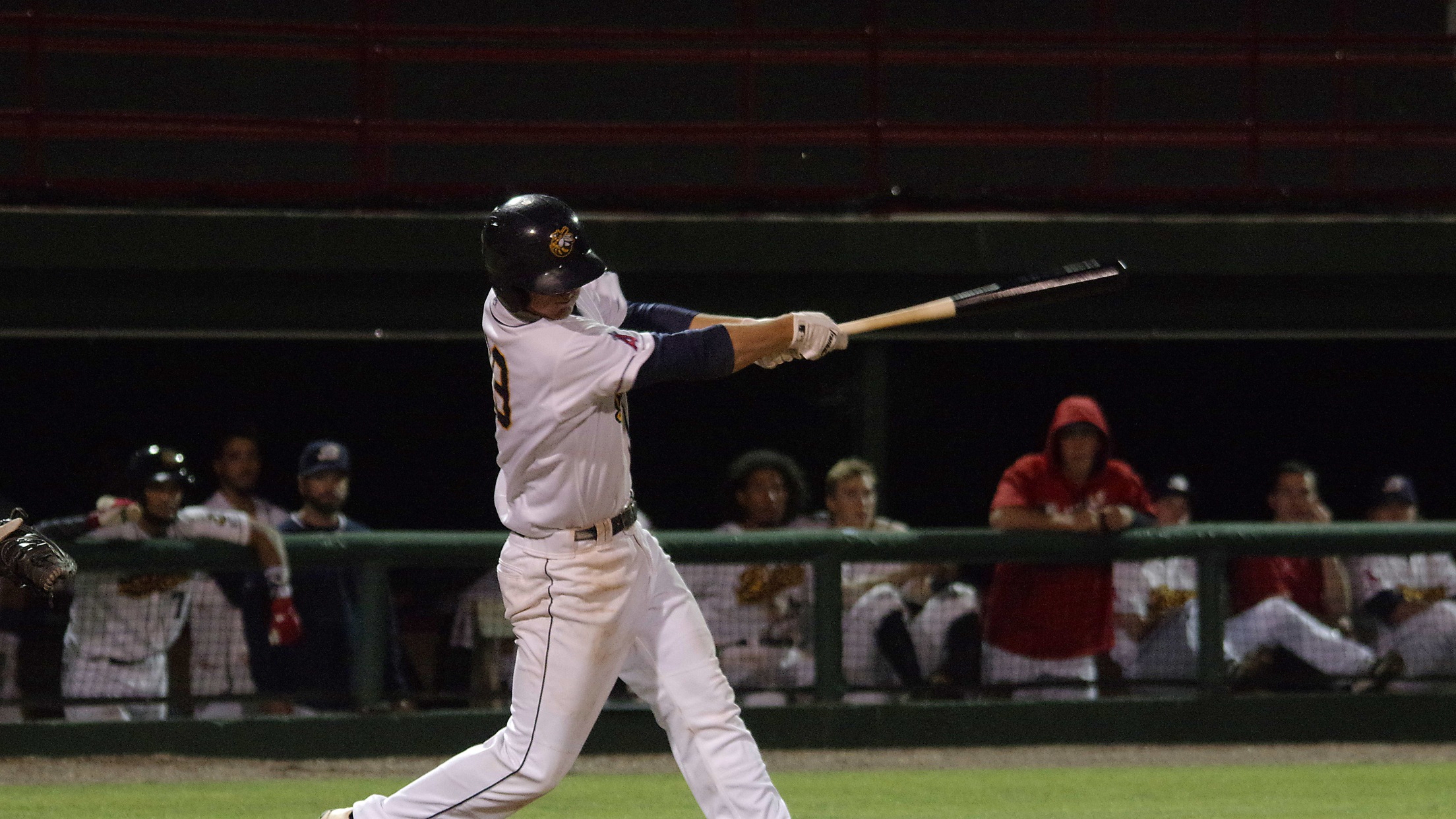 (Stephen_A_Cirinna)
(Cedar Rapids, IA) - Jack Kruger drove in four of the Burlington Bees (32-42) six runs in a 6-2 win over the Cedar Rapids Kernels on Monday night at Perfect Game Field. 
(Cedar Rapids, IA) - Jack Kruger drove in four of the Burlington Bees (32-42) six runs in a 6-2 win over the Cedar Rapids Kernels on Monday night at Perfect Game Field.
Jahmai Jones opened the game with a single to left and then stole second base with one out. After Keith Grieshaber drew a walk, Jack Kruger laced a single to center, scoring Jones, giving the Bees a 1-0 lead.
The Bees got to Wells again in the third inning. Jones kicked off the frame with a double off the wall in left. Jordan Zimmerman then reached on a bunt single, putting runners on the corners. Keith Grieshaber would reach on an infield single, scoring Jones, and adanced to second on a throwing error. Kruger continued his big night by grounding a single up the middle, scoring both Zimmerman and Grieshaber, extending the Bees' lead to 4-0. The Bees added one more run when Kruger came home to score on a Derek Jenkins infield single, pushing the Bees' lead to 5-0.
With two outs in the bottom of the fifth inning, Christian Caveness lined a single to center and then moved to third on a Travis Blankenhorn single, putting runners on the corners. Lewin Diaz then lined a single to left, scoring Caveness, putting the Kernels on the board. Blankenhorn came home to score on a wild pitch, cutting the Bees' lead to 5-2.
The Bees would get one of those runs back in the seventh inning. After Jordan Zimmerman reached on a fielder's choice, a wild pitch moved Zimmerman into scoring position. After a Keith Grieshaber walk, Jack Kruger knocked in his fourth run of the night with a single to left, scoring Zimmerman, extending the Beess' lead to 6-2.
Bees' starter Andrew Vinson (5-6) allowed two runs in five innings to earn the win while the Bees bullpen combined for four scoreless innings. Kernels' starter Tyler wells (4-2) was charged with the loss.
The Bees and the Kernels will continue the series on Tuesday night at 6:35 p.m. at Perfect Game Field. Jose Suarez gets the start for the Bees. Listen the Bees on Fox Sports 104.5 and 1360 and online at gobees.com and foxsportsiowa.com and the MiLB First Pitch App with pre-game show coverage starting at 6:10 p.m.
NOTES: Andrew Vinson set a career high with eight strikeouts. Vinson tied a season high for Bees' starters with eight strikeouts. Kruger set a season high with four RBIs. Jahmai Jones put together his eighth three-hit game of the season, the most by a Bees' player this season.