Stevens takes all nine positions by Storm
Padres prospect caps dream game by pitching, catching in eighth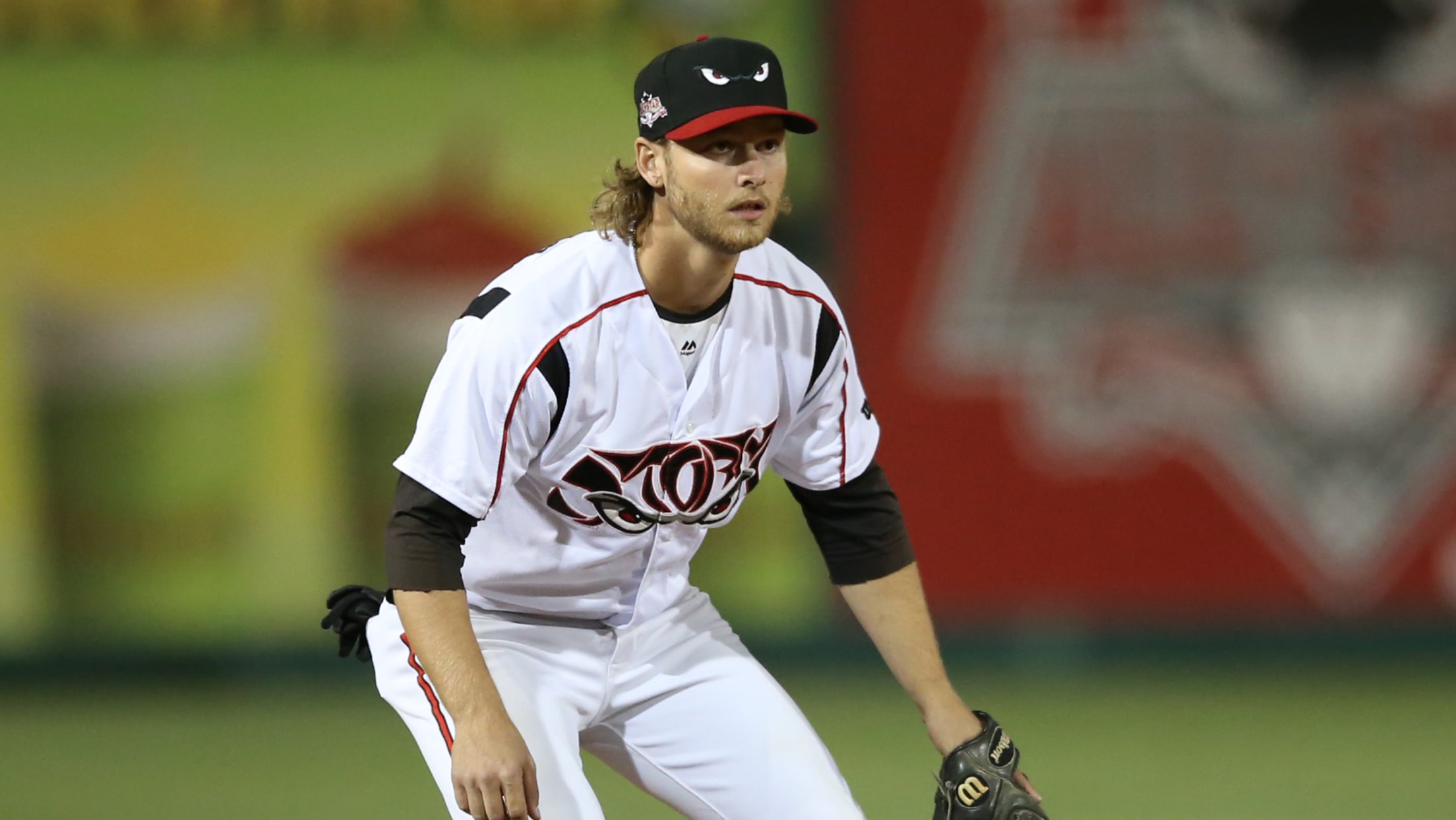 River Stevens sports a .250 batting average in 335 career Minor League games since 2012. (Lake Elsinore Storm)
As River Stevens got ready to head to LoanMart Field for the final regular-season game of the year Monday, he had a pit in his stomach. After five seasons as a utility player in the Minor Leagues, the 25-year-old finally got his wish to get around the whole diamond."This day
As River Stevens got ready to head to LoanMart Field for the final regular-season game of the year Monday, he had a pit in his stomach. After five seasons as a utility player in the Minor Leagues, the 25-year-old finally got his wish to get around the whole diamond.
"This day was really exciting," the Padres prospect said. "I woke up really early this morning because I was thinking about it. I was nervous and I didn't know what to expect."
Stevens played all nine positions, finishing his tour of duty by pitching and catching in the eighth inning of Class A Advanced Lake Elsinore's 2-0 loss to Rancho Cucamonga. The 2012 ninth-round pick allowed a single and two walks to the three batters he faced and was 0-for-4 at the dish.
Box score
"When I got to the field and my manager Edwin Rodriguez gave me the card on every position I was going to and where everybody else was going to be playing, it was just unreal. I was really excited to get out there and do it," said Stevens, who accomplished the feat one day after Blake Butlerdid the same with Class A Advanced Daytona. "I've been wanting to do this for a long time just because I've played most of these positions anyways."
Even though he's listed as a left fielder, Stevens has played six positions during his professional career. On Sunday, he pitched the idea to Rodriguez.
"I asked, 'What are the chances I could play all nine positions in the nine innings?'" Stevens said. "And I was thinking that he was going to shoot it down just because I didn't know if they'd allow it.
"And he totally caught me by surprise and was like, 'Yeah, let's do it.' I was like, 'Really? Let's do it.' That was kind of it, we didn't talk about it after that, so I didn't know what to expect coming in."
Stevens began his adventure in left field and moved to center in the second. He made his first play when Brant Whiting flied out to right for the second out in the third.
The Fountain Valley, California native moved to third base in the fourth before shifting to shortstop, second and first in each of the next three innings. Stevens didn't get any infield opportunities until the seventh when Quincy Latimore grounded sharply back to pitcher Will Headean and threw it to Stevens.
"I was a little surprised. I think I had only two actual plays out there," Stevens said. "And the second one was only because it hit Will Headean and then he just like tossed it to me. But it was just cool to be out there everywhere. It's kind of weird being on one side of the field and then going to the other side of the field and then you're back to the other side. It's kind of weird to do it every inning."
Stevens replaced Jake Smith on the mound to start the eighth, marking the first time he pitched since logging a perfect inning for the Storm in 2015. The 6-foot, 185-pounder gave up a leadoff single by Ibandel Isabel before issuing walks to Jose Brizuela and Whiting.
"My arm was dragging and I was missing away on all of the lefties," said Stevens, who threw seven of 15 pitches for strikes. "I was kind of upset that I couldn't at least record one out on the mound. But it's all good fun."
After Stevens got the hook, he grabbed Wilfri De La Cruz's catcher's equipment -- the first time the Allan Hancock College product put on the gear in at least 12 years.
"Today, we got to the field early and me and [catcher and San Diego's No. 20 prospect] Austin Allen were here," Stevens said. "I had him throw me balls in the dirt and work on my transfer just in case. I actually felt pretty comfortable back there. I was pretty nervous for that and I felt pretty good."
With Trevor Frank on the hill, Stevens called his own pitches without help from the dugout. Frank retired the next three to escape the bases-loaded jam. The newly minted backstop was pleased his gameplan behind the dish worked.
"Being an infielder and looking in a bit, I've been able to learn what to throw guys and what's coming," Stevens said. "I knew coming into a lefty I wanted to keep it away, I didn't want to throw them something just over the plate and let them crush it.
"I had never caught and having Trevor Frank, I knew what stuff he had, but I didn't know what it was like to be on the receiving end. I talked to him after and he said I did a pretty good job calling it. I was shocked that he told me that."
Stevens finished the year with a .251/.314/.322 slash line in 71 games across three levels.
"I've been up and down," he said. "I struggled in Double-A for a while and it's tough. It's always tough to struggle. But I always try to look at the positives of being able to play this long and to overcome some of the challenges that I've overcome these last few years. To still be playing every day and to have this opportunity is amazing."
Jerry Keel (3-4) carried a perfect game into the sixth before Whiting broke it up with a soft liner to left with one out. The left-hander gave up two runs on three hits with 10 punchouts and without a walk through six innings.
For the Quakes, No. 15 Dodgers prospectDustin May yielded one hit and one walk with eight punchouts in five frames. In his fourth game and first relief appearance of 2017, Scott Kazmir (1-0) scattered two hits and two walks through three innings.
Andrew Battifarano is a contributor to MiLB.com. Follow him on Twitter, @AndrewAtBatt.