Thomas teeing off in twos for Springfield
St. Louis outfielder posts second multi-homer game in three days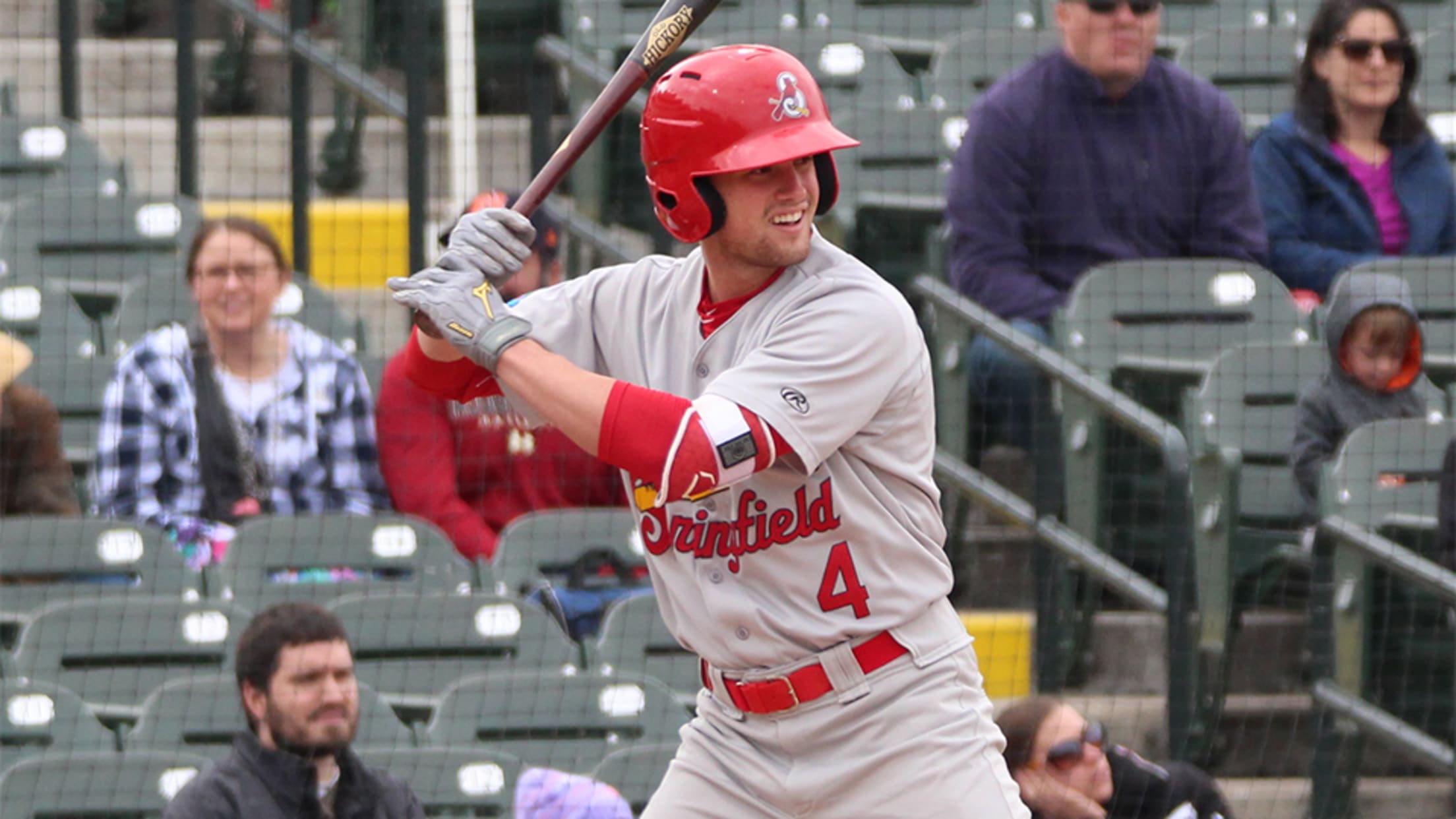 Lane Thomas had not reached double digits in homers in any professional season prior to 2018. (Joshua Tjiong/MiLB.com)
Lane Thomas has been a powerful force at the plate this season, but he's kicked it up an extra notch the past few days. Three days after delivering his first professional multi-homer game, the St. Louis outfield prospect went deep two more times and matched a season high with four RBIs
Lane Thomas has been a powerful force at the plate this season, but he's kicked it up an extra notch the past few days.
Three days after delivering his first professional multi-homer game, the St. Louis outfield prospect went deep two more times and matched a season high with four RBIs on Tuesday, powering Double-A Springfield to a 12-5 win over Northwest Arkansas at Arvest Ballpark.
On Saturday against San Antonio, Thomas homered in the second and fourth innings while collecting four RBIs. After hitting .188 over 27 games in May, Thomas has quickly turned things around in June, going 7-for-18 with five extra-base hits. The 22-year-old is batting .250 with an .833 OPS for the season.
"I started off kind of hot and then struggled for a little while," Thomas said. "I was kind of getting adjusted to how I was getting thrown. It was just kind of getting that confidence back that's been helping me out a lot. That's been the main thing, being confident in what I'm going to get and what I'm looking for."
Gameday box score
After being traded by the Blue Jays to the Cardinals last July, Thomas played in nine games with his new organization before his season was cut short. He fouled off a pitch and broke his foot, sidelining him for the rest of the year. But after recovering through the offseason and healthy for Spring Training, Thomas felt more prepared this year and thinks that's played a big factor in him producing a .500 slugging percentage in his first stint in Double-A.
"I can't emphasize the healthy part enough and getting your feet under you for a full offseason," he said. "I broke my foot, and that's the part that a lot of people don't look at. Going through a full healthy offseason has been the main thing."
With two outs and nobody aboard in the first inning Tuesday, Thomas slugged a 2-2 offering from No. 22 Royals prospectAndres Machado over the wall in left-center field.
After striking out in the third and fifth, the 2014 fifth-round pick had an opportunity to do more damage in the sixth. Following an RBI double by No. 12 Cardinals prospectEdmundo Sosa, Thomas cracked a 2-1 pitch from Walker Sheller beyond the left-field wall for a two-run roundtripper. The homer lofted the Tennessee native into second in the Texas League with 13 long balls -- two behind teammate Victor Roache.
"I knew that I had gotten a fastball earlier in that game that I had hit pretty well," Thomas said of the second homer. "I had a runner in scoring position when I came up, and I was just looking for something up and slow. [Sheller] happened to leave one up and I recognized it pretty well and put a good swing on it."
Thomas capped his night with a run-scoring single in the ninth, giving him 40 RBIs for the season. After going through the rough patch he had in May, the righty-swinging Thomas felt he learned a little bit more about his preparation process and what it'll take for him to sustain this success he's riding.
"It's just sticking to what's working at the time," he added. "And when it's not working, change it. I think that's the big thing young players get into, they keep doing the things that will make them not do well. I think that's the big thing for me -- if it's not working, change it. Or you look up and it's been a month."
Blake Drake complemented the center fielder's performance, going 4-for-5 with a homer and a season-best five RBIs in the win. It was the 24-year-old's seventh multi-hit game of the season and his first since May 22.
Andrew Battifarano is a contributor to MiLB.com. Follow him on Twitter, @AndrewAtBatt.