Lugnuts' Encina making most of All-Star trip
Outshined by teammates, Jays prospect soaks in atmosphere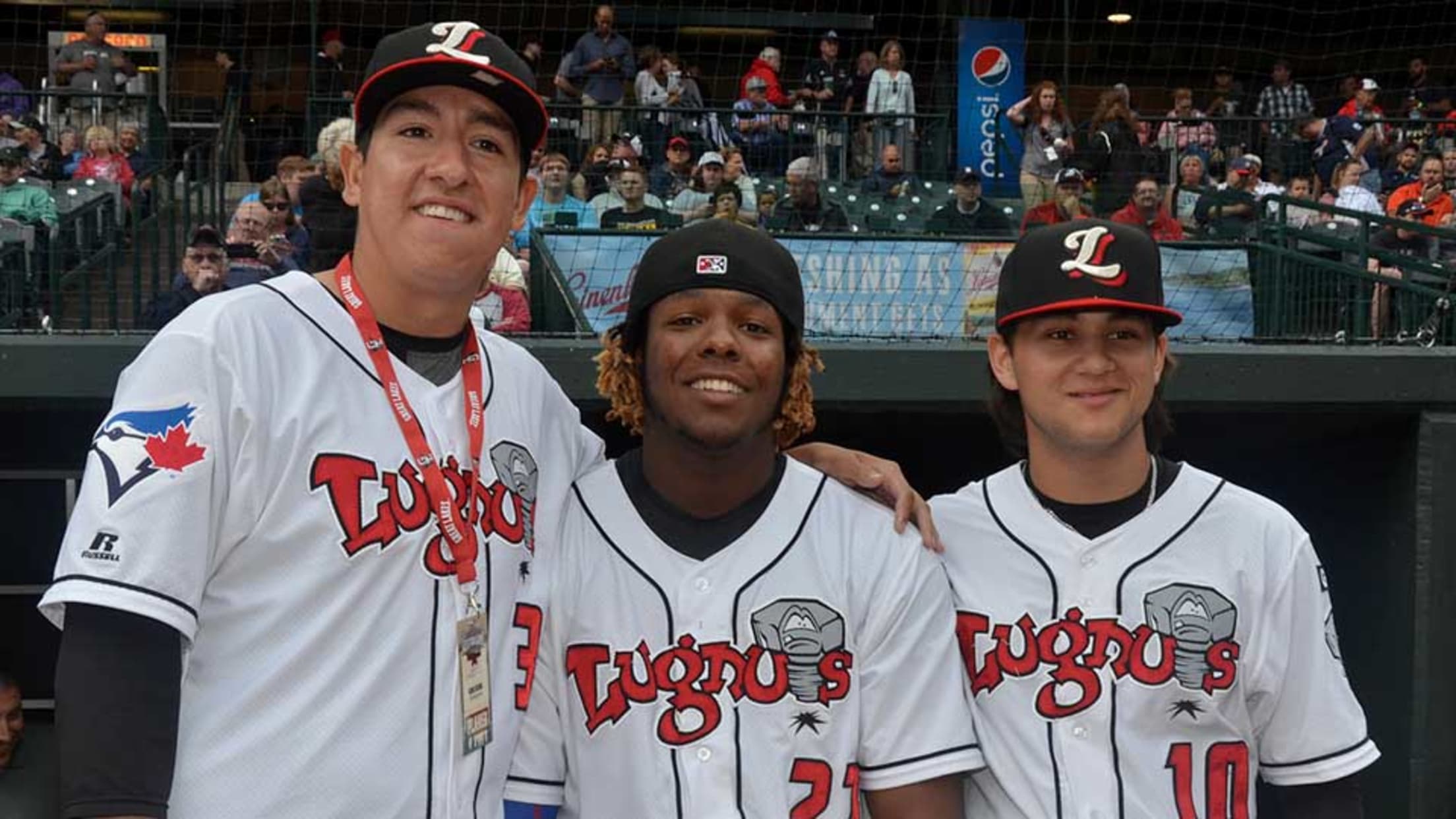 Geno Encina (left) poses with fellow Lansing All-Stars Vladimir Guerrero Jr. and Bo Bichette. (Paul R. Gierhart/MiLB.com)
MIDLAND, Michigan -- There were familiar faces in the seats at Dow Diamond on Tuesday for Lansing Lugnuts pitcher Geno Encina.The San Antonio, Texas, native, whose parents haven't watched him in person since he pitched at the University of the Incarnate Word, had the pressure of appearing in his first
MIDLAND, Michigan -- There were familiar faces in the seats at Dow Diamond on Tuesday for Lansing Lugnuts pitcher Geno Encina.
The San Antonio, Texas, native, whose parents haven't watched him in person since he pitched at the University of the Incarnate Word, had the pressure of appearing in his first Midwest League All-Star Game at least knowing that his biggest supporters were there.
"From taking me to practices as a kid to my days in college, my parents have always been looking out for me and I'm excited to have them up here for the week," he said.
Having three years of professional experience since being taken by the Blue Jays in the 18th round of the 2015 Draft, Encina is one of four Lugnuts representing the Eastern Division. He joins third baseman Vladimir Guerrero Jr., shortstop Bo Bichette and fellow pitcher Justin Maese, all of whom rank in the top 10 among the Blue Jays' top prospects.
"It means a lot for me and the organization to get the opportunity to represent the Blue Jays and play alongside my teammates," Encina said. "It's definitely an honor."
Harrison powers West to victory
The 22-year-old has found comfort with Lansing, going 2-1 with one save, a 2.79 ERA, 1.24 WHIP and .245 opponents' batting average in 17 relief appearances.
"This year, I've pretty much done everything," he said. "I've closed some games and I've pitched early in games. I'll go out there and pitch in whatever situation the Lugnuts need me in.
"Knowing that as a long reliever I have to get outs, I've been relying on my changeup and sinker which has really helped me so far. I'm not trying to do too much when I'm on the mound -- I like striking guys out and pitching for contact."
The 6-foot-4, 220-pounder can pinpoint the positives following a rough 2016 season. From battling an ankle injury he suffered in Spring Training to pitching for three different teams, Encina is relishing in his current situation with the Lugnuts.
"Last year, being injured and later coming off the injury, I was never really 100 percent and wasn't where I needed to be," he said. "Now I enjoy being able to play a whole season with a team and having a role that I'm comfortable in."
Encina appeared in only 13 games a year ago, including 10 with Class A Short Season Vancouver in the Northwest League. Trying to stay loose and getting back to full health late in the campaign made it difficult to stay consistent on the mound as he totaled 33 innings.
It was during his next appearance with the Blue Jays in Spring Training that Encina sought assistance from coaches and trainers. By continuing with his rehab and picking the brains of others, his progression rose to new levels.
"There, I began to understand myself as a pitcher," he said. "Everybody that I talked with was well-informed, it was easy to turn to somebody and ask for help."
The Lugnuts are fourth in the Eastern Division at 36-33, 7 1/2 games behind first-place West Michigan. The goal for Encina and his teammates is clinching a playoff berth, something Lansing did three times between 2011-15.
Acknowledging that he still has a job to do over the second half of the season, Encina said he tends to not think about the possibility of being promoted to Class A Advanced Dunedin, although it would be a great stepping stone.
"We had a lot of fun in the first half and, personally, I want to keep pitching well," he said. "If they call me to get moved up, it would be great, but I'm still here with a great group of guys."
Guerrero finishes second In Derby
Encina made sure to give Guerrero the proper encouragement Monday as the son of former American League MVP Vladimir Guerrero placed second in the All-Star Home Run Derby.
In the third round, Guerrero hit five of his 24 total homers to finish behind Great Lakes Loons outfielder Carlos Rincon, who totaled 38 in the three-round competition, including 20 in the finals.
Rincon, 19, who was not selected for the All-Star Game, is tied for fourth in the league with 11 homers. The native of the Dominican Republic is hitting .230 with a .464 slugging percentage, .763 OPS and 33 RBIs.
"There was a lot of competition, especially with Vlad Guerrero Jr. in the final," Rincon said through interpreter and Loons manager Jeremy Rodriguez. "I knew I had to hit at least 15 to win it; if I hit less than 15, it was definitely going to be a close one, but if I could hit 15, I knew I could take it."
Zach Libby is a contributor to MiLB.com.