Late Lead Wasted in Series Opening Loss
Leones totaled a career best four hits and Chourio extended his hit streak to 13 games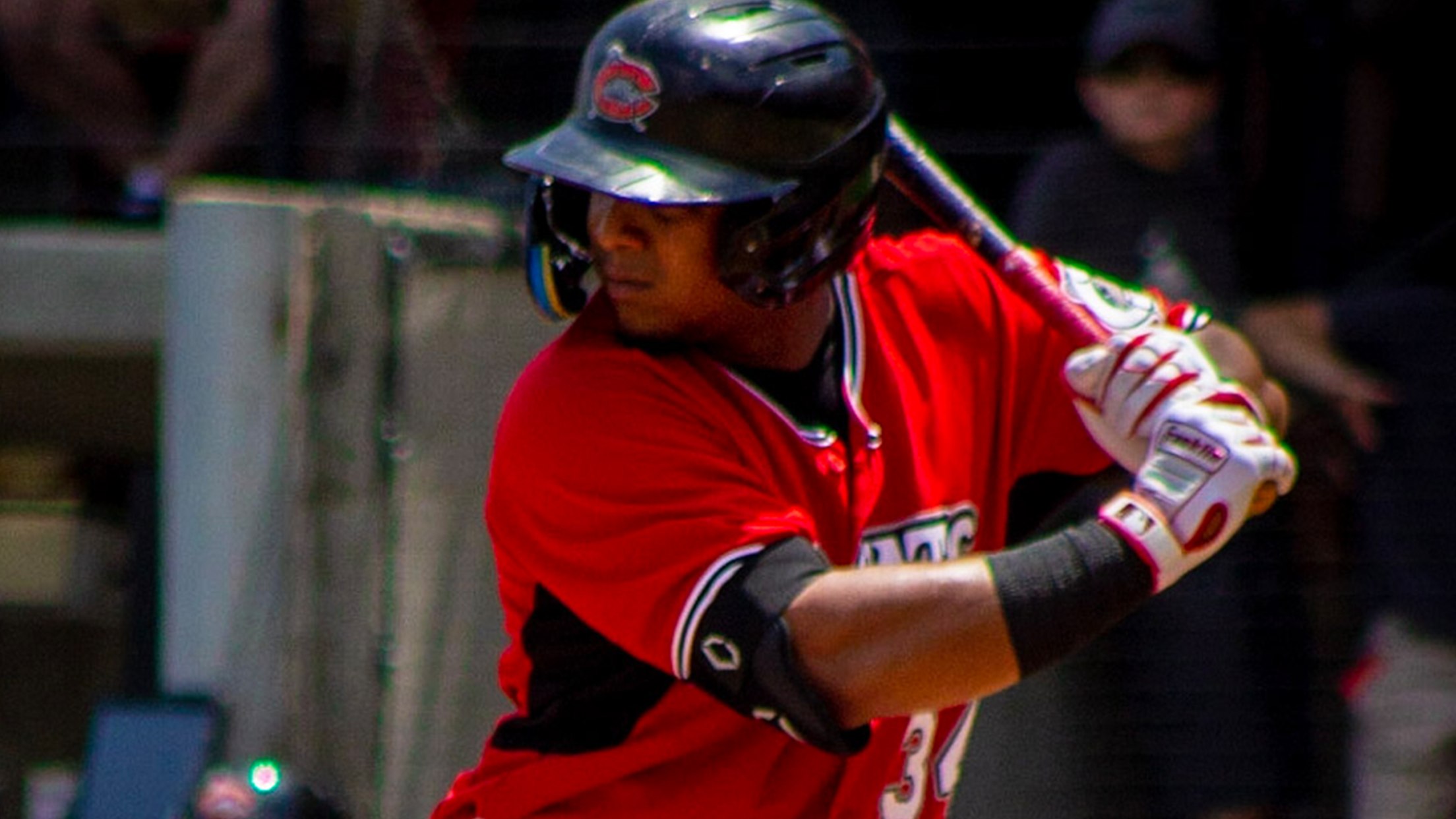 Oswal Leones - 2022 Carolina Mudcats (Trey Joyner)
Myrtle Beach 10 @ Carolina 8 (10) June 07, 2022 | Venue : Five County Stadium | First pitch : 7:04 PM | Att : 804 | T : 3:11 MB: 1 0 0 1 0 3 0 1 2 2 10 11 3 CAR: 5 0 0 1 0
Myrtle Beach 10 @ Carolina 8 (10)
June 07, 2022 | Venue : Five County Stadium | First pitch : 7:04 PM | Att : 804 | T : 3:11
MB: 1 0 0 1 0 3 0 1 2 2 10 11 3
CAR: 5 0 0 1 0 0 2 0 0 0 8 12 2
WP: Angel Hernandez (1 - 0) LP: Michele Vassalotti (7 - 1) SV: Adam Laskey (1)
ZEBULON – Oswal Leones totaled a career-high four hits, Hedbert Perez hit a two-run home run in the first, and Jackson Chourio extended his hitting streak to 13 consecutive games, but the Carolina Mudcats lost a two-run lead in the ninth while falling 10-8 in ten innings to the Myrtle Beach Pelicans on Tuesday night at Five County Stadium.
Reliever Jeferson Figueroa and the Mudcats (28-24) led 8-6 with one-out in the ninth before the Pelicans (37-15) loaded the bases to force Figueroa out of the game and eventually set up the game tying hit. Reliever Michele Vassalotti took over with the bags full in the ninth, and ended up allowing two runs to score on a two-run single from Jacob Wetzel.
Myrtle Beach then added two more in the tenth with a two-run single from Ezequiel Pagan while taking a 10-8 lead on Vasaslotti (BS, 7-1) and the Mudcats. Carolina would get a leadoff hit from Leones in the tenth, but ended up leaving a man on base in the final fame as reliever Adam Laskey got Zack Raabe to hit into a double play to end the game. Laskey (S, 1) earned the save while reliever Angel Hernandez (1-0) got the win.
Figueroa struck out a career high eight batters in his appearance, but also allowed six earned runs on four hits and did not earn a decision. In all, Figueroa walked four and gave up two home runs including a three-run shot to Kevin Made in the sixth and a solo home run to Ethan Hearn in the eighth. Vassalotti, meanwhile, ended up with both his first loss and first blown save.
The Pelicans originally led 1-0 in the opening frame after scoring a run against stater Miguel Segura. The Mudcats, however, rallied back quickly with five runs in the first while jumping out to a 5-1 lead on starter Tyler Schlaffer and the Pelicans. Jeferson Quero, Eduardo Garcia and Perez each had run-scoring hits in the first, with Perez's hit being a two-run homer that put the Mudcats up 5-1.
That 5-1 lead held through the third before both sides traded runs in the fourth. Carolina had a four-run lead through five before Made connected on a three-run homer off Figueroa in the sixth. Made's home run cut Carolina the lead to 6-5, but the Mudcats added on two more in the seventh on a run-scoring hit from Garcia and a wild pitch.
Chourio doubled and scored in Carolina's two-run seventh and went 1-for-4 with two runs and a RBI in the game. Chourio's hit extended his hitting streak to 13 consecutive games and his on-base streak to 21 straight.
The Pelicans took a 1-0 lead in the series with Tuesday's comeback victory. Despite the loss the Mudcats remained just a 0.5 game out of first in the Carolina League North standings.
HOME RUNS:
Myrtle Beach: Made (3, 6th inning off Figueroa, 2 on, 2 out); Hearn (3, 8th inning off Figueroa, 0 on, 2 out).
Carolina: Perez (6, 1st inning off Schlaffer, 1 on, 1 out).
TOP PERFORMERS - BATTERS:
Leones, DH (Carolina): 4-for-5, 0 R, 0 2B, 0 3B, 0 HR, 1 RBI
Garcia, E, SS (Carolina): 2-for-5, 1 R, 1 2B, 0 3B, 0 HR, 2 RBI
Perez, LF (Carolina): 2-for-5, 1 R, 0 2B, 0 3B, 1 HR, 2 RBI
Chirinos, 1B (Carolina): 2-for-5, 1 R, 0 2B, 0 3B, 0 HR, 0 RBI
Chourio, CF (Carolina): 1-for-4, 2 R, 1 2B, 0 3B, 0 HR, 1 RBI
Pagan, CF (Myrtle Beach): 3-for-5, 2 R, 1 2B, 0 3B, 0 HR, 3 RBI
Hearn, C (Myrtle Beach): 2-for-4, 2 R, 0 2B, 0 3B, 1 HR, 1 RBI
Made, SS (Myrtle Beach): 1-for-5, 1 R, 0 2B, 0 3B, 1 HR, 3 RBI
Triantos, 3B (Myrtle Beach): 2-for-6, 1 R, 1 2B, 0 3B, 0 HR, 1 RBI
TOP PERFORMERS - PITCHERS:
Segura (Carolina): 4 IP, 4 H, 2 R, 2 ER, 3 BB, 5 SO
Gonzalez, J (Myrtle Beach): 3 IP, 4 H, 2 R, 2 ER, 3 BB, 2 SO
Hernandez, A (W, 1-0) (Myrtle Beach): 2 IP, 1 H, 0 R, 0 ER, 2 BB, 1 SO
Laskey (S, 1) (Myrtle Beach): 1 IP, 1 H, 0 R, 0 ER, 0 BB, 1 SO
SCORING:
Pelicans 1st (Pelicans 1, Mudcats 0) -- Ezequiel Pagan singles to right field, Ezequiel Pagan advances to 3rd on throwing error by Miguel Segura. Kevin Made walks. James Triantos doubles to right field, Ezequiel Pagan scores; Kevin Made to 3rd. Kevin Alcantara strikes out swinging. BJ Murray Jr. strikes out swinging. Jacob Wetzel struck out looking.
(1 Runs, 2 Hits, 1 Errors, 2 LOB)
Mudcats 1st (Mudcats 5, Pelicans 1) -- Jheremy Vargas hit by pitch. Jheremy Vargas steals 2nd base. Zack Raabe reaches on fielding error by Kevin Made, Jheremy Vargas to 3rd. Jackson Chourio grounds into a force out, Reginald Preciado to Kevin Made, Jheremy Vargas scores; Zack Raabe out at 2nd. Jackson Chourio steals 2nd base. Jeferson Quero singles to left-center field, Jackson Chourio scores; Jeferson Quero advances to 2nd on fielding error by Frank Hernandez. Eduardo Garcia hits a ground rule double to left field, Jeferson Quero scores. Hedbert Perez hits a home run to right field on a 2-1 pitch, Eduardo Garcia scores. Hendry Mendez strikes out swinging. Jesus Chirinos struck out looking.
(5 Runs, 3 Hits, 2 Errors, 0 LOB)
Pelicans 4th (Mudcats 5, Pelicans 2) -- Frank Hernandez flies out to Hedbert Perez. Reginald Preciado walks. Ethan Hearn lines out to Hendry Mendez. Ezequiel Pagan doubles to right-center field, Reginald Preciado scores. Kevin Made lines out to Jheremy Vargas.
(1 Runs, 1 Hits, 0 Errors, 1 LOB)
Mudcats 4th (Mudcats 6, Pelicans 2) -- Hendry Mendez pops out to Reginald Preciado. Jesus Chirinos singles to right field. Throwing error by Tyler Schlaffer on the pickoff attempt. Oswal Leones singles to right-center field, Jesus Chirinos scores. Oswal Leones steals 2nd base. Jheremy Vargas grounds out, Kevin Made to BJ Murray Jr., Oswal Leones to 3rd. Zack Raabe pops out to Jacob Wetzel.
(1 Runs, 2 Hits, 1 Errors, 1 LOB)
Pelicans 6th (Mudcats 6, Pelicans 5) -- Frank Hernandez strikes out swinging. Reginald Preciado walks. Ethan Hearn struck out looking. Throwing error by Jeferson Figueroa on the pickoff attempt. Ezequiel Pagan walks. Kevin Made hits a home run to left-center field on a 1-0 pitch, Reginald Preciado scores; Ezequiel Pagan scores. James Triantos strikes out swinging.
(3 Runs, 1 Hits, 1 Errors, 0 LOB)
Mudcats 7th (Mudcats 8, Pelicans 5) -- Zack Raabe grounds out, Kevin Made to BJ Murray Jr. Jackson Chourio doubles to left-center field. Jeferson Quero walks. Eduardo Garcia singles to left field, Jackson Chourio scores; Jeferson Quero to 2nd. Hedbert Perez singles to right field, Jeferson Quero to 3rd; Eduardo Garcia to 2nd. Wild pitch by Jose Miguel Gonzalez, Jeferson Quero scores; Eduardo Garcia to 3rd; Hedbert Perez to 2nd. Hendry Mendez walks. Jesus Chirinos grounds into double play, Kevin Made to Reginald Preciado to BJ Murray Jr., Hendry Mendez out at 2nd, Jesus Chirinos out at 1st.
(2 Runs, 3 Hits, 0 Errors, 2 LOB)
Pelicans 8th (Mudcats 8, Pelicans 6) -- Frank Hernandez strikes out swinging. Reginald Preciado strikes out swinging. Ethan Hearn hits a home run to right field on a 3-1 pitch. Ezequiel Pagan grounds out, Jesus Chirinos to Jeferson Figueroa.
(1 Runs, 1 Hits, 0 Errors, 0 LOB)
Pelicans 9th (Pelicans 8, Mudcats 8) -- Kevin Made strikes out swinging. James Triantos singles to right-center field. Kevin Alcantara walks, James Triantos to 2nd. BJ Murray Jr. walks, James Triantos to 3rd; Kevin Alcantara to 2nd. Pitcher Change: Michele Vassalotti replaces Jeferson Figueroa. Jacob Wetzel singles to right-center field, James Triantos scores; Kevin Alcantara scores; BJ Murray Jr. to 2nd. Frank Hernandez grounds into a force out, Eduardo Garcia to Zack Raabe, BJ Murray Jr. to 3rd; Jacob Wetzel out at 2nd. Reginald Preciado flies out to Jackson Chourio.
(2 Runs, 2 Hits, 0 Errors, 2 LOB)
Pelicans 10th (Pelicans 10, Mudcats 8) -- Reginald Preciado starts inning at 2nd base. Ethan Hearn singles to right field, Reginald Preciado to 3rd; Ethan Hearn to 2nd. Ezequiel Pagan singles to left-center field, Reginald Preciado scores; Ethan Hearn scores. Ezequiel Pagan caught stealing 2nd base, Jeferson Quero to Zack Raabe. Kevin Made grounds out, Jheremy Vargas to Jesus Chirinos. James Triantos strikes out swinging.
(2 Runs, 2 Hits, 0 Errors, 0 LOB)