Late Odom Homer Lifts Travs to Series Lead
Joseph Odom drives in second 9th inning game-winner of series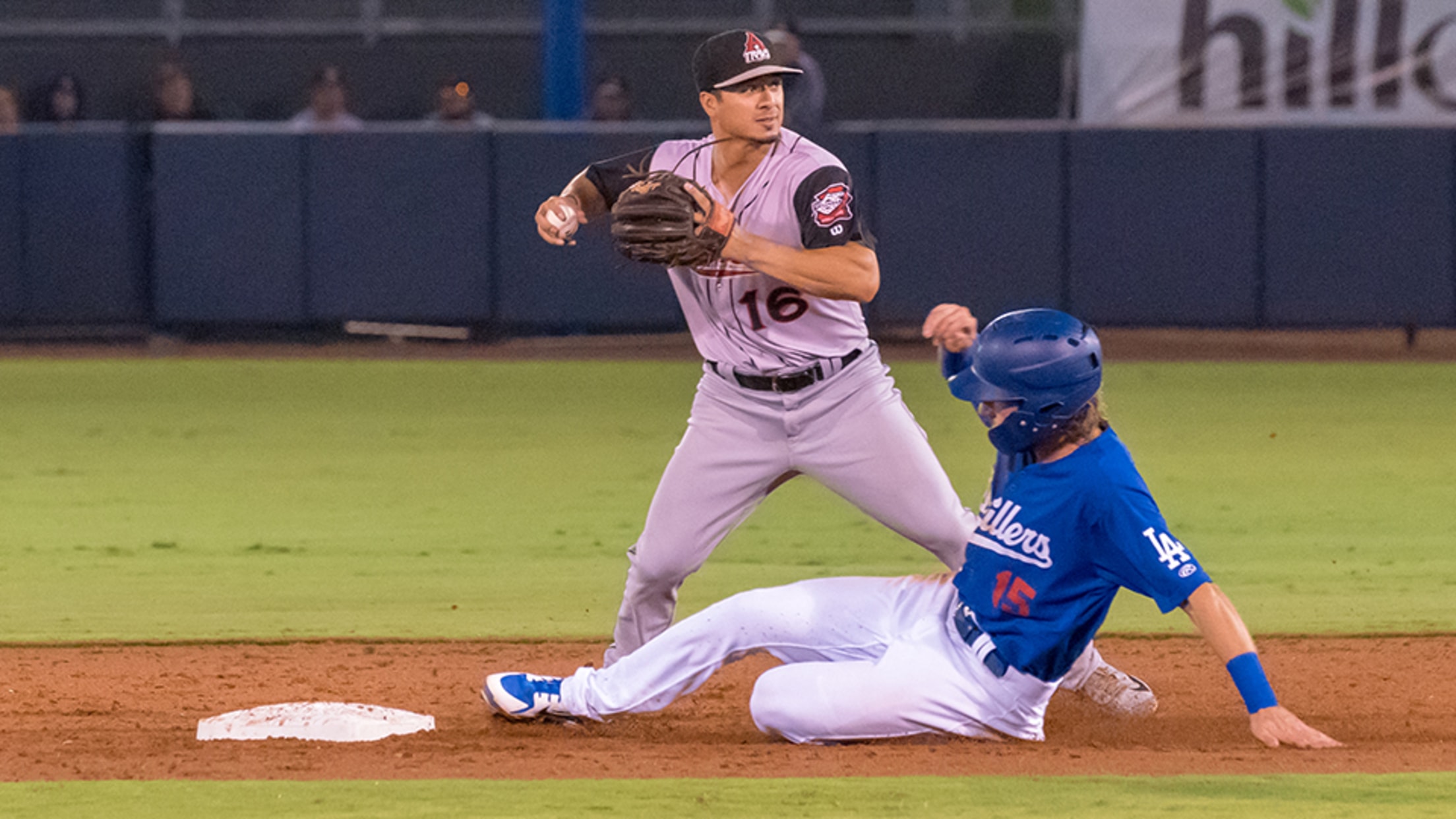 (Rich Crimi)
Tulsa, OK-Another thrilling win put the Arkansas Travelers one win away from a division series victory as they took down the Tulsa Drillers, 4-3 on Friday night. The Travs now lead the best-of-five series, two games to one. Joseph Odom, who had the walk-off hit in the ninth inning of
Tulsa, OK-Another thrilling win put the Arkansas Travelers one win away from a division series victory as they took down the Tulsa Drillers, 4-3 on Friday night. The Travs now lead the best-of-five series, two games to one. Joseph Odom, who had the walk-off hit in the ninth inning of game one, was the offensive hero again tonight with a tie-breaking homer in the top of the ninth. The fly ball into the right field corner came off Layne Somsen, the same pitcher he victimized on Wednesday. The game was back and forth throughout the night with both teams leading and never by more than one run. Three different times the Travs took the lead in the game with Eric Filia, Beau Amaral and Odom supplying the go-ahead hits. Starter Chris Mazza battled numerous base runners over six innings but limited the Drillers to just two runs. David McKay picked up the win after pitching the seventh and eighth innings while Matt Festa earned the save, working around a leadoff double in the ninth.
Moments That Mattered
* Eric Filia lined a two single in the top of the 1st to get the Travs off to the early lead.
* Tulsa tied it in the fourth inning then took the lead in the fifth on a bases loaded walk by Zach Reks with two out.
An error and two walks loaded the bases for Arkansas in the seventh and Beau Amaral paid it off with a two-run single with two out to put the Travs back on top.
Cael Brockmeyer launched a first pitch fastball for a tying homer with one out in the bottom of the eighth.
* The go-ahead homer from Odom came with one out in the ninth on a fly ball near the right field line that just eluded the glove of the leaping right fielder to leave the park.
* A pop-up double opening the bottom of the ninth gave Tulsa a spark and they moved the runner to third with one out. Festa got Keibert Ruiz to pop out to shallow left and then struck out league home run leader D.J. Peters on three pitches to end the game.
Notable Travs Performances
* RF Beau Amaral: 2-5, run, 2 RBI
* DH Eric Filia: 2-4, run RBI
* C Joseph Odom: 1-3, run, BB, HR, RBI
* Chris Mazza: 6 IP, 7 H, 2 R, 4 BB, 3 K
* Matt Festa: Sv, IP, H, K
Up Next
Game four is Saturday night in Tulsa as Arkansas goes for the series win. The Travs will send right-hander Ashton Goudeau (4-5, 4.38) to the mound against Driller righty Andrew Sopko (3-1, 3.88). First pitch is at 7:05 and the game will be broadcast on the Sports Animal 920, the First Pitch App, TuneIn radio and milb.tv.